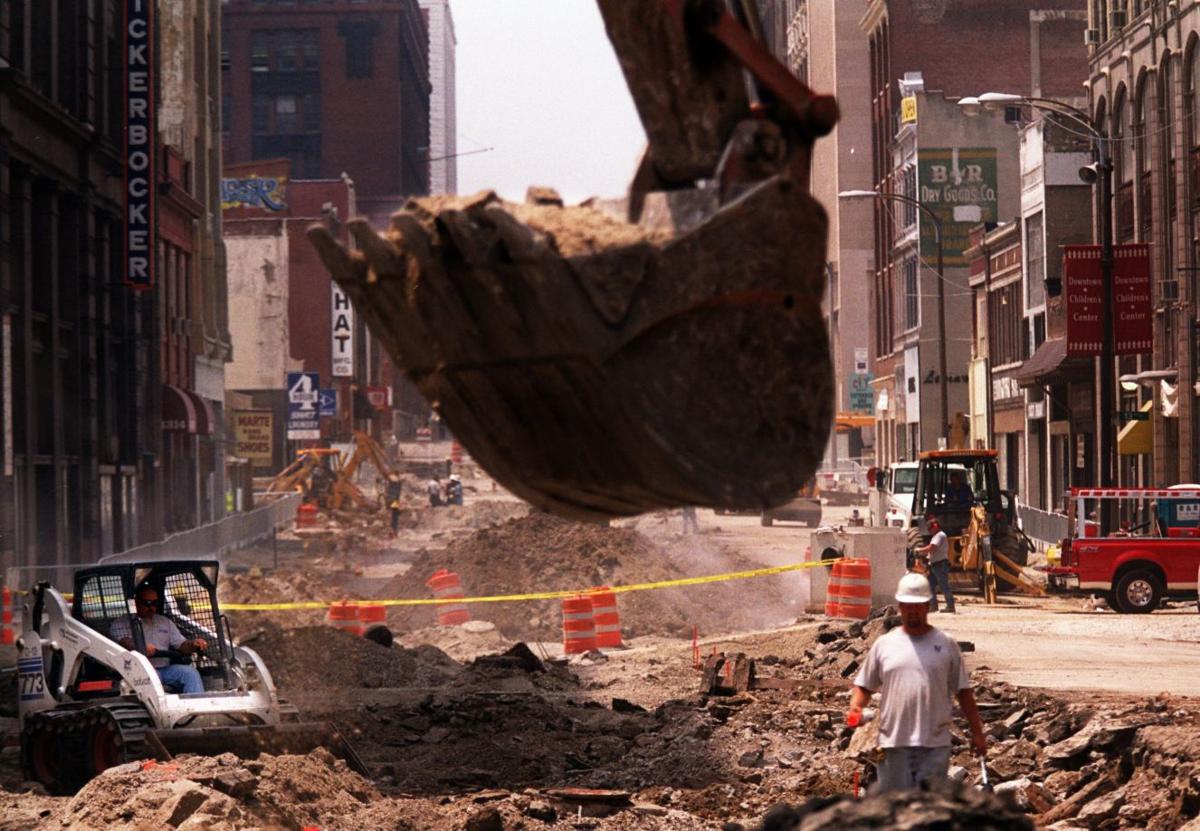 ST. LOUIS • From the Cortex tech hub that has sprouted in the Central West End to the rehab of the Washington Avenue loft district, St. Louis can point to a number of successful redevelopments that have breathed new life into deteriorating areas over the last 15 years.
But public incentives such as property tax abatement and tax-increment financing that often subsidize such projects are under growing scrutiny, and candidates running to be the city's new mayor agree that some changes in approach are overdue. Seven candidates are running in the Democratic primary March 7, and the winner is expected to win the April 4 general election in the heavily Democratic city.
Concerns have mounted over the amount of city and school district revenue being returned to the developments, estimated at some $709 million between 2000 and 2014. Others worry the incentives mainly benefit the city's central corridor, where most development occurs.
"We've been trying this model of propping up the central corridor for 30 or 40 years now," said Andrew Arkills, a local activist who wants to pare back incentive use in stable areas. "We're still seeing huge pockets of poverty north and south of the central corridor."
Proponents of the tax incentives, including Mayor Francis Slay, defend them, arguing that they encourage developers to build within the city and supplement projects that couldn't otherwise be financed.
He and others are quick to point out that they don't reduce existing revenue because they divert only the increased tax dollars created by the new projects.
Still, the city's permissive use of incentives was cited by credit rating agency Fitch when it dropped the city's credit rating a notch this summer. While other cities cap the amount of tax abatement offered per project, St. Louis can abate up to 100 percent of new property taxes for up to 10 years. Kansas City, meanwhile, passed an ordinance last year capping tax abatement at 75 percent of new assessed value.
Slay's administration has put some reforms in motion, commissioning a report that found that it was "likely" some projects have gotten help that didn't need it and tallying up the $709 million in foregone revenue.
The St. Louis Development Corp., the city's economic development arm, has hired a financial analyst and instituted new criteria to score developers' incentive requests in a way that emphasizes generating new revenue.
Development Corp. Director Otis Williams said his agency is "looking to continue on the incentive reform path" and that the next step is funding a citywide economic development plan, called for by experts, activists and the city's incentive report.
In a city where money is tight for struggling schools, public safety, aging infrastructure and regional amenities, the tax incentive policy direction will be a key decision made by the new mayor.
'Like Halloween candy'
Because the Board of Aldermen often approves subsidies without much opposition, the four mayoral candidates who are current board members face a perception that they are giving public money away to appease wealthy developers.
While some stress the benefits the projects bring, most of them agree that the city needs to shift its attention toward north St. Louis, which has long suffered from neglect.
It's an easier topic for outsider candidates such as city Treasurer Tishaura Jones, who doesn't have to defend some of the incentives she said the city has passed out "like Halloween candy."
As mayor, Jones said, she would require any new development to have some sort of community benefit attached to it before she would support a tax incentive.
Community benefit agreements are common in larger cities, including Los Angeles, New York City and Washington. They often require residential projects to include affordable housing or make commercial developments set aside retail space for local and small businesses.
Jones said she would advocate for walkable, environmentally friendly developments and projects that create new, long-term jobs that pay a living wage.
"We also have to make sure we are not just poaching businesses from other parts of the city," she said.
For candidates who have voted for such incentives, such as Aldermanic President Lewis Reed and 28th Ward Alderman Lyda Krewson, the debate often comes down to defending their respective track records.
Reed points to new developments in Lafayette Square and parts of Washington Avenue, areas he used to represent as the former 6th Ward alderman.
The tax incentive debate, he said, comes down to who voters believe will be the best steward of public money.
"In eight years, we saw $1.6 billion in investments in those areas," Reed said. "What is just as important to consider is the number of projects that never made it through. The number I rejected is mind boggling. And I rejected them because they ran counter to what the community wanted to see."
Going forward, Reed said he would push for and deliver a new data-driven model allowing lawmakers to better anticipate the impact projects will have on their surroundings and the city budget.
Better negotiations
Many lawmakers have successfully fought for tax incentives for various developments. But among the mayoral candidates, Krewson has guided some of the most visible projects, specifically the development boom in the Central West End of the past 15 years.
Krewson describes the evaluation of tax incentives as "half science and half art" — they can appear easy once a project is done, but they often prove to be long and difficult undertakings, particularly during the negotiation process.
"It is absolutely the job of (lawmakers) to negotiate as hard as possible to give the least amount of tax incentive possible, but still get the project built," she said.
The Chase Park Plaza, for instance, was empty a decade ago when Krewson supported a 50 percent tax abatement for the developers.
"Now it's back and it's a vibrant place," she said, adding that the abatement expires this year, meaning the property will start to generate millions of dollars in new revenue for the city, up from the roughly $700,000 it generated over the lifetime of the abatement.
City incentive packages should be crafted to ensure the city doesn't give up all new revenue for a decade or more before incentives burn off, said mayoral candidate and St. Louis elected school board member Bill Haas.
"If we're going to give you an abatement, we have to be getting more money from Day One," he said.
Reducing the amount of incentives will help better fund schools and police, Haas said, but he added he is open to allowing some residential abatements to help boost population.
"If you have low crime and good schools, then sports teams and businesses should be falling all over themselves to come here without subsidies," he said.
Candidates also want to sell more of the roughly 12,000 city-owned vacant lots and abandoned buildings to small developers, with a focus on the North Side.
Incentives can only be offered when developers propose a project, which is why the in-demand central corridor has attracted the bulk of them. But Alderman Antonio French, 21st Ward, pointed to swaths of city-owned land on the North and South sides that could be marketed to developers. Generous incentive packages could be dangled to start projects there.
"Obviously, the city can create great incentives and actually go out on a limb to do projects that are high priority," he said.
Alderman Jeffrey Boyd, 22nd Ward, agrees that the mayor's office and SLDC can do more to gin up interest in areas outside the central corridor: "If you have real leadership, you steer them into the neighborhoods that need it the most."
Developing plans
Boyd and French agree that a citywide development plan should be a priority. And new emphasis should be placed on aiding development in struggling neighborhoods.
"I think we need to map the city out and say, 'these are the areas where we will allow five-year tax abatement, 10-year tax abatement and TIF," Boyd said. "But to continue to just give away tax incentives because developers ask you to, we're not going to grow our city."
Boyd also wants to see more staffing at the city's planning department and SLDC: "We have a planning department that is severely understaffed."
French said every decision on development assistance has to be looked at through the prism of violent crime reduction. Prioritizing development along commercial corridors in some of the city's rougher areas — North Kingshighway Boulevard, North Grand Boulevard, Union Boulevard, West Florissant and Gravois Avenue — will help stabilize the surrounding neighborhoods and provide jobs, he said.
"It doesn't make much sense to citizens when we are using tax abatement on $600,000 and $700,000 homes in the Central West End," French said.
Former Alderman Jimmie Matthews said the key to smart development is a stronger city development agency, which would eliminate what he describes as "the easy access" developers have to city lawmakers. Matthews did not say what he meant by easy access.
"If we want to put the people's interest first, we need to make sure every neighborhood has its own development plan," he said. "If you don't have a plan, then you're not going anyplace … And the people need to be the ones who determine who is going to build in their neighborhood."
Across the aisle
For building owner and Republican candidate Jim Osher, having a businessman in the mayor's office would pay the highest dividends when it comes to development and tax incentives.
Osher is one of three Republicans running for his party's nomination March 7.
"I know the city could've done better in the last 15 years," he said, using the negotiations over a Major League Soccer stadium as an example.
"First it was going to be $80 million (in taxpayer money), then they went back and now the deal is $60 million," he said, implying the city didn't push the private ownership group hard enough at the outset for concessions. "You need someone with business sense to get the best deal possible."
The revised soccer stadium deal was approved by the board Friday.
Utility executive and Republican candidate Andrew Jones said the city needs to sell itself and incentives should only be a last resort for business attraction and retention; good projects won't need them.
"If you're coming to ask for incentives, that means you can't meet conventional financing, and if you can't meet conventional financing, that makes the project suspect," Jones said.
However, allowing some tax abatement for homeowners is a strategy Jones said he would support to attract new residents.
"We need people, we need citizens in the city of St. Louis."