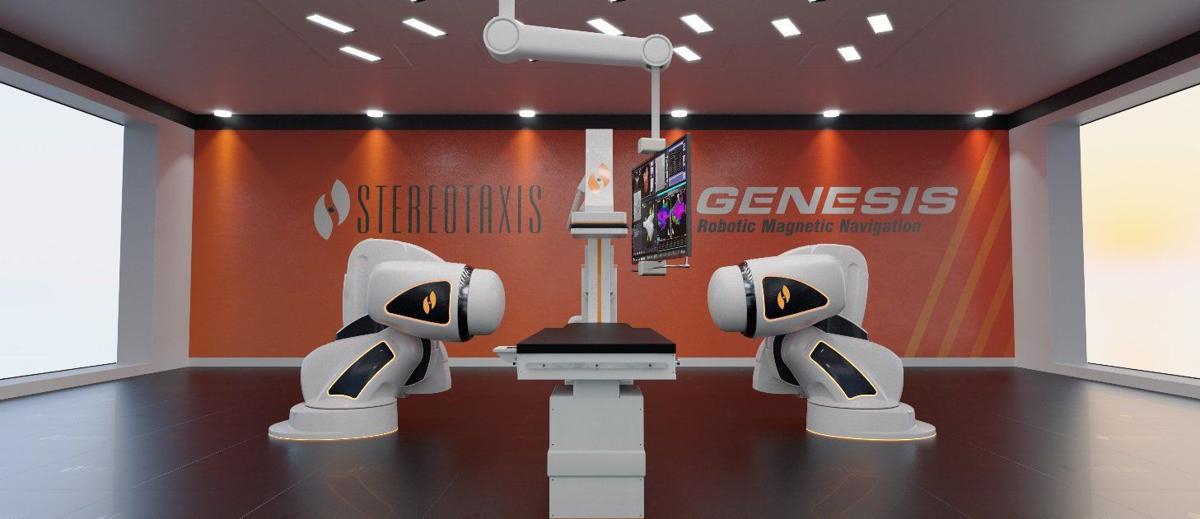 ST. LOUIS — Medical technology firm Stereotaxis has stabilized revenues this year, and inked two new purchase agreements for its robotic technology systems, the company announced Tuesday.
The news comes days after the company said it had received FDA clearance for a redesigned model of its magnetic technology used to treat heart arrhythmia. With the clearance, the company can now start commercializing it in the U.S.
On Tuesday, Stereotaxis reported revenue in 2019 of $28.9 million, down from $29.3 million in 2018, plus hospital purchase orders for two of its robotic systems.
The company has about 125 employees, and is headquartered in the Cortex district. It specializes in creating technology used for cardiac ablation procedures, one of the major categories of treatment for arrhythmia, or irregular heartbeat. The procedure requires navigating a catheter into the heart and burning certain parts of the heart muscle.
Just a few years ago, Stereotaxis was a troubled company. In 2016 it was delisted from Nasdaq and saddled with debt. A Los Angeles firm, DAFNA Capital Management, led a $24 million recapitalization that allowed the company to pay off debt and ramp up research and development.
"You had a company that had been stale for many, many years," said Stereotaxis chairman and CEO David Fischel. "We're rebuilding, refreshing every aspect of the company."
In September the company was approved for listing on the New York Stock Exchange.
The newly FDA-cleared system marks the first major architectural change to its robot, Fischel said. The changes have reduced its size and made it more responsive to physician control.