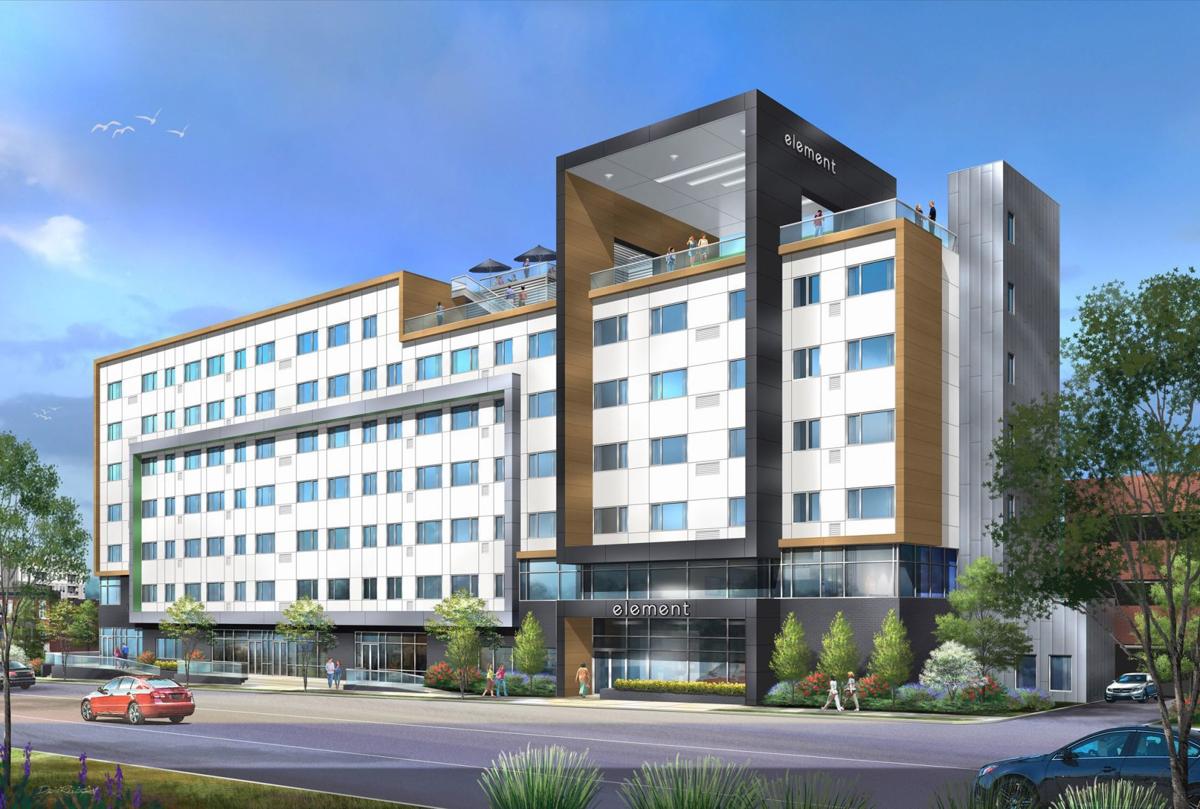 The headquarters of Habitat for Humanity St. Louis will eventually make way for a new Element by Westin hotel, the first in the St. Louis market.
Maryland Heights-based Midas Hospitality is buying the Habitat for Humanity's property at 3763 Forest Park Avenue for $2.4 million with plans to open by late 2019 a $25 million, 153-room hotel on the Midtown site.
Plans include 10,000 square feet of retail space on the ground floor of the hotel and a rooftop lounge in the 8-story building. Guests would have access to a fitness center, pool and "borrow-a-bike" program.
Midas CEO David Robert said demolition of the current buildings wouldn't start for nine to 12 months while it continued leasing the property to Habitat for Humanity so the nonprofit has time to find a new spot for its administrative offices, construction warehouse and the ReStore donation center. Habitat put its property on the market in the summer.
"It was really the market and the demand generators," Robert said.
Robert said the Element by Westin brand typically catered to extended-stay guests. Element rooms, for instance, all have full kitchens, and guests stay an average of five nights. The Aloft planned in Cortex, on the other hand, has shorter stays.
"The Element guest is a little bit different customer than the Aloft guest, so we think they actually complement each other," Robert said.
The project falls within the footprint of SLU's new Midtown Redevelopment Corporation, which gives the university broad authority to control what is built around its academic and medical campuses. Approved by the city last year, the redevelopment corporation is similar to entities that guide development in Cortex and around the Washington University Medical Center.
Midas will need to work with SLU on the design of its project and could ask the university for up to 25 years of tax abatement, the maximum SLU can grant within the redevelopment footprint. The hotel project is planned in a portion of the SLU redevelopment area identified as mixed-use and eligible for up to 25 years of tax abatement.
Roberts said financing was still being finalized and he had no comment on whether the firm would ask for development incentives.
Midas owns and operates 30 hotels in 13 states. Its sister company, MC Hotel Construction, is building the Element. Maplewood-based Gray Design is the architect. Carrolton Bank is financing the project.