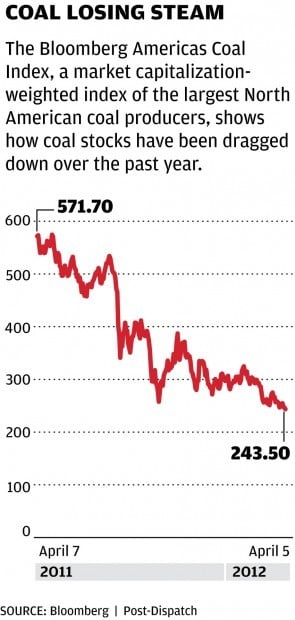 There's no doubt King Coal still rules the energy world. Power plants burned more than 900 million tons of the black rock last year, generating electricity to run factories, cool homes and charge iPhones.
But domestic demand has tailed off gradually since 2007. This year, one of the mildest winters on record and the continued collapse of natural gas prices have accelerated the decline.
Coal's share of total U.S. electricity generation fell below 40 percent in the final two months of last year -- the first time market share has slipped to that level since Jimmy Carter was in the White House, according to data from the Energy Information Administration. Meanwhile, coal producers are idling mines and lowering earnings forecasts -- a fact reflected in beaten down stock prices for the entire sector.
The collective market value of publicly traded coal companies based in the St. Louis area -- Peabody Energy Corp., Arch Coal Inc. and Patriot Coal Corp. -- has fallen by billions of dollars from last year. Arch Coal, for instance, closed at $10.15 on Thursday, the lowest point since November 2008, and less than a third of its value just a year ago. Peabody and Patriot have fallen hard, too.
Of course, coal markets have ebbed and flowed for decades in sympathy with changes in weather and the economy. And the industry has been counted out more than once before. But a combination of new dynamics make a recovery for the domestic coal industry more challenging -- and uncertain -- this time.
"Commodities and energy go through these cycles," said Michael Dudas, a coal analyst at Stern, Agee and Leach Inc in New York. "But there is an element of structural change that's occurring in the utility sector driven by regulation and, secondly, lower natural gas prices."
Domestic natural gas production has surged in recent years as advances in hydraulic fracturing, or fracking, and horizontal drilling technologies allow producers to access reserves trapped in shale rock formations. Fracking involves injecting a mix of sand, water and chemicals deep underground to break apart the rock and release the gas.
The increase in output is reflected in record gas in storage and a collapse in prices. Gas inventories as of March 30 totaled 2.5 trillion cubic feet a record for this time of year when storage levels are typically depleted. And natural gas futures on the New York Mercantile Exchange, which peaked at $14 per thousand cubic feet in mid-2008, fell to a decade-low of $2.09 per thousand cubic feet this week.
Natural gas is the main competitor to coal as a fuel for electricity generation, and it -- much more than renewable energy technologies such as wind and solar power -- are stealing market share from coal.
Gas prices "have been pretty unrelenting in their decline to the point that some higher-cost coal-mining regions find themselves up against a fuel that's become pretty abundant," said Paul Forward, a coal analyst at Stifel Nicolaus & Co. in Baltimore.
The coal industry, however, sees prices gravitating upward toward $4 in the months to come. That's cheap by recent standards, but a level at which coal from the Powder River Basin competes well, said Deck Slone, an Arch Coal vice president.
"We don't view the current gas prices as being sustainable longer term," he said.
Also clouding the longer-term outlook for coal sector is a series of pending and proposed rules aimed at slashing pollution from coal-fired power plants. The regulations are welcomed by environmentalists as long overdue. Slone described them as "ill-advised" and said they threaten to raise energy prices.
Officials at Patriot could not be reached Friday. Peabody Energy didn't comment.
The Environmental Protection Agency issued the most recent of these proposed rules two weeks ago. The standard would, for the first time, establish emissions limits for carbon pollution from new power plants -- 1,000 pounds of carbon dioxide per megawatt-hour of electricity generated.
The combination of a tepid economy, depressed power markets and costs of meeting tougher environmental regulations have already prompted utilities including Ameren Corp. to shutter older, dirtier and less efficient coal-fired power plants. While the new EPA proposal wouldn't affect plants that are already permitted or are being built now, including the massive Prairie State plant near Lively Grove, Ill., some observers believe it would not be cost-effective for utilities to build new coal-powered plants with today's technology.
"If somehow these regulations eliminate the potential for new power plants to use coal, then it does force coal companies to re-direct their focus to areas where demand is growing," Forward said.
Those growing markets are, in particular, China and India. They're the reason why coal companies including Arch and Peabody are looking to expand coal export capacity in the U.S. Peabody, the largest U.S. coal producer, has also invested billions of dollars in Australia to more directly tap Asia's appetite for energy.
In the meantime, producers are coping with a bleak near-term market outlook, thanks to the mild winter and, secondly, a pullback in international demand for so-called metallurgical coal used to make steel.
In the U.S., coal stockpiles at power plants continue to swell. Analysts see inventories exceeding a near-record 200 million tons nationwide entering summer, and some utilities to try to defer deliveries until 2013, or even try to sell some coal for export overseas.
Producers have already made production cuts, including steep cuts in the massive mines of the Powder River Basin of northeast Wyoming. Analysts see more curtailments to come, especially in higher cost areas where coal seams are thinner, like central Appalachia.
But analysts believe the sell-off in coal shares, particularly certain companies, may have already gone too far. Coal demand is projected to rebound somewhat in 2013, and no matter how cheap natural gas remains, there's only so much coal gas can displace in coming years. In fact, the EIA estimates coal will stay at near 40 percent market share for the next two decades, and exports are projected to continue rising.