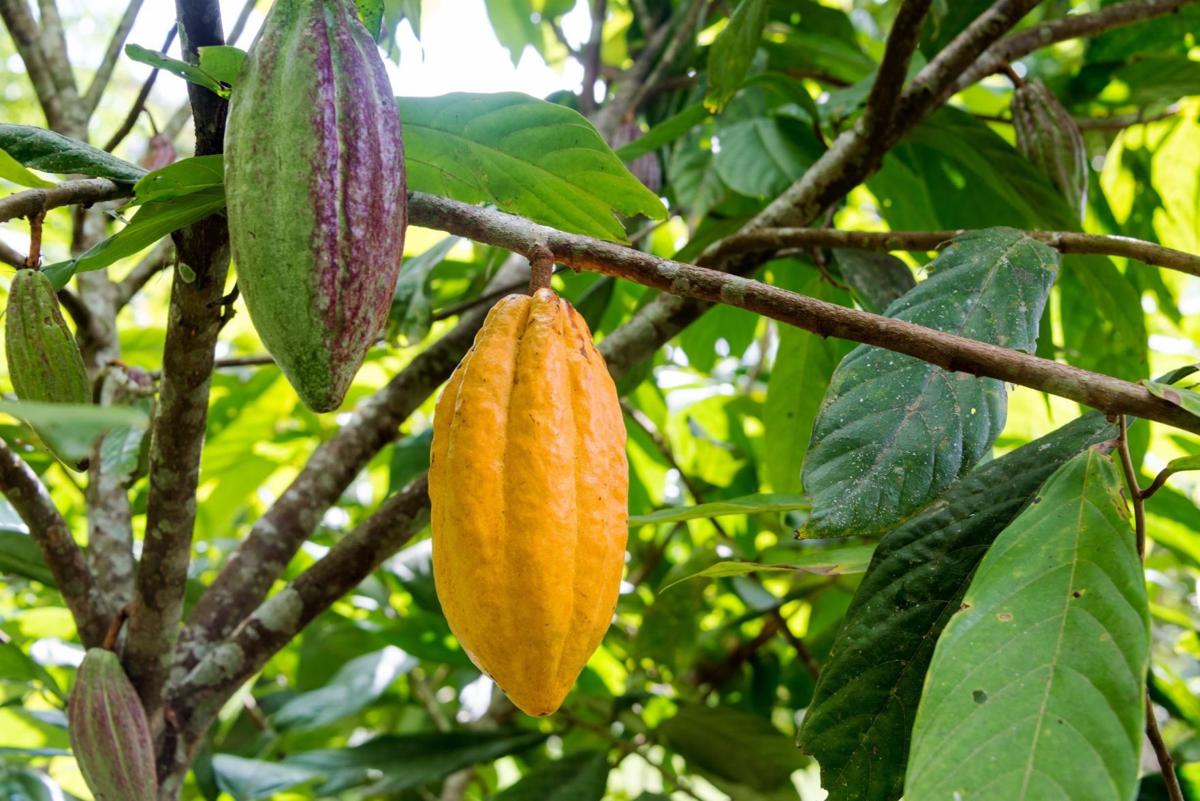 CREVE COEUR • The world loves its chocolate. But keeping pace with global cravings can be a tall order for chocolate producers — a challenge made even tougher as climate change and disease threaten the world's cocoa supply.
Those threats have prompted major players such as the candy bar giant Mars — which churns out Snickers, M&M's and Dove Chocolate, among its lines of products — to seek solutions in the field of biotechnology. Earlier this month, the company announced that it hired Benson Hill Biosystems, a Creve Coeur-based biotech firm, to outfit it with computing tools to help develop more resilient cacao trees, which produce beans used to make chocolate.
"Cacao is a pretty fragile crop, increasingly affected by climate change and disease pressure," said Howard Shapiro, the chief agricultural officer for Mars. "Forty percent of the crop is lost each year due to fungal, viral, and pest problems. This is a huge problem for manufacturers like Mars."
"If it's hotter and it's more moist, there are vectors for disease that can thrive more in that environment," explained Matt Crisp, Benson Hill's president and CEO, in a recent interview with the Post-Dispatch.
"In some cases with crops like this, they are deforesting higher elevations to move the crop into altitudes where ... it's cooler, and is resemblant of the environment that this plant might have grown in 20 or 30 years ago, when it was really thriving or more stably being produced."
Amid the scramble for a more stable supply chain, Mars is betting that Benson Hill can help. Through their deal for an undisclosed price, Benson Hill will equip the company's cacao experts — who have bred the plant for 20 years — with a software platform that uses data on plant genetics and traits to speed up and streamline the breeding process.
"What our platform is working to do is tap into that natural genetic diversity of the cacao tree," said Crisp. "We can use Benson Hill's CropOS analytics engine to understand how we can more rapidly tap into that genetic diversity and find lines of genetic variance that make that plant less susceptible to these types of conditions."
Developed by Benson Hill over the last two and a half years, the computational breeding technique uses machine learning and artificial intelligence to couple plants' genomic information with records of their physical traits, often gleaned through years of observations and field studies.
In other words, the platform provided to Benson Hill's customers "basically accesses a lot of the information that these companies have collected over the years," said Dylan Kesler, a lead data scientist for Benson Hill and a former assistant professor at the University of Missouri.
Added up, the approach can shave years off the development process while also narrowing the plant breeding options that companies such as Mars have to weigh for field trials.
"Say instead of taking 10 years, we can take 5 years. Instead of taking 10,000 options, let's start with the best 500," Kesler said. "We simulate those offspring with machine learning to predict the quality of those offspring. And then they can select and say, you know, 'We want Pairing A and Pairing C, to really give us the best bet.'"
Computational breeding, along with other advancements such as genome editing and sequencing, combine for what Mars and Benson Hill see as exciting application opportunities in new areas of agriculture.
"Cocoa is one of the top 10 commodities traded globally, and yet it lags behind other crops in terms of scientific research," Shapiro said.
"This is the type of technology that the big guys historically have had, but have focused on developing a very few number of crops," said Crisp, naming corn and soybeans as top examples honed by major agribusiness companies. "It's our belief that there are dozens if not hundreds of other crops that deserve innovation."
As Crisp points out, cocoa is far from the only commodity where disease or other threats have confronted producers with urgent crises. Bananas, papayas and Florida oranges are all examples dominated by monocultures — meaning a single crop variety — and jeopardized by disease.
Crisp said that commercial cacao trees had more diversity than those but that an overall lesson — about using biotech as a catalyst for much-needed genetic diversification — is still applicable.
"We've got to get deliberate about tapping into that natural genetic diversity," said Crisp, "or we're just going to keep hearing about these stories over and over and over again. The 'This disease is going to decimate that crop.'
"And the storyline is just going to keep playing."