With national water use dropping about 2 percent per year, Missouri American Water Co. has been pushing policies to shield it from the trend.
The water company serving all of St. Louis County tried first to win over regulators during a rate case filed last year.
Its proposed mechanism would have adjusted rates to ensure it always collects the amount authorized by the Missouri Public Service Commission. If overall usage falls, rates would be pushed higher to make up the shortfall. If everyone uses more during a particularly dry summer, rates would drop.
Missouri American argues this will allow the utility to freely promote conservation while continuing to invest in fixed infrastructure costs that aren't affected by total water usage. Critics contend it shifts risk to customers and that there's less need for conservation in a water-rich region like St. Louis.
But in March, the water company dropped the proposal in a quiet settlement with the Missouri Public Service Commission staff that resolved the most controversial aspects of its rate case. Not only did it agree to drop the revenue adjustment proposal, it agreed to cut its rate increase request by 40 percent, to $30 million.
The settlement came shortly after regulators stumbled onto a problem that Missouri American never disclosed during more than six months of rate case proceedings: Thousands of its meters weren't recording total water use by either underbilling or not recording usage at all.
The company discovered the problem in early 2015, and Missouri American absorbed the underbilling. If no use was recorded, the utility used the prior year's volume to fill in the bill, according to regulatory filings.
Many customers may have saved money. But regulatory staff and consumer advocates say the meter issue raises serious questions about water use data as Missouri American pushes for a new regulatory regime that would boost rates based on falling consumption.
The PSC only discovered the issue in February after noticing high overtime costs in October. After asking about the overtime, the PSC staff said Missouri American disclosed that there were "unusually high levels of premature failure rates" associated with meters that it had acquired from Mueller Systems. Those meters were installed starting in 2012.
The faulty data made regulators even more hesitant about a revenue adjustment mechanism.
Missouri American "has not shown the ability to ensure that the customer usage data is acurate enough to rely upon to implement a new regulatory scheme that will fundamentally change the ratemaking paradigm, such as its (revenue adjustment mechanism) recommendation," James Busch, the PSC's regulatory manager of the water and sewer unit, wrote in testimony to the commission.
Missouri American spokeswoman Ann Dettmer said the company replaced about 22,000 meters across the state after it discovered the issue. The company also serves customers in Joplin, Jefferson City and St. Joseph.
Only about 9,500 of them were in St. Louis County, she said.
"As we studied this issue, there was no indication that this affected 97,000 meters," she said in a statement, adding: "With the meter testing and replacements that we have done, we believe that we have addressed all the issues and do not intend to replace any more of these meters."
As part of its rate case settlement, the company agreed to cooperate with a PSC investigation into the issue.
Dettmer said there was no relationship between the water utility's rate increase settlement and the faulty meter issue.
Conservation or risk shift?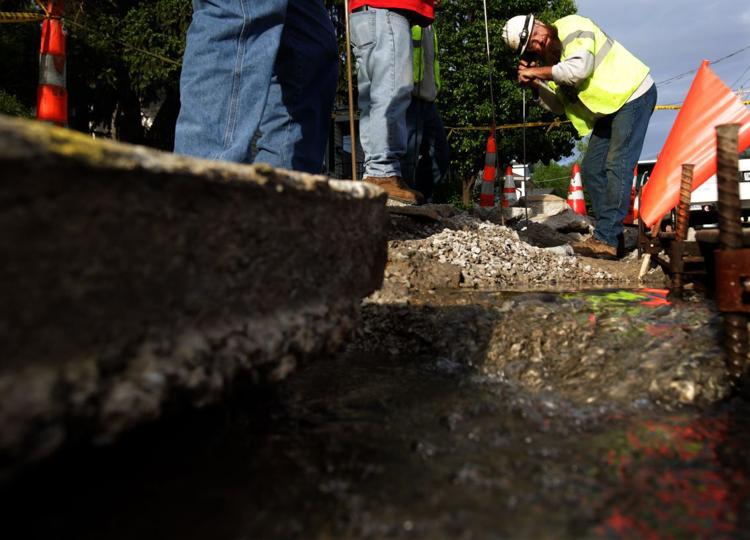 Still, there's legislation in Jefferson City that would adjust rates like the mechanism Missouri American proposed in its rate case.
"What's harmful about the legislation is it will allow piecemeal adjustments to overall revenues," said John Coffman, an attorney for the Consumers Council of Missouri. "... And this (PSC) testimony shows there are some serious questions about whether Missouri American water meters are accurately recording usage."
But Ashok Gupta, an economist with the Natural Resources Defense Council, supports the change. By making the utility agnostic about how much water it sells, it can ramp up programs and rebates to promote water conservation. While rates could be adjusted upwards by say, 1 percent, a conservation program could help an individual customer save 10 percent on their bill.
Gupta acknowledges the legislation doesn't have a requirement for a water conservation program, but he sees it as a first step.
"Ideally you would want to have some sort of efficiency requirement at the same time, but my understanding is Missouri American Water clearly intends to do that, and (a revenue adjustment mechanism) is a prerequisite to do that," Gupta said.
Missouri Public Counsel James Owen, however, said "what this really does is shifts all the risks from the utility to consumers."
Saving water might prevent the need to drill more wells in California or Texas, but there's less of a payback here. Assets will have to be replaced no matter how much water is used.
"We have two of the largest waterways in the world in this state," Owen said in an email. "Based on this large supply of water, no amount of water efficiency measures would offset the need to replace a new pumping station, for instance, in any manner that would be cost-effective."
Dettmer, at Missouri American, said the legislation would let the water utility promote conservation through education or seek PSC approval of special programs that would help customers install more efficient appliances.
She argued climate change will make the weather more unpredictable, and she said areas such as Joplin have already been affected by water shortages.
"We have to keep in mind that water shortages don't just happen in the desert southwest," she said. "They happen in Missouri, too."