ST. LOUIS — From the first legal sale of medical marijuana in Missouri two years ago this month, the cannabis industry here has grown like a weed.
More than 200,000 Missourians hold a medical marijuana card, which is more than 3% of the state's population. They're buying their pot to the tune of $34.33 million in September alone, according to industry publication Greenway Magazine.
N'Bliss dispensaries, which sold that first marijuana flower at the Old Orchard Shopping Center in Manchester in 2020, has grown to four dispensaries in the state. The firm that owns it, Nirvana Investments, also runs three other cannabis-related companies in the state. Business has been "fantastic," according to Bradford Goette, CEO and managing partner of Nirvana Investments.
But N'Bliss has yet to make a profit.
The industry is growing rapidly, from gummy candies to fizzy drinks to hemp-derived vaping cartridges. But high taxes and high regulation are holding back profits, shop owners and product manufacturers say. And that leaves them banking on the approval of recreational marijuana by voters in November to push their businesses into the black.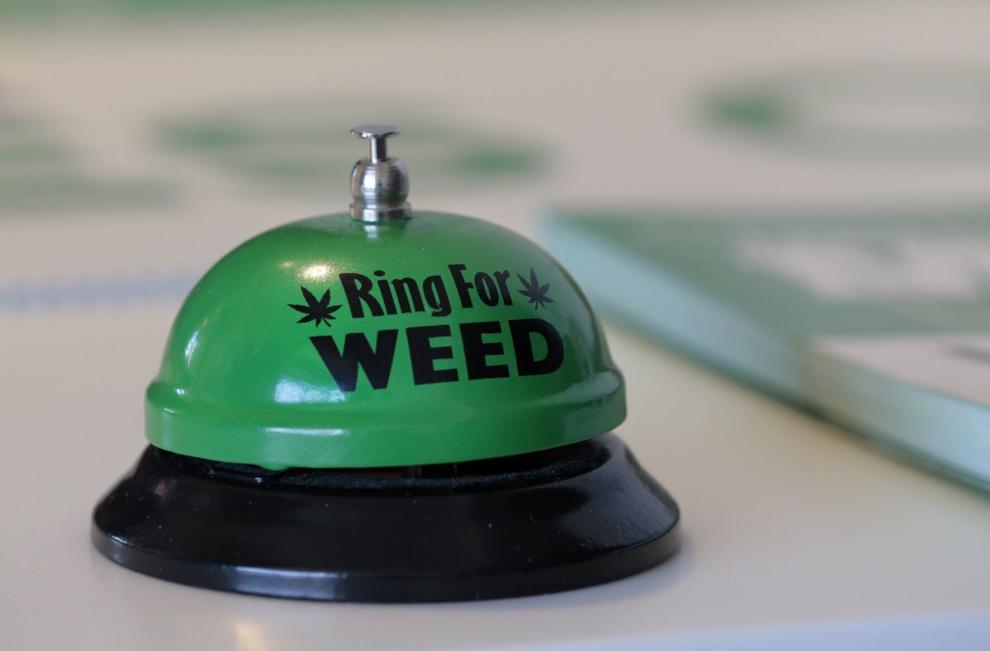 "There's a misconception that this is a sexy, cash-flow industry," said John Pennington, co-founder of Rock Hill-based Proper Cannabis. The company cultivates, manufactures, extracts and distributes cannabis products.
"Financially, it's a very difficult business. It's highly capital-intensive, and the federal prohibitions drastically prohibit your ability to run a normal business from a financial perspective," Pennington said.
Proper Cannabis has been able to make a "small" profit, he said.
Goette, of N'Bliss, said the biggest financial challenge comes from the tax laws. Unlike almost every other business, the cannabis industry is not allowed to take business deductions for anything from depreciation to employee benefits to fixtures.
Moreover, between federal and state taxes, the cannabis industry in Missouri is taxed at about 46%, he said.
The N'Bliss business plan predicted the company would begin making a profit in three years, Goette said. But "it's going to be reliant on Nov. 8 to get it to that three-year" projection.
Nov. 8 is Election Day. On the ballot is Amendment 3, which would make marijuana legal for recreational use for adults older than 21 and allow the potential release of people incarcerated on certain marijuana-related non-violent offenses; some convictions on non-violent offenses would be automatically expunged.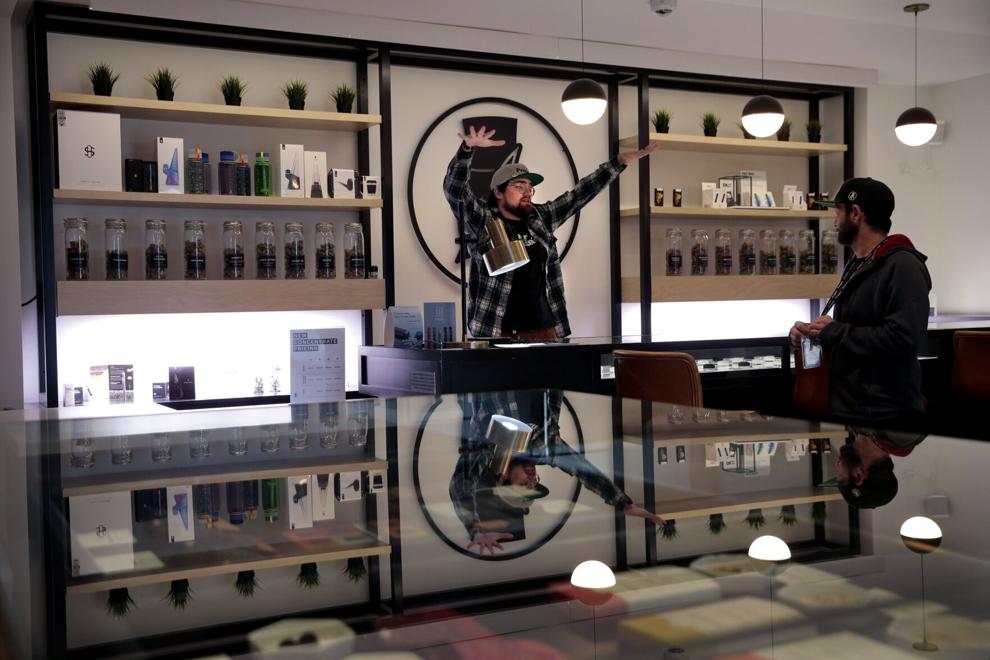 If passed, the amendment would also impose a 6% sales tax on marijuana products — paid by customers — with the revenue going to pay for veterans' health care. Localities can add up to another 3%.
"We'll have a very low (sales) tax rate compared to the rest of the country. … Illinois is taxed at 30 percent," Goette said.
A $500 million industry?
About 9,500 people are employed in the cannabis industry in Missouri. If Amendment 3 passes, both Pennington and Goette said they expect that number will double. Others in the industry predict the numbers may go up even more than that.
Chase Cookson, an instructor in the Cannabis Science and Operations Program at St. Louis University, said legal cannabis in Missouri has climbed exponentially to what should be about a $360 million industry this year.
If Amendment 3 does not pass, he expects the rapid growth to level off. With 200,000 Missourians already able to purchase medical marijuana, he said, "I think we're starting to hit the point where we have the customer base we're going to have. We might get another 20,000 to 25,000 people."
It's relatively easy to get a medical-use card in Missouri, he said, because so many medical conditions qualify for it. Along with cancer, persistent pain, glaucoma, certain psychiatric disorders and many other diseases, a catch-all category allows for marijuana use for any condition that is traditionally treated by a medication that can lead to a dependence.
"I think that most people who have an interest have found a way to get it," Cookson said.
But if voters pass Amendment 3, he predicts a significant increase in sales — perhaps $250 million to $300 million in the first year alone. Because medical use tends to decline after recreational marijuana becomes legal, Cookson said he expects combined sales of medical and recreational cannabis to reach $500 million in 2023 if Amendment 3 passes.
According to Goette, the additional sales would be significant to Missouri, both in job creation and tax benefits.
"Look at Colorado (and) what the industry has done for that state in terms of a growth perspective and infrastructure perspective," he said.
But passage of the amendment would make little difference in some sectors of the cannabis industry.
St. Louis-based Mighty Kind makes cannabis-infused seltzers and sparkling waters. Made with a tiny amount of THC — the ingredient in marijuana that produces a high — they are mildly intoxicating and can legally be sold all over the country.
Founder and CEO Joshua Grigaitis said it is a new industry with new regulations, and things are still a bit chaotic.
Legally, a product can have up to 0.3% THC and be sold outside of medical dispensaries in states that do not have adult-use programs, he said. But Mighty Kind drinks come in 12-ounce cans.
Each can contains 10 mg of THC, which is considered a single dose for people who are used to it. If the company were to fill the cans with the legal limit of 0.3% THC, it would be 100 times more potent than it is now.
That would be ridiculous, Grigaitis said; it would not just be harmful to the consumer but the product would taste bad as well.
Selling marijuana like beer
The part of the industry that is regulated — everyone that sells a product with more than 0.3% THC — spends millions of dollars and untold amounts of time trying to satisfy all the restrictions and regulations, Grigaitis said.
"It's a very tough thing," he said of the process.
The same 2018 law that made products with less than 0.3% THC legal in America also allowed the sale of hemp-derived CBD. CBD — cannabidiol — does not produce a high, but it does alter the user's mood. Anecdotally, users report benefits for everything from anxiety and depression to pain relief to better sleep.
CBD Kratom is the largest privately owned CBD store in America, with 500 employees and 56 locations in six cities. Based in Creve Coeur, it opened in 2013 with a single store in the Delmar Loop called Mr. Nice Guy.
Founder and president David Palatnik said his stores now sell seven of the eight most popular cannabinoids, the substances in cannabis plants (or synthetically made) that interact with the central nervous system, including the brain.
The one he doesn't sell is Delta-9 THC — the primary substance that gives the marijuana user a "high." Grigaitis, of Mighty Kind, said Delta-8, a weaker cannabinoid, produces a "body buzz," while Delta-9 creates more of a "head buzz."
CBD Kratom does sell products with Delta-8 THC, along with products with less than 0.3% Delta-9 THC by weight. If Amendment 3 passes, Delta-9 will be legal at higher concentrations.
But that doesn't mean CBD Kratom will sell them. Marijuana products are illegal on the federal level, and "it is difficult to operate a business in multiple states and sell a product that is federally illegal," Palatnik said.
Because of interstate regulations, products made with marijuana cannot legally cross state lines, even when they are legal in both states. For that reason, all cannabis products in Missouri are made with cannabis grown in Missouri.
"If Delta-9 becomes federally legal, we will be able to sell it," Palatnik said.
But will cannabis products ever be fully legal throughout the United States?
"It's hard to predict. All predictions say marijuana will be federally legal in the next few years. On the other hand, people have been saying that for 10 years," Palatnik said.
"We believe this is (what) the cannabis market should look like: Any adult should be able to walk into a nice, well-maintained store and be able to purchase cannabis products over the counter, similar to the way we are able to purchase a six-pack of beer," he said.