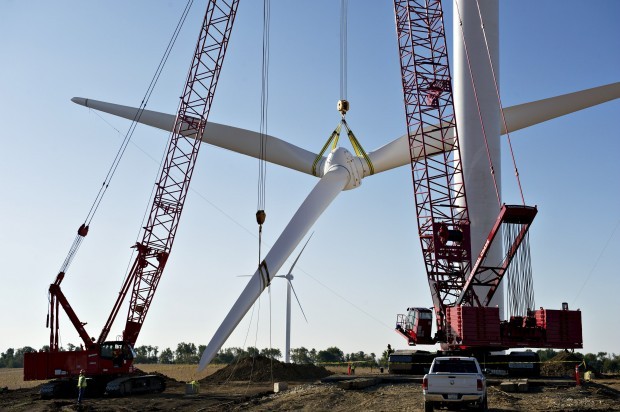 Four years ago this week the country was mired in recession. But things were looking up for Missouri's nascent wind industry.
St. Louis-based Wind Capital Group was announcing the state's sixth wind farm — and the company's fifth — to be built an hour northeast of Kansas City.
Business, labor and elected officials, including Vice President Joe Biden, attended a ceremony inside ABB Inc.'s Jefferson City plant, which supplied 100 transformers for the wind farm. A key message that day was how such projects could simultaneously diversify Missouri's energy mix as well as provide a boost to the state's battered manufacturing sector.
What no one knew at the time is that the 150-megawatt Lost Creek wind farm, the state's largest, would also be its last.
In the two and a half years since the project was completed, no wind projects have been developed in Missouri. Meanwhile, the American Wind Energy Association's 2012 Annual Market Report shows that neighbors Kansas, Iowa and Illinois have each added at least 1,400 megawatts apiece — enough to power tens of thousands of homes.
In fact, each of those states added more wind capacity in the last three months of 2012 than currently exists in Missouri.
Together, Missouri's six wind farms, all in the northwest corner of the state, can generate 459 megawatts. Most of the output is sold to electric cooperatives or municipal utilities. Investor-owned utilities in the state all buy some wind power from projects in Iowa and Kansas.
No doubt, countless variables go into developing a wind farm, including wind speeds, access to the transmission grid and finding a willing buyer for the power.
Last year, most of the focus was on finishing projects before the expiration of a federal production tax credit, a payment of 2.2-cents per kilowatt-hour for the first 10 years of a project's life. The subsidy, which has provided a powerful incentive for new wind projects, was renewed on Jan. 2 as part of the fiscal cliff bill and is valid for new wind projects that begin construction by the end of this year.
But there seems to be little activity in Missouri. And those who work in the wind industry say one factor more than any other has served as a barrier to wind development — state policy.
Missourians in 2008 voted 2-1 to approve a state renewable energy standard, a measure requiring utilities to gradually ramp up use of renewable resources through 2021, when 15 percent of power they sold to consumers would have to come from the wind, sun or other renewable sources. The law also included specific provisions to encourage solar power development and limited the impact on utility rates.
But the ballot initiative hasn't triggered the kind of wind development envisioned because of how it was implemented, said Beth Soholt, executive director of Wind on the Wires, a nonprofit group based in St. Paul, Minn., that works on wind policy and transmission issues across the Midwest.
"Implementation is where the rubber hits the road," Soholt said. "And it has been more difficult in Missouri than in other states."
The disagreement over how Missouri's green power law is implemented has dragged on since voters passed it, moving from state regulators to the Legislature to the courts.
So far, utilities subject to the law have prevailed at every level, arguing that they need flexibility to satisfy the requirements and hold electric rates in check for consumers.
Renewable energy advocates say the rate argument is a red herring and earlier this year complained to regulators that utilities were out of compliance. Utilities say the claims are false.
But as that battle plays out, wind developers are losing interest, said Steve Gaw, a former Speaker of the House in Missouri and past chairman of the Public Service Commission.
Gaw, who now works for the Wind Coalition, an organization working to encourage wind energy in the south central United States, said developers have invested a lot of time and money securing options or leases in the state. But they have since pulled out or are on the verge of doing so.
"We're really missing an opportunity that other states are capitalizing on," he said.
Among those companies is EDF Renewable Energy, one of the nation's largest wind energy developers.
"When you talk to companies in the wind industry and bring up Missouri, you get a lot of shrugging," said Virinder Singh, the company's director of regulatory and legislative affairs. "It's very hard for developers like us to see that the state cares about developing its in-state capabilities."
States in the Southeast, including Arkansas, have little if any wind projects. But they generally are not blessed with the same wind-energy resources as their neighbors in the Plains.
And though Missouri is not as gusty as Texas, Kansas or the Dakotas, the state has ample potential, Singh said.
In fact, the Show-Me state is No. 13 in the wind association's rank of the top 20 states for wind energy potential. That's a notch higher than Illinois, which has seen eight times as much wind capacity built, and better than California (No. 19).
"It's not about the wind resource. The potential is there, and it has been known to be there," Gaw said.
Soholt said wind potential in Missouri and elsewhere will continue to grow as towers get taller to reach stronger winds, blades get longer and turbine technology advances — all of which will continue to improve the economics of wind as an energy source.
At the same time, Missouri's fleet of coal-fired power plants continues to age and regulations governing air, water and coal waste discharges are becoming ever more stringent.