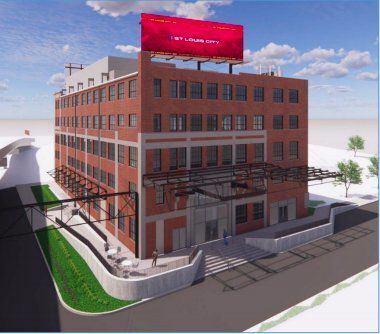 ST. LOUIS — The St. Louis Preservation Board on Monday gave preliminary approval to the ownership group of St. Louis' Major League Soccer team to renovate a historic building in Downtown West into its new headquarters.
The St. Louis City SC ownership group, comprised of Enterprise Rent-A-Car's Taylor family and World Wide Technology CEO Jim Kavanaugh, acquired the Union Square building at 320 South 21st Street in January. The property sits a half-mile south of the site where the team's stadium is being built.
The ownership group plans to restore most of the exterior's historic elements as well as add some "contemporary elements" like a bay window on one side of the building, according to notes filed with the Preservation Board. The ownership group hired Clayton-based Christner Architects for the project.
"The building is in need of a lot of love," Christner Managing Principal Jeff Ryan said. "Our proposal is to do this right."
The Preservation Board has power to review the project because the property is in a designated historic area.