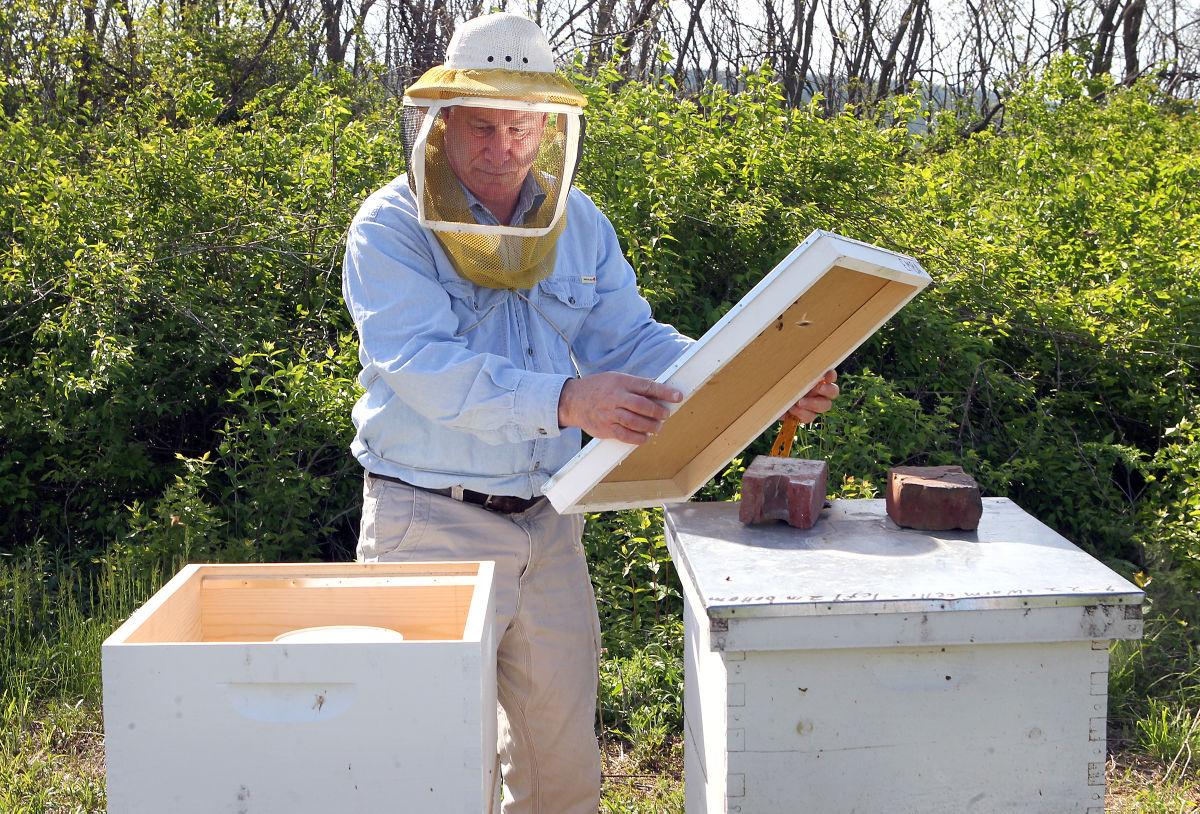 At the close of Monsanto Co.'s "Bee Health Summit" Thursday, at least a few beekeepers in attendance were still a little incredulous about where they'd just spent the last three days.
"I can't believe I'm at Monsanto," said Gene Brandi, a beekeeper from California, echoing a colleague's comments from the previous night. "But the honey bees brought me here."
The conference, which began Tuesday, was an effort by the Creve Coeur-based biotechnology giant to introduce itself to the beekeeping industry — a community in which it could find customers one day, and one that has some Monsanto skeptics in its ranks.
"The goal in my mind was pretty simple," said Jerry Hayes, a veteran bee expert who leads Monsanto's bee research efforts. "To connect the beekeeping industry more closely to Monsanto, and to connect Monsanto more closely to the beekeeping industry. They've heard all the big scary stuff about the company. We want to raise their comfort level."
The company is working on a new technology intended to control a tiny insect, called the varroa mite, that has been a major factor in the decimation of honey bees. If Monsanto successfully brings the technology to market, it could be a blockbuster.
"We have something we think we can offer in the way of technology," said Kerry Preete, Monsanto's executive vice president for global strategy. "We know that honey bee health is critical to our mission."
Over the past decade, the global honey bee population has plummeted. In the U.S., the population has declined by an average of about 30 percent every year since 2006.
The causes of the bee health decline are complex and include varroa mites, the viruses they transmit, poor nutrition, pesticides, declining habitat and less forage. In agricultural areas, some believe, bee health is especially troubled because the insects have less diverse food options. All of these factors, experts believe, have led to the syndrome known as Colony Collapse Disorder.
"It's never been more difficult to keep bees alive," Brand said, underscoring the frustration, even desperation, of many in the room. Bees pollinate nearly $20 billion in American crops each year, and up to $220 billion globally. Their plummeting numbers have researchers, beekeepers, academics, and increasingly, private sector companies scrambling to come up with solutions that have proved frustratingly elusive.
Monsanto announced on Thursday the formation of its Honey Bee Advisory Council, made up of academics, beekeepers, industry associations and government sectors. The council will act as an external adviser to the company on honey bee health.
Two years ago Monsanto bought the Israeli company Beeologics, which it believes is on the road to a fix. Beeologics researchers are using regulatory RNA, which regulates or modifies how a plant — or in this case, insect — works. A solution would be fed to the bees, and the mites would ingest it via their bee hosts, and the gene within the mite that transmits viruses would be "turned off." In theory, this would control mite populations and the viruses they carry.
The technology is in the very early stages of discovery.
"Research takes time, and you can't expect a timeline for when you'll get results," said Alex Inberg, who heads the varroa mite project for Beeologics. "We're in a very good place, but we have a lot of work to do."
That work includes gaining the trust of beekeepers who worry that any new technology could make them dependent on yet another chemical — in the already overloaded, stressed and medicated hives they're struggling to maintain.
One beekeeper told the audience that he was worried a new product would put him on another "treadmill."
"I'd have to continue to supply it," he said. "As soon as I stop, that varroa mite is going to come back in my hive."
Another worried about the company's plans to create a genetically engineered "super bee."
To that, Hayes said: "Monsanto has no intention of genetically modifying a bee, or having a bee that pollinates Monsanto-only crops. Our goal is to protect bee health."