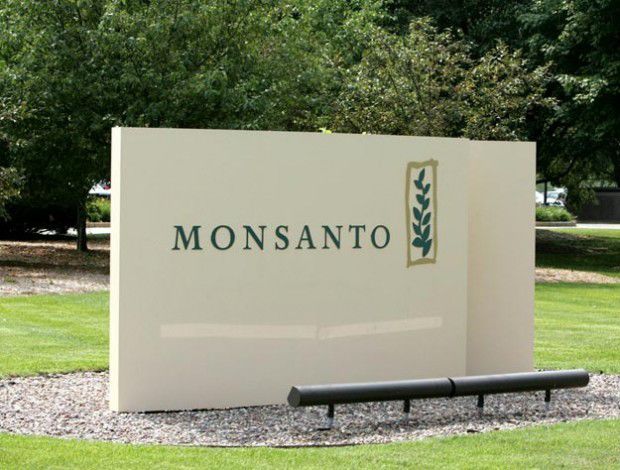 As Election Day approaches, the biotechnology and food industries are looking anxiously westward to California, where a ballot measure that would require labels on genetically modified foods will go before voters.
The contentious fight over the measure, Proposition 37, has escalated in recent weeks as chemical, biotechnology and food manufacturing businesses have ponied up more than $45 million in an attempt to sway voters.
Leading the pack is Creve Coeur-based Monsanto Co., the world's largest agricultural biotechnology company, which has spent more than $8 million to defeat the labeling initiative, nearly $3 million more than rival DuPont, according to the California secretary of state's office.
That spending dwarfs the sum amassed by groups in favor of the measure, which have gathered only $7 million. The influx of cash seems to be having an impact. Previous polls had consistently shown the measure passing, but a poll released last week showed that slightly more than 50 percent of voters are against it.
"It'll be a miracle if it passes now," said Gary Hirshberg, chairman of the "Just Label It" campaign, which is spearheading an effort to draft a federal labeling law.
In the last couple of months, California voters have been bombarded with ads, fliers and calls from both sides, each claiming that the other is waging a deceptive campaign. Opponents have used the muscle of large corporations and farm groups; proponents have enlisted celebrities and a last-minute press push.
Those in favor of the measure say the matter is simple: Consumers should know whether genetically modified ingredients are in their foods.
"The wording is simple and clear, and it will not cost customers a dime," said Andrew Kimbrell, of the Center for Food Safety, a Washington-based advocacy group.
Those against it say the measure is badly drafted, will unnecessarily scare consumers and will open the door to lawsuits against retailers, farmers and seed companies, driving up the cost of food. And they worry that other states could follow California's example.
"It will lead to shakedown lawsuits, higher costs, more state bureaucracy, and there are exemptions that were done for political reasons that make no sense," said Kathy Fairbanks, of the "No on 37" campaign.
The law would require retailers and manufacturers to label any genetically engineered produce or processed food that contains a genetically modified ingredient. An estimated 60 percent of foods in the typical American grocery store — everything from ketchup to cereal — contain genetically modified ingredients, mostly from corn or soy. Alcohol, dairy products and meat are among the exempted products.
Fairbanks said the measure would allow lawyers to sue for any violations of the law.
"They can be roped into the shakedown," she said. "It starts with the grocery retailer, but then goes all the way to the farmer and to the seed companies. ... It's a huge target, and very lucrative."
Monsanto did not provide a representative for an interview, instead referring questions to Fairbanks. Bunge North America, a grain dealer and processor, and Solae, a soy ingredients company, both based in St. Louis, also contributed to the "No on 37" campaign. Bunge did not reply to a request for comment, and Solae also referred questions to Fairbanks.
There have been a series of allegations against the "No on 37" campaign, which was forced to pull a TV ad that wrongly suggested Stanford University endorsed the anti-labeling view of a professor. Proponents of the measure also say that the "No on 37" campaign made false statements in the official state voters guide.
Meanwhile, similar accusations have been lobbed at the "Yes on 37!" campaign. A University of California, Riverside, professor told the campaign on Friday that it was misrepresenting a National Academy of Sciences report he authored. The report, according to the campaign, concluded that genetic engineering poses health threats. But the professor, Alan McHughen, said the report made that claim for all forms of breeding. "There is no scientific basis for singling out GE (or any other method of breeding) for special treatment," McHughen wrote in a letter to the campaign.
Labeling, proponents say, goes beyond just sticking a few words on a food package. It is about a consumer's right to know, they say, and essential given some questions surrounding the safety of genetically modified foods.
The U.S. Food and Drug Administration has long said genetically modified foods are equivalent to conventionally produced or bred food, and that there is no clear evidence that genetically modified foods cause illness or allergies.
But the agency does not require safety testing, and skeptics of genetically modified foods say they want long-term studies to determine whether the foods are safe, a costly proposition that the industry is unlikely to embark on.
"The industry says we've done our homework. But the truth is no one has done the homework," said Jonathan Emord, a Washington-based lawyer who represents food companies. "This whole circumstance arises from the failure of the FDA to require safety testing."
In the absence of that testing, many consumers say they want labels. And if they're required in the nation's biggest market, the thinking goes, food companies could choose to reformulate their recipes using nongenetically modified ingredients. That could mean a reduction in demand, and a hit to the bottom line for companies such as Monsanto and DuPont.
But some analysts say that could be overstating the matter. While food manufacturers in the European Union, where labels are required, have chosen to reformulate their products rather than label them, in other countries, where companies have chosen to label, consumers don't seem to care.
"Anywhere in the world where manufacturers have followed that strategy, such as China or Brazil, we have not seen an impact on demand," said Nicholas Kalaitzandonakes, a University of Missouri economist who has written extensively on the subject. "But in other countries, in Japan and Europe, food manufacturers have chosen to avoid the label, so in that case, they reformulate and pass the cost on to customers."
Monsanto has said it endorses labeling genetically modified foods in the European Union, where consumers have demanded it. But in the U.S., Monsanto and its competitors have clearly taken a different position.
And if the California measure passes on Tuesday, it will likely be challenged right away.
"The industry trade groups are keenly watching," Emord said. "They have teams of lawyers here working on this. I'd be flabbergasted if a month goes by without a suit in federal court challenging this."
---
EDITOR'S NOTE: The city of Creve Coeur, where Monsanto is headquartered, was misspelled in a previous version of this story.