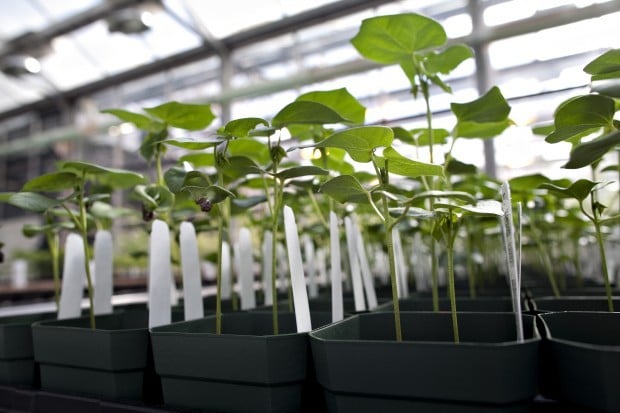 WASHINGTON • A U.S. appeals court has handed Monsanto Co. another victory in its legal battle to protect its patents, affirming a lower court decision to throw out a lawsuit filed by organic farmers and seed sellers.
The farmers, in their lawsuit filed in 2011, sought to block Monsanto from suing them in case their crops inadvertently were found to have traces of the company's genetically engineered products.
That concern had some basis: Monsanto has pursued more than 800 patent-infringement cases against farmers who plant its soybeans, corn or other crops without paying the proper royalty.
But the U.S. Court of Appeals for the Federal Circuit in Washington, in an opinion released Monday, said there's no reason for the farmers' lawsuit, citing "binding assurances" by Monsanto that it won't take patent action against farmers whose crops inadvertently contain traces of its biotechnology genes.
"Monsanto's binding representations remove any risk of suit against the appellants as users or sellers of trace amounts (less than 1 percent) of modified seed," Circuit Judge Timothy Dyk wrote for the three-judge panel. "The appellants have alleged no concrete plans or activities to use or sell greater than trace amounts of modified seed, and accordingly fail to show any risk of suit on that basis."
Between 1997 and 2010, Monsanto filed 144 infringement suits and settled about 700 other cases without litigation, according to the opinion. The company's practices have been upheld by courts, including a May decision from the U.S. Supreme Court.
On its website, Monsanto said it "has never been nor will it be Monsanto policy to exercise its patent rights where trace amounts of our patented seeds or traits are present in farmer's fields as a result of inadvertent means."
It's not clear what would happen if more than trace amounts were found, the court said. With about half of the nation's cropland sown with genetically modified crop varieties, it's possible some farms have been contaminated by Monsanto's technology that makes plants resist the application of the popular Roundup weedkiller, the panel said.
The Federal Circuit panel said a challenge to the Monsanto patents wouldn't help the farmers' other complaints about the economic costs they incur to avoid contamination or their claims of a potential long-term medical or environmental impact of genetically modified seeds.
The seed company is facing lawsuits over claims it failed to take appropriate steps to prevent such a contamination after an experimental wheat variety was found in an Oregon field.
Japan and South Korea suspended some U.S. wheat purchases after the discovery was made. Monsanto has said the contamination may have been the result of an "accidental or purposeful" act.