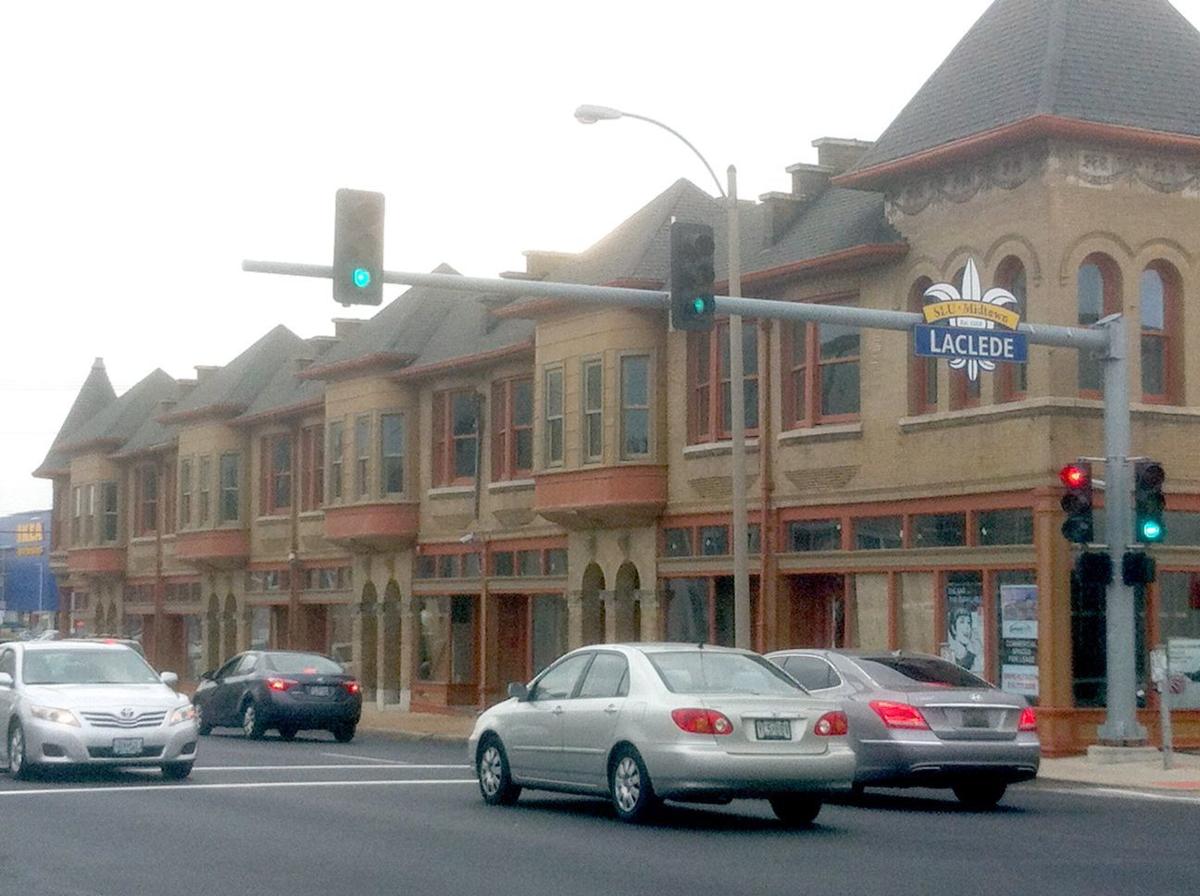 Now that St. Louis' Ikea store is open and drawing the predicted swarm of shoppers, developers are busy with residential and commercial projects near the store at Forest Park and Vandeventer avenues.
In sight of the massive blue and yellow furniture store, which opened Sept. 30, is Gerhart Block at 3910 Laclede Avenue. It's an $8 million rehab of a structure built for $40,000 in 1897 for a realty company.
Its current owner, Capstone Development of Clayton, is redoing the two-story building as 17 apartments and ground-floor commercial space.
Capstone's president, Bill Luchini, said street and sidewalk improvements done for Ikea will have a positive spillover effect in the area. Foot traffic will increase, he said.
Already signed to lease a Gerhart Block storefront is a Gyro Co. restaurant, Luchini said. A coffee shop and restaurant is near an agreement to occupy a larger, more prominent corner space, he said.
A Gerhart Block display apartment is opening this week, he added. Monthly rents for the two- or three-bedroom apartments will range from $1,695 to $1,920. Luchini said the apartments will be ready for occupancy by year's end.
Across Vandeventer from Gerhart Block is the Standard at 3853 Forest Park. It's five floors of new apartments for students at nearby St. Louis University. The developer, Sangita Capital Apartments, has said the 164-unit project was 90 percent leased before it opened in August. Sangita and Landmark Properties, a student housing developer from Athens, Ga., are behind the project, which went up without tax incentives.
More than 400 market-rate apartments have been built in the last two years west of SLU and north of the Cortex technology district, where Ikea is situated. More are planned or under construction.
Developers welcome Ikea and say growth of Cortex and expansion of Washington University School of Medicine and BJC HealthCare east of Kingshighway are driving up the demand for new housing.
Brooks Goedeker, executive director of Park Central Development, the area's development corporation, said Thursday that coming is the first new for-sale housing in a decade.
Lawrence Group plans to build 13 town houses on vacant ground and a parking lot on North Sarah Street. The residences would be just south of the company's project at 4100 Lindell Boulevard putting 16 apartments and offices in a three-story 1950s design by architect Gyo Obata for business machine maker Remington Rand.
Another developer is considering a condo project on another Sarah Street location nearby.
"We've had a huge wave of apartments in the area," Goedeker said. "Now we're seeing the demand for for-sale housing."
In addition, Vandeventer south of Ikea will likely be transformed in the next two years by new commercial development, he said.
More retailers will want to be near Ikea, said Goedeker, adding that Park Central prefers denser, urban projects over "autocentric" designs of big parking lots in front of one-story buildings.
Building preservationists welcomed Capstone's project to renovate Gerhart Block, which is on the National Register of Historic Places. Fancied up with arched doorways, metal bay windows, terra cotta trim and a turret, the building is among the neighborhood's more elaborate structures.
Next to Gerhart Block is a three-story red brick building, from 1891, that features a turret projecting from the center of the two upper floors. Luchini said he is redoing the building with six apartments to make it part of the larger project next door.
"It's worked out well," he said. "We're pleased with how fast the area has grown there."