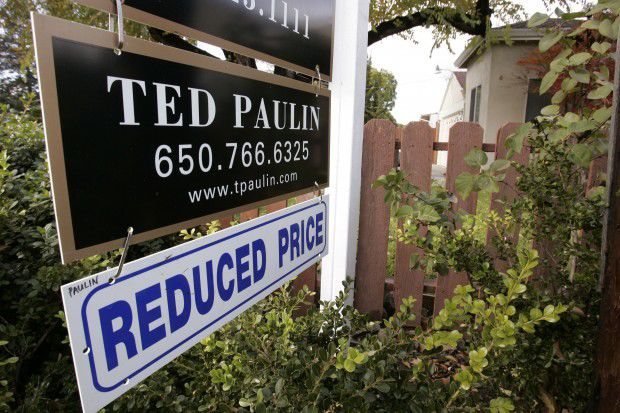 A new report from Trulia, a real estate data and search site, says just 34.2 percent of homes across the U.S. have surpassed pre-recession peak values. The report, released Wednesday, appears to contradict a widely accepted view that home prices have recovered from the housing crash that began in 2006.
While tech hubs like San Francisco and Denver and job centers like Dallas or Nashville, Tenn., have seen home values explode past earlier highs, there are more losers than winners, the Trulia analysis shows.
In 28 metro areas examined in the report, fewer than 10 percent of homes had recovered their value since the bubble burst in 2008. Las Vegas was the worst performer, with less than 1 percent of its homes returning to or surpassing what they were worth before the recession.
"It's a reflection of just how well a metro area has recovered, broadly speaking," said Ralph McLaughlin, chief economist at Trulia, adding that his findings largely correlate with other measures of metro-level growth, such as gains in income and total population.
McLaughlin says a ZIP code-level analysis offers a more nuanced view of the haves and have-nots. In much of the middle of the country, cities have stagnated while less populated regions lead the recovery.
The report ranked 100 metro areas. The St. Louis metro area — ranked 50th, with a recovery rate of 33.7 percent — reveals wide differences reflecting, in part, high demand for suburban housing.
In the 63011 ZIP code area, which includes Ballwin, Manchester, Ellisville and Wildwood, an estimated 72 percent of the houses have recovered their pre-recession value. In the 63130 ZIP code area, which includes University City, that number is 26 percent. In the 63031 ZIP code area in Florissant, it was only 1 percent.
The median home value in the St. Louis market as of March 2017 was $149,621, according to Trulia. The peak pre-recession median value was $159,884.
Trulia's research is based on its own estimates of home values, while the big indices like S&P CoreLogic Case-Shiller Index and the FHFA House Price Index are based on actual sales.
Bloomberg and the Post-Dispatch contributed.
U.S. Home Value Recovery
| U.S. Metro | % of Homes Recovered to Pre-Recession Peak Value (Trulia, March 2017) | Median Home Value (Trulia, March 2017) | Pre-Recession Peak Median Home Value (Peak Dates Vary) |
| --- | --- | --- | --- |
| Denver, CO | 98.7% | $356,749 | $237,071 |
| San Francisco, CA | 98.0% | $1,112,438 | $830,595 |
| Oklahoma City, OK | 94.3% | $133,580 | $109,689 |
| Nashville, TN | 94.1% | $207,573 | $160,913 |
| Fort Worth, TX | 93.9% | $176,939 | $138,157 |
| Colorado Springs, CO | 93.4% | $247,181 | $206,882 |
| Wichita, KS | 93.3% | $137,589 | $119,534 |
| Dallas, TX | 92.5% | $201,650 | $148,975 |
| Tulsa, OK | 91.7% | $117,958 | $97,775 |
| Honolulu, HI | 91.5% | $657,425 | $567,353 |
| Buffalo, NY | 91.3% | $142,675 | $117,728 |
| Portland, OR | 90.3% | $360,514 | $297,445 |
| Rochester, NY | 89.2% | $132,423 | $121,218 |
| Raleigh, NC | 87.6% | $228,179 | $198,822 |
| Austin, TX | 85.0% | $266,217 | $211,371 |
| Louisville, KY | 84.6% | $148,130 | $127,687 |
| Omaha, NE | 84.6% | $153,583 | $136,747 |
| Pittsburgh, PA | 84.3% | $137,373 | $116,376 |
| San Jose, CA | 84.3% | $949,073 | $742,758 |
| Greenville, SC | 83.1% | $143,096 | $124,522 |
| Seattle, WA | 80.5% | $459,552 | $405,211 |
| Houston, TX | 80.1% | $160,618 | $141,937 |
| Madison, WI | 79.4% | $233,975 | $210,821 |
| Grand Rapids, MI | 76.6% | $167,377 | $150,666 |
| Baton Rouge, LA | 71.9% | $167,410 | $160,229 |
| Charlotte, NC | 71.0% | $167,127 | $154,979 |
| Knoxville, TN | 71.0% | $136,463 | $128,717 |
| Little Rock, AR | 70.6% | $133,038 | $123,631 |
| San Antonio, TX | 68.4% | $157,229 | $148,506 |
| Cambridge-Newton-Framingham, MA | 66.5% | $452,628 | $411,443 |
| Syracuse, NY | 63.9% | $128,162 | $122,622 |
| Columbus, OH | 62.9% | $162,702 | $153,601 |
| Charleston, SC | 61.1% | $232,326 | $215,504 |
| Oakland, CA | 60.4% | $682,949 | $639,501 |
| Boston, MA | 59.3% | $431,686 | $389,562 |
| Cincinnati, OH | 51.3% | $151,634 | $149,838 |
| New Orleans, LA | 50.9% | $174,612 | $182,980 |
| Columbia, SC | 47.5% | $126,209 | $124,798 |
| Albany, NY | 47.3% | $209,235 | $205,794 |
| Kansas City, MO | 45.3% | $154,639 | $158,576 |
| Winston-Salem, NC | 44.6% | $132,922 | $133,357 |
| Greensboro-High Point, NC | 44.1% | $125,513 | $126,712 |
| Atlanta, GA | 40.9% | $175,184 | $180,081 |
| Indianapolis, IN | 40.6% | $133,523 | $137,537 |
| Birmingham, AL | 39.7% | $130,336 | $133,116 |
| Tacoma, WA | 38.8% | $288,807 | $287,969 |
| Los Angeles, CA | 37.4% | $557,683 | $582,038 |
| Philadelphia, PA | 36.3% | $157,299 | $163,127 |
| San Diego, CA | 34.3% | $530,103 | $545,740 |
| St. Louis, MO | 33.7% | $149,621 | $159,884 |
| Minneapolis-St. Paul, MN | 31.2% | $243,279 | $245,761 |
| Milwaukee, WI | 29.1% | $215,507 | $228,674 |
| Warren-Troy-Farmington Hills, MI | 26.7% | $188,482 | $197,774 |
| New York, NY | 26.7% | $425,445 | $476,889 |
| Memphis, TN | 25.3% | $109,336 | $119,939 |
| Orange County, CA | 23.5% | $676,185 | $687,793 |
| Salt Lake City, UT | 23.1% | $256,380 | $270,425 |
| Akron, OH | 23.0% | $131,760 | $139,043 |
| Dayton, OH | 22.7% | $111,869 | $123,673 |
| Toledo, OH | 22.5% | $109,984 | $125,275 |
| Long Island, NY | 22.5% | $440,127 | $490,970 |
| Montgomery County-Bucks County-Chester County, PA | 19.7% | $302,912 | $321,609 |
| Washington, DC | 19.5% | $381,913 | $437,217 |
| Gary, IN | 17.5% | $139,113 | $154,137 |
| Cleveland, OH | 17.2% | $132,558 | $151,632 |
| Richmond, VA | 15.6% | $210,349 | $226,815 |
| Albuquerque, NM | 14.6% | $182,338 | $201,580 |
| Silver Spring-Frederick-Rockville, MD | 14.2% | $405,746 | $466,944 |
| North Port-Sarasota-Bradenton, FL | 11.2% | $245,828 | $297,388 |
| El Paso, TX | 11.0% | $110,924 | $127,315 |
| Miami, FL | 10.8% | $274,180 | $331,864 |
| Tampa-St. Petersburg, FL | 10.0% | $180,846 | $215,536 |
| Newark, NJ | 9.8% | $351,663 | $442,554 |
| Wilmington, DE | 9.3% | $219,826 | $248,567 |
| Sacramento, CA | 8.9% | $359,454 | $422,360 |
| Detroit, MI | 8.7% | $71,230 | $122,641 |
| Baltimore, MD | 8.6% | $264,784 | $306,246 |
| Worcester, MA | 8.1% | $249,080 | $281,009 |
| Ventura County, CA | 7.8% | $560,525 | $636,857 |
| Chicago, IL | 7.6% | $225,051 | $274,092 |
| West Palm Beach, FL | 7.2% | $256,589 | $323,142 |
| Providence, RI | 7.2% | $268,587 | $308,795 |
| Virginia Beach-Norfolk, VA | 6.8% | $232,791 | $257,333 |
| Jacksonville, FL | 6.6% | $178,605 | $211,852 |
| Fairfield County, CT | 6.3% | $399,905 | $501,211 |
| Cape Coral-Fort Myers, FL | 5.9% | $226,220 | $298,975 |
| Allentown, PA | 5.5% | $191,830 | $231,505 |
| Phoenix, AZ | 4.7% | $230,371 | $278,832 |
| Orlando, FL | 4.4% | $202,696 | $262,662 |
| Hartford, CT | 3.7% | $225,132 | $264,411 |
| Riverside-San Bernardino, CA | 3.4% | $323,180 | $405,413 |
| New Haven, CT | 3.2% | $221,160 | $282,632 |
| Deltona-Daytona Beach-Ormond Beach, FL | 2.9% | $176,654 | $238,423 |
| Bakersfield, CA | 2.9% | $191,435 | $276,213 |
| Fort Lauderdale, FL | 2.7% | $227,425 | $295,100 |
| Lake County-Kenosha County, IL-WI | 2.7% | $215,616 | $260,850 |
| Camden, NJ | 2.7% | $195,813 | $244,536 |
| Fresno, CA | 2.5% | $217,818 | $295,518 |
| Tucson, AZ | 2.4% | $179,194 | $236,236 |
| Las Vegas, NV | 0.6% | $214,630 | $306,028 |