The people behind a new factory in Grand Center hope it will help bring back an old St. Louis industry: garment manufacturing.
New York fashion and apparel industry veterans Jon Lewis and John Elmuccio's Thursday launch of their new apparel manufacturing firm, Evolution St. Louis, drew Mayor Lyda Krewson, Board of Aldermen President Lewis Reed, arts patron Ken Kranzberg and others to the former city-owned business incubator. By August, the company hopes to invest about $5 million and have about 35 high-tech knitting machines installed, with an end-of-the year target of producing clothing at its new facility on 3830 Washington Boulevard.
Touting an agreement with STOLL, a German flat-knitting machine manufacturer, Evolution St. Louis plans to grow to 300 machines and employ 50 to 60 people in three years focused on knit apparel.
"Our broader vision is to make 'made in the U.S.' mean 'made in St. Louis,'" Elmuccio said.
"Dynamic shifts" in consumer buying patterns have produced a demand for domestically-made clothing while economic changes in China have produced an opening for the reemergence of U.S.-based apparel-makers, he said.
"Shortened supply chains can pivot to new trends and customer demands faster than ever," Elmuccio said.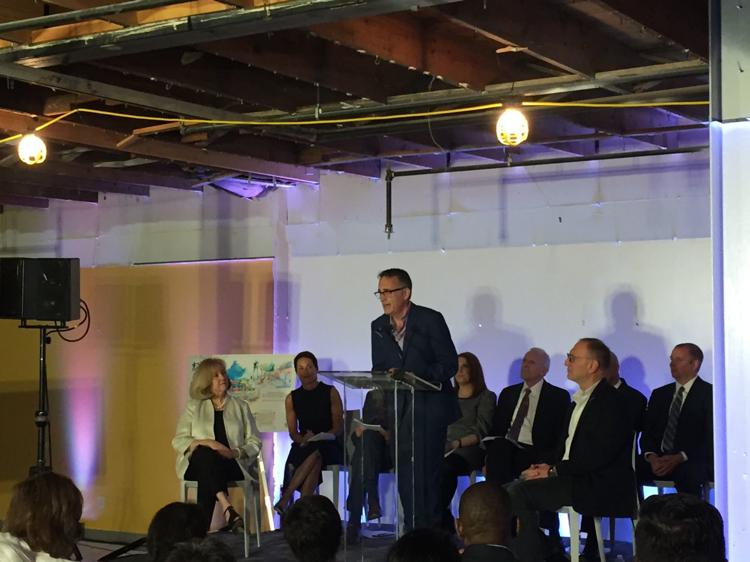 The Post-Dispatch first reported in October that Elmuccio and Lewis were working with area officials to come up with a domestic garment manufacturing facility. Thursday's announcement marked a major victory for backers of the region's fledgling garment industry after months of work convincing the two to choose St. Louis for their facility.
"This is a big moment" for the region's apparel ecosystem, said St. Louis Fashion Fund co-founder Susan Sherman, adding her organization is "dedicated to putting St. Louis back on the map" as a hub for fashion and garment making. She said the young designers the Fashion Fund supports often had to go to other markets to make the clothes they designed, so establishing a local manufacturing facility has been a goal for years.
Sherman said Elmuccio and Lewis looked at Detroit, the Carolinas and other regions to build their facility, but she and other local fashion boosters convinced them to try St. Louis.
"Who can say no to Susan?" said Lewis, who added he and Elmuccio have moved here from New York to focus on Evolution St. Louis — Lewis a block away from the apartment he lived in when he worked for Famous-Barr early in his career.
Sherman and others pointed to the city's heritage of apparel manufacturing around the turn of the 20th century, when Washington Avenue's garment district was a major clothing production center behind New York.
"It's only fitting that we're right here on Washington Avenue today," Krewson said.
Elmuccio and Lewis count fashion financier Gary Wassner — who just launched a new clothing line with actress Whoopi Goldberg Wednesday — as an investor in the enterprise. Wassner, CEO of New York-based Hilldun, said there's been demand for domestic manufacturing for 20 years, but real estate and labor costs in the big fashion capitals of New York and Los Angeles were prohibitively high.
"Everyone just got used to going overseas," he said.
Yet "countless" problems would crop up in orders, from sizing, to timing. Wassner said he plans to inform the hundreds of brands he works with about the new St. Louis factory, and he plans to start testing products in St. Louis. He credited St. Louis officials with rallying around the idea.
"You could do this anywhere," Wassner said. "St. Louis was the prescient one. They saw the opportunity."
The new Evolution St. Louis facility has indeed received some help from the area. Kranzberg purchased the building — a former STL Venture Works business incubator — from the city's economic development arm and is leasing it to the new company. On Thursday, the St. Louis Development Corp. allocated $5 million in federal New Markets Tax Credits to the project. And earlier this month, another city development arm made a $300,000 loan with a 4% interest rate to the company. The Missouri Department of Economic Development also has offered up to $136,000 in Missouri Works tax incentives if they meet job targets.