A planned 385-acre, $220 million warehouse and logistics park planned to the north of the St. Louis Outlet Mall in Hazelwood is poised to receive assistance from a new economic development tool that diverts state income taxes.
The St. Louis County Port Authority on Tuesday approved a new Advanced Industrial Manufacturing Zone on the future site of the industrial park. The zones, created by the Missouri Legislature last year, let port authorities collect half of the income taxes that would otherwise go to state government from new employees added there. That money can then be used for a broad array of projects and services within the zone, including engineering, legal work and bond financing.
Negotiations between NorthPoint Development and property owners north of St. Louis Outlet Mall ongoing.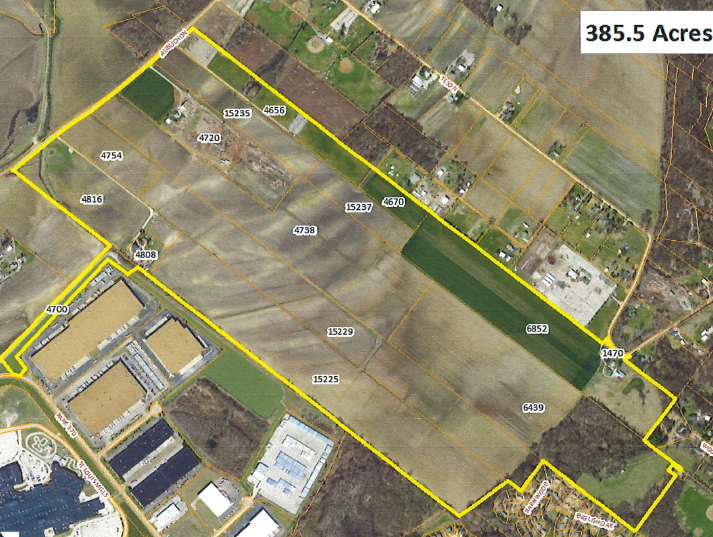 NorthPoint is also in the process of filling Hazelwood Logistics Park, where Amazon last year decided to locate its first Missouri facilities. The seventh and eighth industrial buildings in that logistics park are under construction, city officials said, which would complete a park that sat idle for years under prior owner Paul McKee.
NorthPoint's new industrial park would be built on what is now mostly farmland and would involve raising the land out of the flood plain. Hazelwood officials have said it's likely the closest the city can get development to the Missouri River without building a new levee.
St. Louis, like other markets, is responding to the demand for space to store and ship finished goods as e-commerce continues growing. 
The Kansas City developer closed on the purchase of the real estate last month, according to property records. A large chunk was owned by the Schroeder family, which operates R. Schroeder Sod Farm on Aubuchon Road. Other owners in the area have also sold to the developer.
The St. Louis County Port Authority and NorthPoint will now negotiate a development agreement laying out how the diverted withholding taxes will be used at the development, the port authority's general counsel Dustin Allison said. Details weren't firm yet on how much revenue could be expected or what exactly it will be used for. Uses could include financing building development or infrastructure.
The more than 800,000 square foot facility with robotics to assist employees in fulfilling orders will create more than 1,500 jobs.
NorthPoint has already been granted 18 years' of tax abatement from the city of Hazelwood as well as a sales tax exemption on construction materials. The developer will have to make payments in lieu of taxes to the city that rise over the 18-year abatement period, though they would be a fraction of what a normal tax bill would be.