ST. LOUIS — Two developers have quietly purchased a string of old brick buildings in the city's historic Laclede's Landing and are now poised to reinvigorate the cobblestone streets with apartments, restaurants and businesses. 
The Landing of years past, known for nightlife and bar crawls, probably isn't coming back. But with a little focus and about $60 million in investment, developers Brian Minges and David Messner think they might be able to turn the area into a vibrant neighborhood again.
Rather than fill it with revelers, they want to fill it with residents.
"We are looking for tenants who want to be part of building this neighborhood from scratch," Messner said.
Since September, he and Minges have bought five buildings, closing on three of the purchases just this month. They have the Morgan Street Brewery building under contract and hope to close on that purchase soon.
Those sales are on top of the all-but-complete Peper Lofts building rehab that Minges' Advantes Group started over two years ago, a $12 million project adding 50 apartments to the neighborhood — the first large residential development in Laclede's Landing.
Through their new partnership, New Legacy Development Partners, the duo reckon they have site control of close to half of the Landing's buildings now, with about $8.5 million spent on acquisitions.
By the beginning of the year, they expect to begin closing on construction loans and start adding apartments to the neighborhood, with plans to add more than 100 loft apartments in six buildings over the next two years.
That's in addition to the 50 in Peper Lofts. Nearly all of those are leased, with just a couple units on the top floors being finished out, they said.
"As they come available, they're gone," Minges said of Peper Lofts.
That makes him bullish on adding more residences to a district that, until his project, hadn't seen much in terms of residential development.
And why not? From one of the soon-to-be-finished units in the top of the Peper Lofts building, the former headquarters of Bi-State Development, there are sweeping views of the riverfront, including the Gateway Arch and Eads Bridge.
Some St. Louisans may take the Arch and the Mississippi River for granted, but Messner thinks people moving to the region will marvel at the view.
"The Landing has something to offer to a very broad spectrum of people who are looking to live in a historic neighborhood," Messner said. "St. Louis has more infrastructure for these types of (historic rehab) projects in places people want to be than any place I've ever been."  
'Brand equity'
Messner and Minges only teamed up about six months ago. Messner, who grew up in California, had been in St. Louis for a few years, following his wife, a native, here and working at the St. Louis Regional Chamber, among other places.
Recently, his family sold some real estate holdings in the Los Angeles area and were looking to reinvest.
Messner had read about Advantes' Peper Lofts project. He made a cold call to Minges.
They're already farther along than past plans for reinvigorating the Landing.
Years of renovations at the Gateway Arch National Park grounds devastated Landing businesses. Half of its bars and restaurants closed, cut off from the grounds during renovations. 
When the grounds reopened 18 months ago, hopes were high that tourists and the end of construction would bring people back.
Minges was working on Peper Lofts. Abstrakt Marketing, next door, was expanding from 200 to 300 employees, and planned to move into Minges' building.
Meanwhile, a group of Philadelphia investors had under contract the Greeley Building at 618-624 North Second Street and the Hoffman Brothers Produce Building at 700 North Second Street — long owned by real estate speculator Dave Jump.
But the buyers backed out and the storefronts at the intersection of Lucas Avenue and Second Street, a new entrance to the Landing since the city punched Lucas through a parking lot, stayed empty.
This month, after closing on their purchase, Minges and Messner stood on the floor of what over a decade ago was the Rum Jungle club in the Greeley building. They plan 44 apartments on the upper floors, and across Lucas in the Hoffman Brothers building, they plan an additional 32.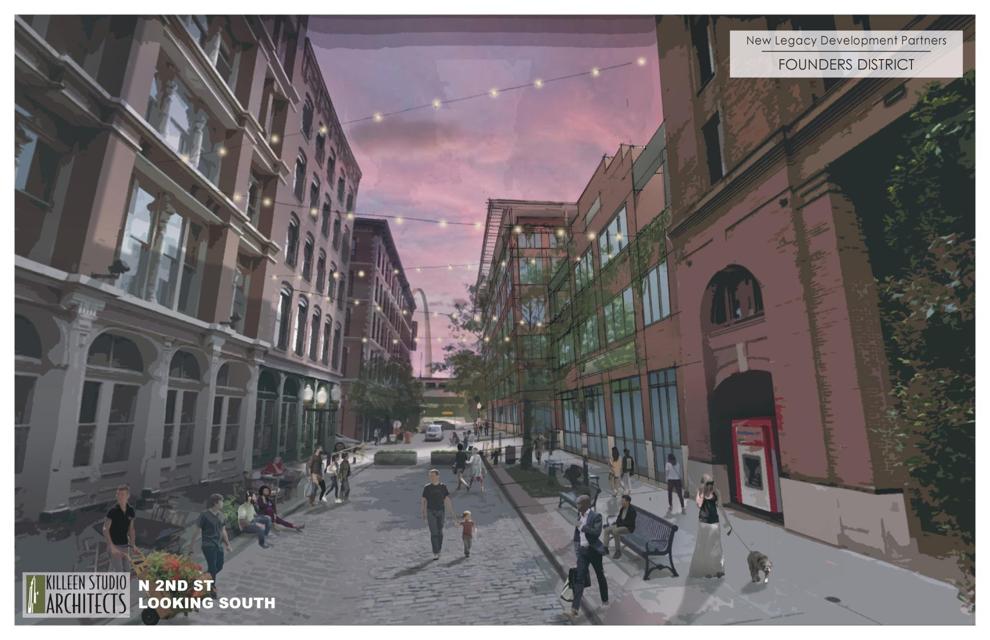 At the Paincourt building at the corner of Second Street and Laclede's Landing Boulevard, they want to put in 10 lofts above 2,100 square feet of ground-floor retail. Pending their closure of the Morgan Street Brewery building, they plan to keep a microbrewery in the commercial space but add about 20 apartments to the structure.
The Trader Building, across Morgan Street from the brewery, has more than 33,000 square feet that can soon be ready for office tenants. The Old Judge building they bought can have about 40,000 square feet for offices.
Bring in enough full-time residents, and the restaurants and coffee shops will follow. They think making Second Street pedestrian-only wouldn't hurt either. 
There are at least a couple businesses looking to move already. Along with the building, Messner said he's bought the rights to the Old Judge Coffee name and plans a coffee shop based on the vintage coffee company. Minges plans to move offices for Advantes, which has successfully rehabbed several historic schools and other structures around town, to the Landing from Hampton Avenue.
The Landing still has strong "brand equity" among St. Louisans who went there for concerts, festivals and drinks.
"People want a reason to come," Messner said.
A 'base hit'
What makes the area even more important are the tourists. After seeing the Arch, they often wander into the Landing for food and drinks. Empty commercial spaces aren't a good first impression.
"This is all the tourists see when they walk down the Landing is empty retail spaces with a lot of potential," Messner said.
St. Louis Alderman Jack Coatar, who represents downtown, said the Peper Lofts project has already started a turnaround at the Landing.
"We finally have taxpaying residents living on the Landing in their first project, the Peper Lofts," Coatar said. "And I'm hopeful and confident they will redevelop those other buildings and we'll double the population on the Landing in the next year or so."
Minges said they have been working with other big stakeholders in the area: Lumière Place Casino, Drury Development and St. Louis Parking, which owns the lots in the Landing. Going forward, he suspects he and the other big stakeholders can offer the focus to turn the area into a busy historic district that's a showpiece for the city.
Now that he and Messner own almost half the buildings, "that unified vision is going to become a little easier now," Minges said.
Top of mind for the group may be figuring out parking. If more residents and office workers do come, the small area will need more than the surface parking lots there now. Plans six years ago for a parking garage never materialized.
"At some point you're going to need to see some new structured parking down there and I suspect there will be city involvement in that process," Coatar said.
Minges and Messner are already eyeing more real estate on the riverfront to the north of Lumière Place, hoping that they can move the momentum north.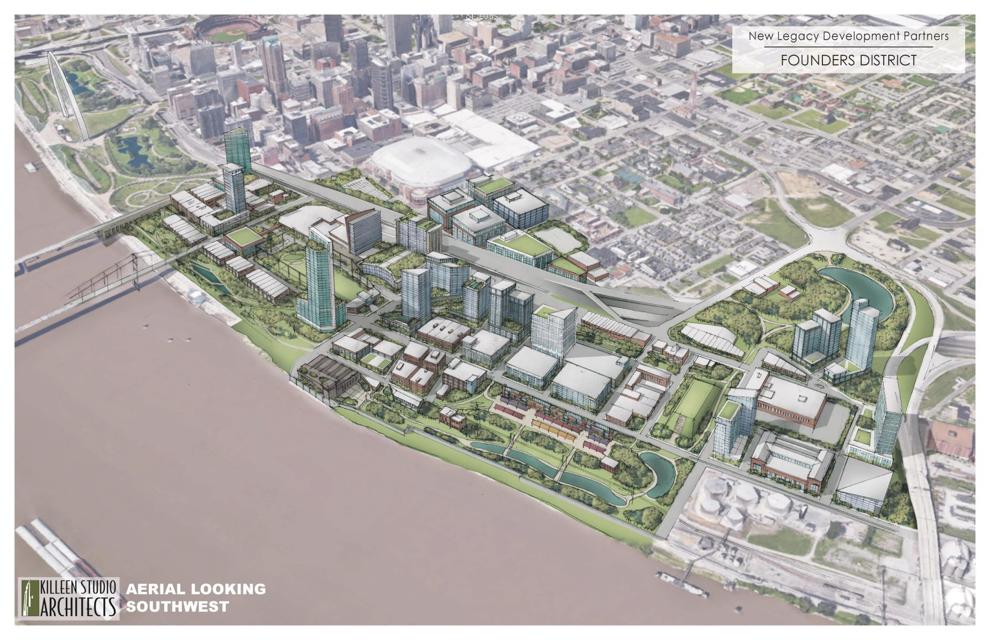 But the Landing, they said, is the cornerstone, an easy win. What other city has the historic building stock ready for investment along a riverfront?
"St. Louis very often tries to achieve big change all at once," Messner said. But it's the base hits, he added, that start scoring runs.