An Aloft boutique hotel, more than 200 apartments, retailers and additional labs are included in the next development phase at the Cortex technology district.
The plans, which will be presented Thursday by developers, represent a continuation of Cortex's strategy to add more than offices for the entrepreneurs and tech companies that have transformed the former industrial corridor of the Central West End and Midtown.
"What Cortex is doing is building a community, not just building buildings," Cortex President and Chief Executive Dennis Lower said in an interview with the Post-Dispatch.
It takes more than office and laboratory space to attract and keep the talent regional leaders hope will start to make up for lost jobs in fading Rust Belt industries. More restaurants, a fitness center and residences are some of the amenities "our businesses want and need," Lower said.
The Cortex district already has 4,100 people working for 260 companies, both high-tech and supporting businesses, Lower says. The next phase of development is expected to add another 800 jobs to the district, he said.
Construction should begin next spring on the $170 million, three-building project, with completion in fall 2018, Cortex officials say. The three new buildings should wrap up about the same time a new $13.5 million MetroLink stop opens on Boyle Avenue.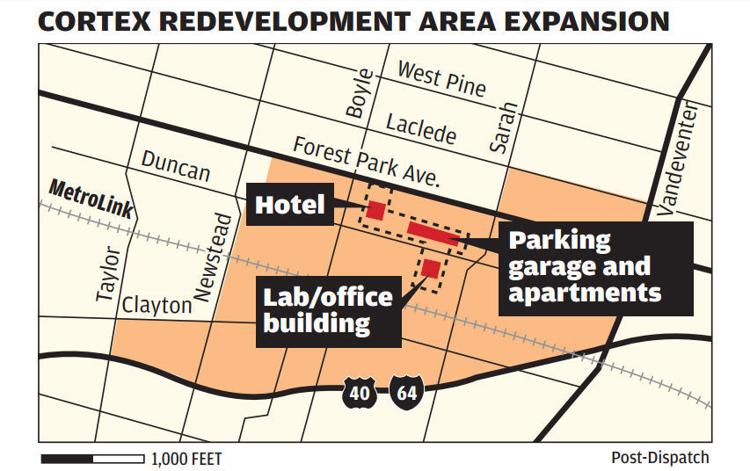 The hope, Lower said, is that investors and business people can take MetroLink from Lambert-St. Louis International Airport to Cortex, walk to offices, stay in a hotel, eat and exercise all within the district.
But the lab space that makes Cortex what it is will remain a key element of the expansion — called Cortex 3.0 by district officials. A 180,000-square-foot building containing labs and tech space will go up on the south side of Duncan Avenue just east of the current @4240 office building.
Officials from Cortex and the developer of the lab and office building, Baltimore-based research park developer Wexford Science and Technology, are still mum on prospective tenants. Doug Woodruff, an official with Wexford, said that no deals had been finalized but that some should firm up by the time construction started.
"We have a number of really good prospects," Woodruff said. "We have a lot of interest in the building and that interest has given us a lot of momentum."
Businesses that need laboratories will be able to develop them in the building, but shared space like that at incubators and accelerators probably won't be included, Woodruff said.
"But it is a critical need," he said. "There is clearly more need for that space, it's just a question of what can the economics support."
The ground floor of the lab building will include a fitness center and a 13,500-square-foot "innovation hall." Lower expects the popular Venture Café, a weekly networking event that draws hundreds of people who both work in and outside of Cortex, will use the space. But he also said it would fulfill a longstanding need for larger event and conference space for companies and institutions that want to gather on the Cortex campus.
"We're putting it in as an amenity not only for the district but for the region," Lower said. "Right now we're having to turn away a lot of those types of meetings because we just don't have the space."
In all, three new buildings constructed by four national developers will go up on both sides of Duncan Avenue, which runs through the middle of the district. Cortex recently demolished small buildings within the redevelopment site.
In addition to the lab building, a five-story, 1,000-car parking garage is planned, which Lower called the "linchpin" of the Cortex expansion. Structured Parking Solutions, of Pensacola, Fla., will develop the garage and street-level retail space.
Some 220 apartments will wrap around the parking garage and be built on top of the structure. The studio and two- and three-bedroom units will be developed by Antheus Capital and Silliman Group, both from Chicago. An additional 20,000 square feet of ground-level retail will be included.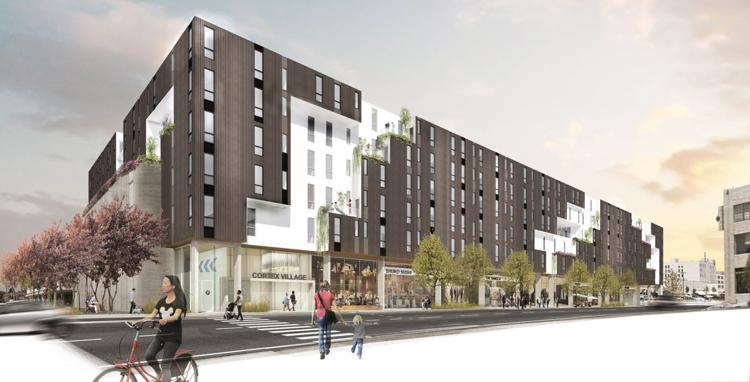 The third building, a 150-room Aloft hotel, is a project of Boston-based CV Properties. Aloft is a boutique brand owned by Starwood Hotels & Resorts Worldwide. The hotel will include a 4,800-square-foot restaurant and an adjacent lobby bar and lounge with a patio on the north side of the hotel, close to Forest Park Parkway.
The announcement of Cortex 3.0 follows months of behind-the-scenes work and a few public hints about the scope of the project.
Cortex officials said it was still undecided how much they would request in tax increment financing, an incentive that allows increases in property, sales and income taxes to be invested in buildings and infrastructure rather than paid to local governments. Cortex is within a TIF district that authorizes up to $167.7 million in TIF financing to help redevelop the 200-acre area.
Lower said the TIF amount for this phase would be finalized by early next month when Cortex files its plan with the city. But he said the district wasn't seeking to amend the $167.7 million TIF ceiling established for the district.
Lower and the developers will present the plans for the next phase at 1:30 p.m. Thursday in the lobby of Cortex's original building at 4320 Forest Park Avenue.
Editor's Note: This article to was updated to correct Wexford official Doug Woodruff's name.