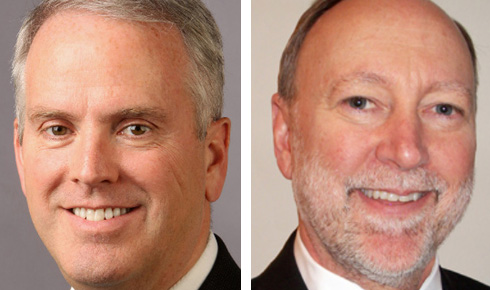 Post-Dispatch executive Ray Farris has been named publisher of the newspaper, the company announced Thursday.
Farris, 57, replaces publisher Kevin D. Mowbray, who has been promoted to the new position of vice president and chief operating officer at Lee Enterprises Inc., the Davenport, Iowa-based newspaper chain. The Post-Dispatch is the largest newspaper in the Lee chain.
Farris, who is currently general manager of the Post-Dispatch and vice president of sales for Lee's St. Louis operations, joined the Post-Dispatch in September 2006 as vice president of classified advertising. He became vice president of advertising in 2009 and general manager in 2010.
Immediately before coming to St. Louis, Farris had worked as vice president of classified advertising for the Detroit Free Press and Detroit News. He started his newspaper career as a proofreader at a small community newspaper in Southern California and switched to his first advertising job in 1985 as an automotive account executive at the Los Angeles Times.
In his new role, which is effective immediately, Farris will oversee all of Lee's operations in St. Louis, including the Post-Dispatch, stltoday.com, Suburban Journals of Greater St. Louis and STL Distribution LLC.
A three-decades-long career in newspapers has underscored his belief that newspapers act as a community bulletin board, Farris said.
"We have the best news gathering team in the region, bar none, and sales organization," he said. "We have great people and a great audience."
Farris said he'll seek to expand the Post-Dispatch's use of videos on its website, stltoday.com.
"You'll see a lot more video," he said. "We're one of the best in the industry with our digital performance, and it's a huge opportunity for us."
He also sees opportunities to bring together reporters' audiences on growing social media sites such as Twitter.
"We want to cross-pollinate and build the audiences on social media," Farris said. "We have such strong content, and there are people who are interested in sports that also would be interested in our music coverage. It's a matter of leveraging that. There's much more growth there."
Farris and his wife, Pam, live in Kirkwood. They have two adult sons.
Mowbray, 51, has been publisher of the Post-Dispatch since May 2006 and has been reporting directly to Mary Junck, Lee's chairman and chief executive. He also has been a Lee vice president of publishing overseeing the company's operations in 13 other markets in addition to St. Louis.
Mowbray, who will stay in St. Louis during a transition period, will move to Lee's headquarters in Davenport, where he will oversee all of the company's newspapers and digital operations in 22 states.
"This new position strengthens our leadership team as we continue to drive revenue, build digital audiences and transform our business," Junck said. "Kevin brings ideal leadership skills and a tremendous record of accomplishment. He has led significant improvements in St. Louis while helping shape successful strategies across all 50 Lee markets."
Mowbray began his career with Lee in 1986 as an advertising sales representative in his hometown of Kewanee, Ill. He worked his way up through the advertising management and publishing ranks at various Lee newspapers before coming to St. Louis seven years ago.
Last year, the Post-Dispatch received Lee's highest honor, Enterprise of the Year, for strong financial performance and leadership in developing companywide sales and audience initiatives.
"St. Louis is an amazing place, and it's going to be very hard to leave," Mowbray said. "I will treasure the many friendships I have gained from working with so many wonderful people here at the Post-Dispatch and throughout the Greater St. Louis community."
Lee Enterprises owns 46 daily newspapers and a joint interest in four others, rapidly growing digital products and nearly 300 specialty publications in 22 states.