For 100 years, hats, bar stools and restaurant booths could be traced back to the six-story factory where they were made in St. Louis' Fox Park neighborhood.
After its last commercial tenant moved out in recent years, the hum of machines no longer fills the floors built for a past era of manufacturers.
The structure's new owners, though, hope the silence will be only temporary.
Their plan to keep the old factory on Texas Avenue churning out goods and gadgets well into the 21st century? Make it a place for where viable companies are made, too.
They're calling their venture Brick City Makes, and they want to fix up the 87,000-square-foot factory as industrial office suites for a new generation of nimble manufacturers: One-machine shops that don't need huge warehouse footprints, but may need room to grow, can sign up for space in the building while they find their footing in the marketplace.
"This kind of fulfills a unique role," said Tom Pickel, executive director of the DeSales Community Housing Corporation. "There really hasn't been that kind of focus on the manufacturing sector."
Rehabbing a building as an industrial incubator is a new venture for DeSales, a nonprofit community development corporation that has mostly stuck to housing rehabs and rental management as a way to improve the Fox Park and Tower Grove East neighborhoods where it operates.
"We're a residential organization, but we just didn't think it was the right strategy for the building," Pickel said.
Retired St. Louis Economic Development Partnership CEO Denny Coleman has discussed the plan with Pickel. Not only was Coleman head of regional economic development agencies for decades, he's familiar with the neighborhood. He grew up across the street from the Brick City Makes building, and he was the first director of the DeSales community development organization back in the '70s.
"This incubator, I think, fits very well into that strategy of calling attention to the fact that we have a very strong history and legacy in terms of manufacturing," Coleman said.
DeSales is teaming with Marc Bowers of St. Louis Makes, a local manufacturing trade group that will offer training programs in business and design along with networking events.
Through St. Louis Makes, companies in Brick City can connect with others throughout the region, Bowers said, hopefully helping them find businesses with the specialized equipment or design expertise they need.
Bowers pointed out that the location is just minutes from the Cortex technology district, where Tech Shop recently opened a lab where entrepreneurs can rent access to top-notch design software, 3-D printers and other specialized equipment. In the other direction, the downtown startup scene and the professional services based there are just a five-minute drive away.
"We're still part of the innovation community," Bowers said. "We're just building a new beachhead."
But, he was emphatic that companies will have to be somewhat mature before they rent space in the building, and they will have to provide their own equipment. "This is not an incubator; this is not an accelerator," Bowers said.
It is meant to be affordable, though. Pickel said starting rent for the smallest suite of about 1,300 square feet would be about $1,000 a month.
In all, 37 spaces that are as large as 2,500 square feet could be built out within the building. As they grow, companies can lease extra space but will hopefully grow large enough to move out.
"Do they stay there for the rest of their lives? We hope not," Bowers said.
Pickel is still putting together the financing for the $11 million project, but he said the group is already meeting with interested companies.
Meanwhile, he has applied for New Markets Tax Credits and is scouting out other programs to help build the financing package. St. Louis' economic development arm, the St. Louis Development Corp., was awarded $75 million in the federal credits late last year and has fairly broad discretion about what ventures get funding.
"This really ought to be in the sweet spot for an organization like the St. Louis Development Corp.," Pickel said.
If all goes well, Brick City Makes could begin construction in the coming months and open spaces for tenants by the beginning of next year.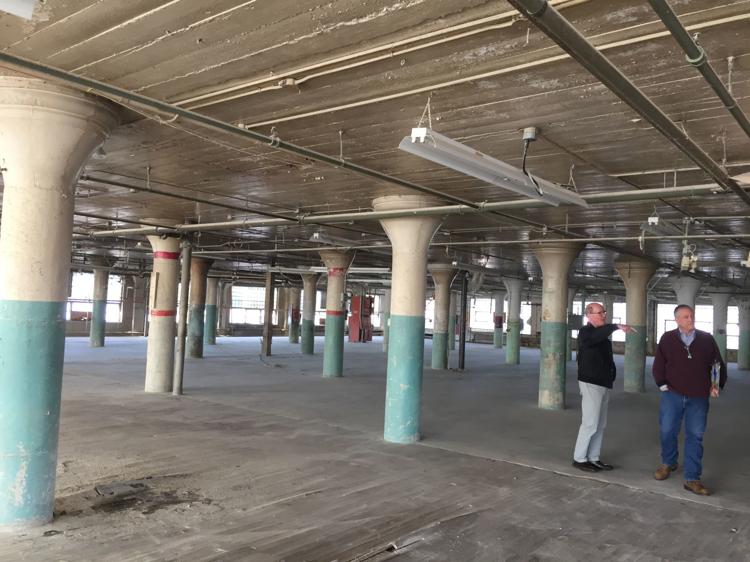 But in Brooklyn, the goal is more about preserving affordable production space, a problem St. Louis doesn't have. And overall, there hasn't been too much attention paid to this type of economic development around the country, said Todd Swanstrom, who studies urban policy at the University of Missouri-St. Louis.
"It's been on the side of urban economies, not at the center of urban economies," he said.
That said, manufacturing in urban economies "is real," and more and more it includes smaller, niche producers rather than the heavy industry of the 20th century, he said. In that sense, it's a good experiment for a nonprofit community development organization like DeSales to take on.
"Hopefully, a facility like this is more than the sum of its parts," Swanstrom said. "Hopefully the companies working in this facility talk to each other and generate new ideas."