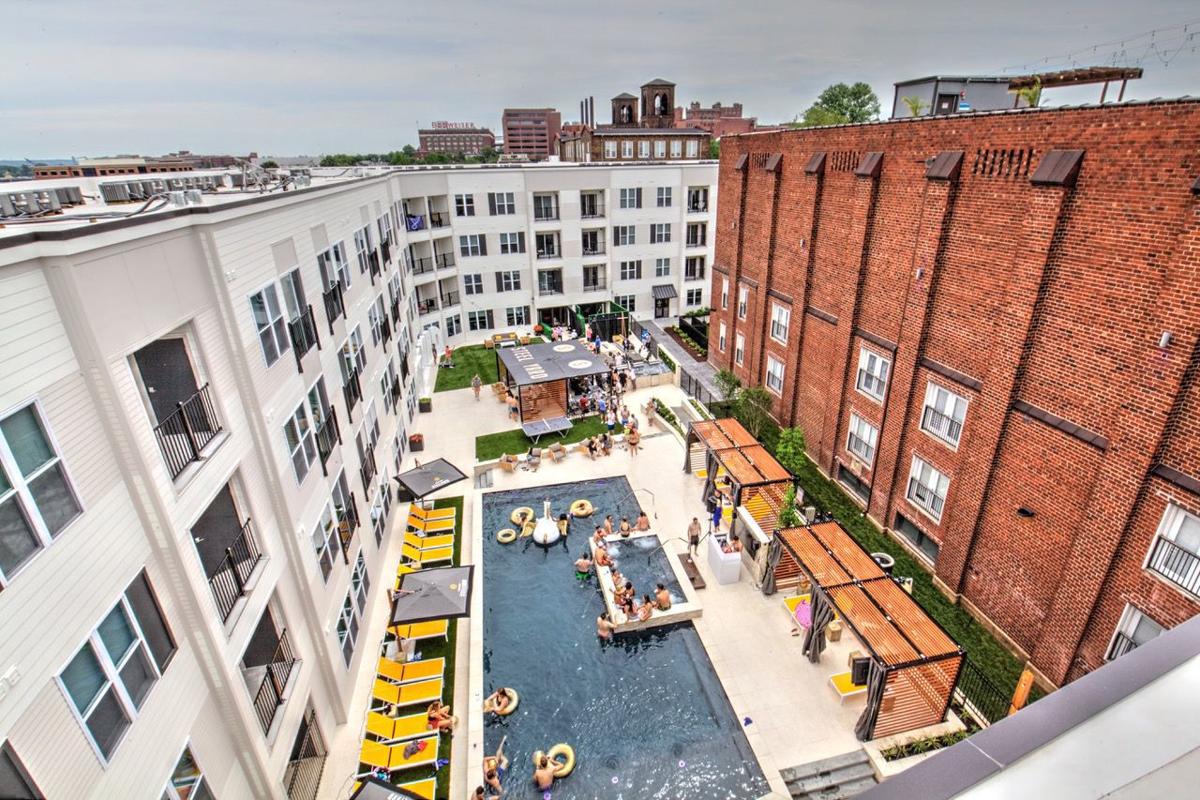 ST. LOUIS — In a new policy meant to limit tax incentives routinely granted to developers, city officials plan to institute tax abatement clawbacks when developers sell projects to investors at high prices.
The issue was raised after developer LuxLiving closed two high-profile sales of apartment complexes it had built in recent years. LuxLiving, led by Victor Alston, in October sold the 160-unit Tribeca building it developed at 5510 Pershing to a San Francisco real estate investment firm for $44 million. The developer had indicated a construction cost of about $30 million to the city, and it received 20 years of full tax abatement.
In March, Lux sold its recently-completed 170-unit Steelyard complex in Soulard to the same San Francisco real estate firm, Hamilton Zanze, for $45.9 million. The new Steelyard building was combined with the rehab of the historic Polar Wave building, and city reports put the costs of the combined projects at about $25 million. Both received a decade of tax abatement, and the city abated sales tax on $18 million in construction costs.
It's the latest proposal from a development group that has already built a 160-unit apartment building on Pershing and is finishing up another 152-unit building on the street.
LuxLiving now is moving forward with two new projects, and city development officials say they plan to put a measure in the development agreement reducing tax abatement if the properties are sold for more than the development costs analysts use to calculate incentive values.
Under the proposed policy, tax abatement would not apply to profits from a sale. If a developer sold a building for double the cost of developing, the new owner still would only have an abatement on the original cost of development.
It's a policy that could become standard for all developers — the latest in a multiyear effort by city development arm the St. Louis Development Corp. to finally build guidelines for routinely granted tax incentives.
The issue first came up at a Board of Aldermen hearing in early March, at which Lux was seeking passage of a 10-year tax abatement worth 95% of the improvements for a new $68 million, 300-unit apartment building near Soulard Market.
City analyst Jon Ferry said then that Lux's investors might be purchasing the projects with plans to increase rents in order to justify the sales price. For the Soulard project, though, it was "probably too late" to institute the clawback.
Development consultant Doug Rasmussen, representing LuxLiving at the hearing in March, said it was "easy for us to sit here and think about what the market's going to look like in two to three years, but we really don't know." He referenced the growing concern from the coronavirus, still a nascent threat then.
"We think the money could be tightening up," he said.
The first project that could include the clawback would be 310 DeBaliviere Avenue, where LuxLiving plans a $29 million, 150-unit apartment building on the site of a former pizza shop. It was seeking a decade of tax abatement worth 80% of the value of improvements.
Developers have their eye on the Polar Wave building.
"We are going to put a cap on a project like that if it is resold in a period of time for what we consider above the basic value of the property now," said SLDC Director of Commercial Development Dale Ruthsatz during a hearing on the measure Tuesday. "We don't want the developer to make what may be perhaps considered excess profit on the property and still have it enjoy tax abatement."
Even that tax abatement, though, won't get the support from SLDC at the Board of Aldermen unless Lux resolves a dispute with developer Pearl Capital Management, which is trying to develop adjacent property into a $91.5 million, 290-apartment mixed-use project. SLDC Director Otis Williams was mum on the details, but he made clear he wanted Lux to come to an understanding with Pearl.
The St. Louis Board of Aldermen will have to give final approval to the TIFs, which let developers use increases in taxes caused by redevelopment to finance their projects.
"Just know it doesn't get to the Board of Aldermen without it getting resolved," Williams said.
"I know how this place works," replied Dave Sweeney, the attorney representing Lux. "Understood."