Supervalu said Thursday it has been unable to find a buyer for its remaining 16 area Shop 'n Save stores, and they will be closed in mid-November.
The move is expected to result in the layoff of more than 1,300 Shop 'n Save cashiers, stockers and other employees.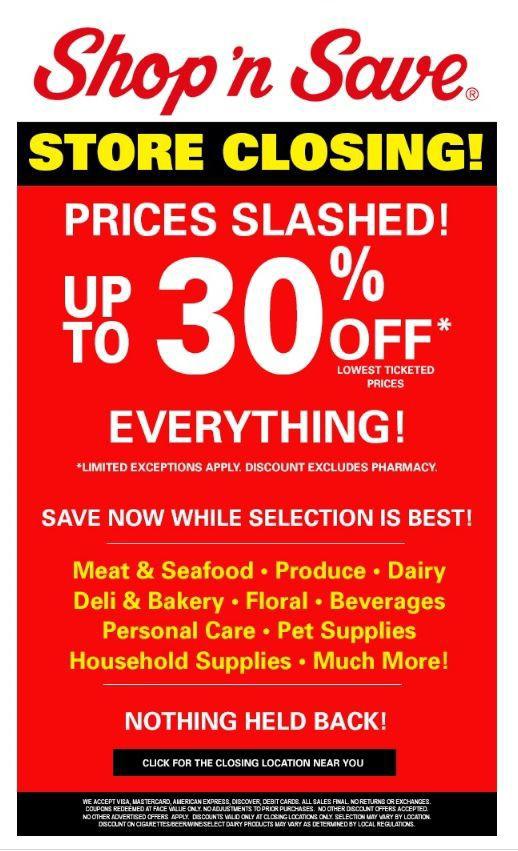 Storewide sales are planned at the locations, with discounts of up to 30 percent off, according to an advertisement emailed to customers Thursday.
The store closings were expected after Supervalu announced the sale of 19 St. Louis area Shop 'n Save stores to Schnuck Markets.
The acquired stores have since been rebranded as Schnucks stores.
The 16 stores being closed are located at:
1144 Meramec Station Road, Twin Oaks
4660 Chippewa Street, St. Louis
301 Watson Road, Crestwood
9251 Lewis and Clark Boulevard, Moline Acres
10461 Manchester Road, Kirkwood
1023 Crossroads Place, High Ridge
175 Flower Valley, Florissant
196 Mayfair Plaza, Florissant
10805 Old Halls Ferry Road, Ferguson
15446 Manchester Road, Ellisville
1755 Wabash Avenue, Springfield, Ill.
200 N. Grand Avenue, Springfield, Ill.
943 S. State Street, Jerseyville, Ill.
3521 Nameoki Road, Granite City, Ill.
1208 Camp Jackson Road, Cahokia, Ill.
4201 N. Belt W, Belleville, Ill.
In addition to the store closings, Supervalu also will close a distribution center on Hazelwood Avenue.