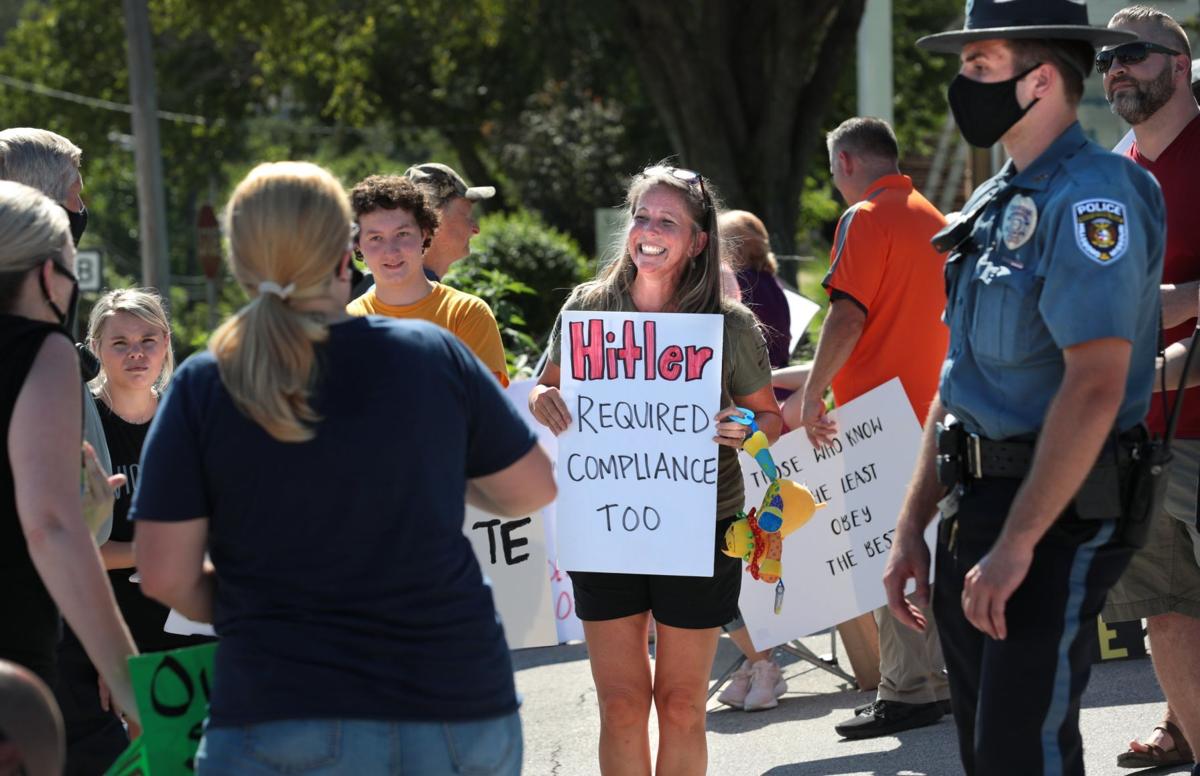 JEFFERSON COUNTY — Charleen Shakman arrived at a Jefferson County gun shop thinking she was about to buy hard-to-find bullets.
Instead, she was met that Saturday last month by a sign on the door of Modern Weapon Systems stating no masks were allowed in the store. "Masks are for cry babies, Democrats and robbers," the sign said, in part.
"I'd never seen anything like that," said Shakman, a gun hobbyist from Wildwood who enjoys target shooting with her husband. Shakman, after a heated argument with the store's owner, left in a huff, without the bullets.
The disagreement, which spilled online, gaining vitriol and attention, highlights the divide between maskers and anti-maskers playing out here and nationally. The fight has been especially contentious in Jefferson County. At a July 28 protest outside the county's health department, one woman held a sign that read, "Hitler required compliance too." One month later, the county health department board voted to put a mask mandate in place, only to revoke it a day later after residents complained that the board had not properly notified the public.
Missouri has no statewide mask mandate. A patchwork of regulations governs businesses and residents across the St. Louis region. Jefferson, Franklin and St. Charles counties do not require people to wear masks in public. In St. Louis County, businesses must deny entry to customers who refuse to wear face coverings. In St. Louis, everyone must be masked in public when inside, and outside when social distancing is not possible. Businesses can refuse service to those who won't comply.
Ian McFarland, the owner of the gun store, said it's a security risk to allow a masked person inside, and makes his shop susceptible to robbers concealing their identities. He said at least two law enforcement sources — a Jefferson County sheriff's deputy and a representative of the U.S. Bureau of Alcohol, Tobacco, Firearms and Explosives — warned him about robberies and advised him not to allow masked people to enter.
"I'm not going to put my family or friends or customers in a position of being unsafe," he said.
An ATF spokesman said the agency has not told any gun store owners that it suggests barring customers with masks. And Jefferson County Sheriff Dave Marshak said, while it's certainly possible one of his 180 deputies gave mask advice to a business owner, he couldn't find anyone who had. (He has trained officers, he said, on how to handle mask disagreements.)
Overall, robberies and burglaries are down in the county, Marshak said, to eight robberies from 17 a year ago and to 257 burglaries from 287, as of August. A gun store in Imperial, however, was burglarized earlier this year by masked thieves; authorities believe the same men stole a gun from a pawn shop in that area as well, Marshak said.
Still, other gun stores and events are allowing, or even requiring masks.
"We leave it up to the customer — it's their call. Some wear them, some don't," said Nathan Dunn, manager of Dunn's Sporting Goods in Herculaneum in Jefferson County.
Michael Almstedt, owner of M&M Guns and Supplies in St. Peters, said it's "perfectly fine" if customers want to wear a mask, but customers cannot completely conceal their faces such as by wearing sunglasses with a bandana.
Masks were required at a gun show last weekend at the St. Charles Convention Center, according to its organizer, R.K. Shows Inc.
Mark Oliva, director of public affairs for the National Shooting Sports Foundation, said the trade association urges retailers to follow all applicable government guidelines, take steps to keep customers and staff safe, and also protect the "physical security" of their businesses.
Some gun shop owners see why a store would choose to bar masks.
"I fully understand that. We've had those discussions here ourselves," said an owner of Mid America Arms in Affton who did not want to be named. He said the store has complied with all St. Louis County mask regulations.
Shakman said the issue, for her, is personal.
"I am wearing a mask because this has affected me personally. We don't know a lot about this disease. I could be a carrier, I don't know," she said.
When she spoke to McFarland by phone on Aug. 8, the day she went to buy bullets from him, she said his tone made her decide not to ask for curbside pickup and he never offered the service. Her husband called too.
She left a negative online review, and said she then received several bullying messages, including one with a raised middle finger, one with an excrement emoji and one that called her a "mask skank."
McFarland told the Post-Dispatch he has served customers curbside and would have for her, had she asked.
But he was also incredulous at the debate itself. After the Post-Dispatch called with questions about his policy, he posted on his Facebook page:
"Are these people that stupid? I have to ID everyone," he wrote.
"We are dealing with people buying guns! When in history would any Gun Store or Bank allow people with masks inside? Incredible."
The store now has a new sign out front. It's not as brash as the first. But it carries the same message: No masks inside.
Leah Thorsen • 314-340-8320
@leahthorsen on Twitter