Imagine a lush park and pathway that winds along the Mississippi River and cuts through downtown St. Louis, held above the traffic and grit below by a rehabilitated 100-year-old train trestle.
Now go raise $60 million to pay for it.
That's what Great Rivers Greenway announced it would do five years ago through a combination of tax dollars and private contributions. The taxing district for parks and trails, created by voters in 2000, was ready to put $20 million toward the Iron Horse trestle project, but the group had never done its own fundraising.
After struggling to win interest from major donors in a city known for huge philanthropy projects, the group shelved the trestle in 2014 and went back to the drawing board.
"We learned we weren't in a position to go out with individual projects and raise money for them," said Mike Sorth, director of conservation and community for Great Rivers Greenway.
They lacked the sophistication other local groups have been developing for years. The group wasn't well-known to the public at large, didn't have the data to support its pitch and had to compete for donors with other major capital campaigns that did.
"One of the challenges in raising money is it takes money," said Yinka Faleti, vice president of philanthropy for the United Way of Greater St. Louis.
Major fundraisers and donors in St. Louis say the challenges of the nonprofit world continue to grow in the years after the Great Recession. Although annual giving to nonprofits nationwide has only dipped twice since 1987 — in 2008 and 2009, according to Giving USA — there's more competition for dollars because there's a greater desire from donors for transparency and efficiency.
Total giving nationwide was $373.25 billion in 2015, a 4.1 percent increase over 2014, according to Giving USA's 2016 annual report.
An informal 2015 survey of St. Louis nonprofits by the Rome Group, a local fundraising consulting firm, found 62 percent had reached their annual fundraising goals.
"We're all out there going for the same set of dollars and only so much to go around," said Bret Heinrich, past president of the Association of Fundraising Professionals in St. Louis and chief development officer at St. Andrew's Charitable Foundation. "The competition becomes, how can I get the message out about my organization and broaden our base?"
Human services nonprofits have had the hardest time since the Great Recession. Faleti said the 170 regional organizations receiving funding from United Way have seen a combined 10 percent cut in government funding for things such as job training and homeless services.
The Great Recession's impact on giving didn't affect the amount of money as much as it did the donors' expectations, especially for corporate donors that increasingly want nonprofits to align on joint projects and demand more information on how the groups spend their money.
"If you're a corporate donor, you're very familiar with a return-on-investment mentality," said Deb Dubin, CEO and president of the Gateway Center for Giving, a nonprofit that connects area donors to different causes. "We want to see a demonstrated set of outcomes."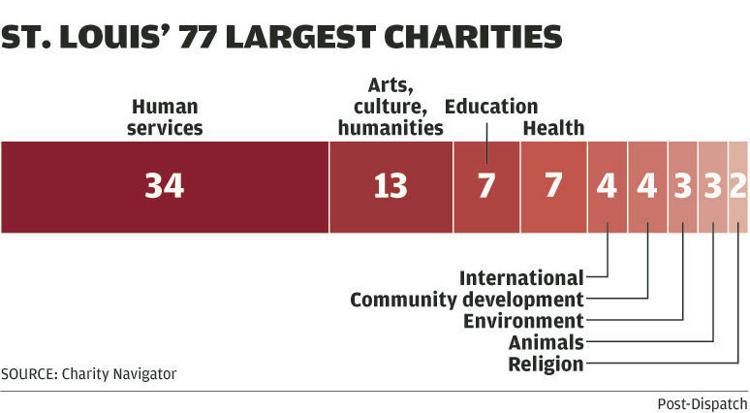 Aligning work and money
On the flip side, advisers to nonprofits warn them not to go after every big money contribution without being certain the donor and the expectations match their mission. Those in the industry call it "mission creep," arrangements that can deter nonprofits from their mission and hurt individual support long-term.
"An organization may hear about a funding opportunity and initially want to pursue but determine that it is not a good fit because it would not fund their key program areas," Ellen Howe, managing director of the nonprofit consulting firm the Rome Group, said.
Corporate and private foundation donors also want to see cooperation between similar nonprofits as part of a strategic approach to the region's issues as whole.
Dubin said the fallout from the shooting of Michael Brown in Ferguson and subsequent events in 2014 accelerated that mentality in St. Louis.
"It exposed our problems with equity and inclusion, and suddenly more donors wanted to see very robust programming where nonprofits could align themselves to create results," she said.
Those events and the results of a study by the Ferguson Commission appointed by Gov. Jay Nixon led to more than 100 calls to action for improving racial equity in the region. Those efforts are now being spearheaded by the nonprofit Forward Through Ferguson in collaboration with other groups.
"Funders are looking at specific objectives and asking, 'How does your work align with this?'" Dubin said.
For the nonprofits, Howe said they should be asking how specific donations help fulfill their mission and how well the donor's own image and work matches their cause.
"Another thing organizations want to avoid is being too dependent upon one donor or one source of funds," she said. "Healthy nonprofits have diverse funding streams."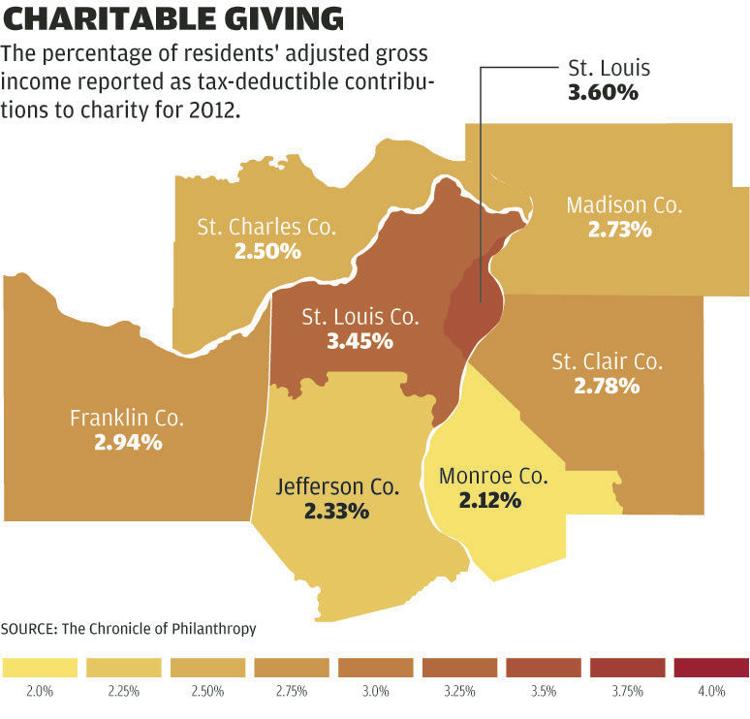 Growing the givers
Over the last two decades, individual donors have become even more important as more corporations based in St. Louis have closed or moved elsewhere.
"Corporate giving in St. Louis years ago accounted for about 20 percent of all giving, and that's just no longer the case," Howe said. "A big piece of the funding pie has changed."
The Rome Group's research shows many individuals give to multiple organizations annually, which eases the sense of competition.
"There is competition, but for most donors it's not like they're going to pick one and no one else," Howe said.
Howe said relying on large contributions from a handful of sources isn't a sustainable model for many, so the focus should be on a constantly growing base of individual donors and volunteers.
She said nonprofits will also struggle if they don't know what motivates their funders and when the best times are to go asking.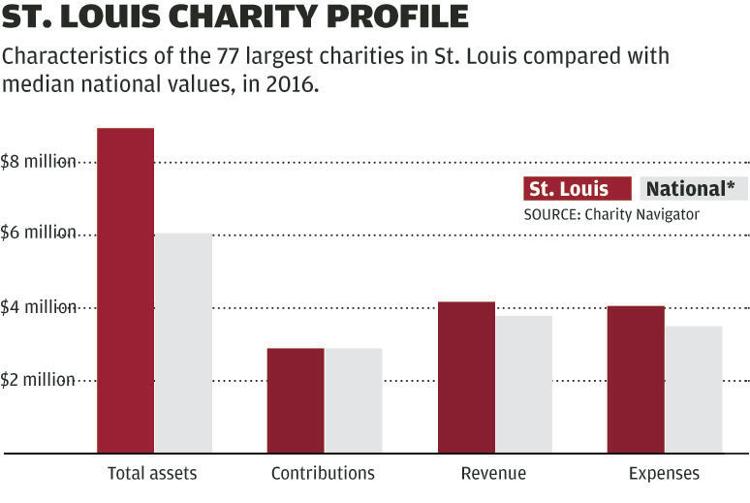 For example, the $380 million Gateway Arch renovations and park expansion included $250 million in private contributions largely collected from 2013 through the end of 2015.
"That wouldn't have been a good time to go after these corporations, and I think some were in a quiet phase of campaigning who realized it was better to wait," Howe said.
Then there are times when one group's fundraising can open doors for others.
The 170 regional organizations affiliated with the United Way aren't to raise money during that group's annual September to October campaign, because the money ultimately goes back to those groups. It's a poorly kept secret that smaller nonprofits step up their fundraising during that time.
"It's a good time for those organizations to get out there," Howe said.
At Great Rivers Greenway, Sorth says they've created a foundation to handle fundraising, publicity and communication in anticipation of projects that would cost less than the trestle. But their long-term goal is to see the trestle done.
"We're getting our fundraising house in order," he said.