Maryland Heights, second in hotel rooms in the region behind only the city of St. Louis, is adding several more, bringing it to 4,000 hotel rooms. Those additions, as well as multimillion-dollar headquarters expansions by World Wide Technology and Watlow, have fueled an unprecedented boom in development and construction this year.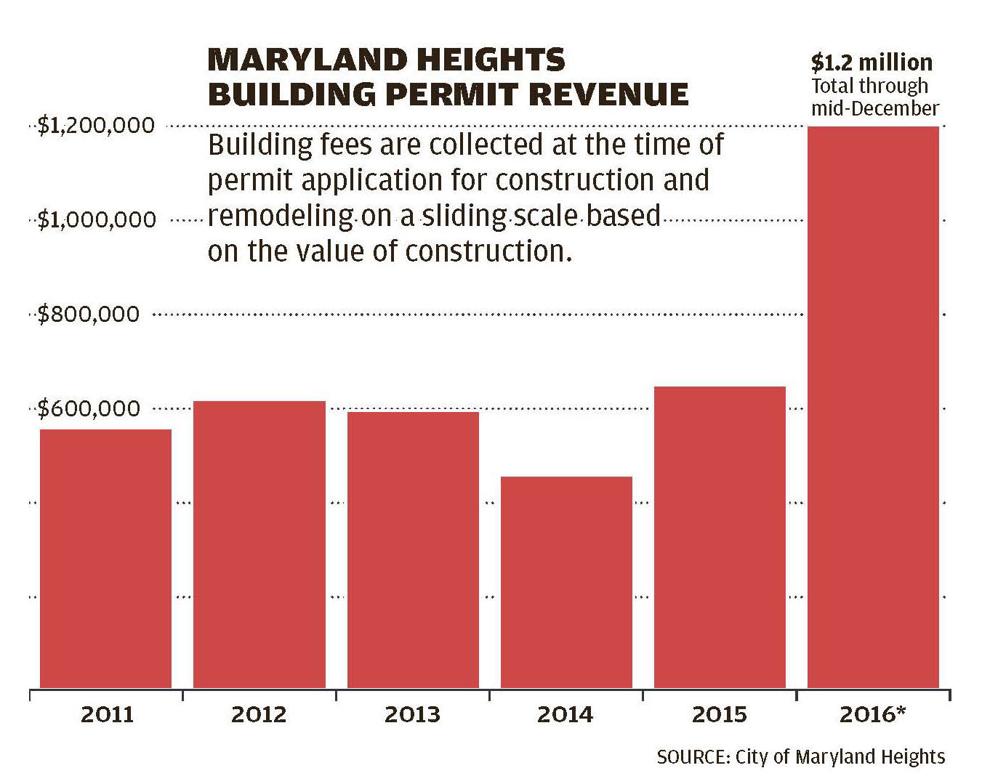 After a dip in 2014, building permit revenue in Maryland Heights grew significantly in the past two years, nearly doubling from $648,607 in 2015 to more than $1.2 million in 2016 — a record for the city that incorporated in 1985. The suburb located about 20 miles northwest of downtown St. Louis has a population of 27,000 and receives building permit revenue from commercial and residential construction and remodeling projects.
"We've seen ongoing growth in the past decade but what's unusual is the amount we've seen in 2016," said city administrator Jim Krischke. The city is hiring a new plan reviewer and building inspector to keep up with the flurry of activity.
Multiple office expansion projects had construction cranes dotting Maryland Heights' skyline for much of the year. The biggest project under construction is the new 208,000-square-foot headquarters building for World Wide Technology at Westport Plaza. A tech company with more than $7 billion in annual revenue, WWT broke ground a year ago on the six-story building that will ultimately accommodate 1,200 employees.
The company searched sites in both Missouri and Illinois to build its new headquarters but opted to stay close to its current office campus in Maryland Heights where the company was founded in 1990, said WWT Chief Financial Officer Thomas Strunk.
"It's 10 minutes from the airport and centrally located for our employees," Strunk said of Westport. "It was important for us to be able to plug into Westport's amenities because we have so many people coming in to visit our headquarters."
The WWT headquarters is the largest piece in $95 million in projects underway or recently completed at Westport by its owner, Maryland Heights-based Lodging Hospitality Management .
WWT, which plans to convert its existing headquarters on Fee Fee Road into a technology park with data center and lab space, will have its new headquarters building completed in May, said Bob O'Loughlin, LHM chairman and CEO.
LHM owned two hotels at Westport but made a larger investment in 2012 by acquiring the more than 700,000-square-foot mixed-use development when Westport's occupancy was just 72 percent. The company saw potential in the spacious but aging property that opened in the early 1970s, due to its accessibility to interstates and the airport that's only eight miles away, O'Loughlin said.
"It was a great time to buy when the economy was down," O'Loughlin said. "We buy opportunistically and spend a lot of money on fixing properties up. We felt it was a great central corridor for a lot of businesses." Westport's occupancy had grown to 92 percent, and when World Wide Technology's office building opens next year, Westport will have more than 1 million square feet of space.
Of the St. Louis region's 38,000 hotel rooms, about 3,200 are in Maryland Heights and more are on the way, fueled by demand from large corporate campuses nearby, including Des Peres-based Edward Jones. A 121-room Staybridge Suites at Westport opened this year and several more are under construction in Maryland Heights: Homewood Suites, Marriott Residence Inn and Fairfield Inn & Suites. Additionally, a 132-room Hilton Garden Inn has been proposed for the northwest corner of West Port Plaza Drive and Lackland Road.
Other projects under construction include a 91,800-square-foot, $24.2 million municipal community center at 2340 McKelvey Road that will be completed early next year.
Future growth
Amid all the construction, one major project failed to materialize. Attorney Alan Bornstein and Los Angeles Rams owner Stan Kroenke proposed a massive retail, entertainment, office, residential and sports district situated on 1,800 acres early in the year but scrapped the plan in November.
The city is stepping back from efforts to develop the floodplain land along the Missouri River for now. "We're going through a process internally to better plan for the property," Krischke said. "I would be really surprised if anything came through in the next year."
Though Maryland Heights' city administrator doesn't expect 2017 to reach the level of construction activity seen this year, several other projects are in the pipeline.
Last week, a public hearing was held for real estate developer Voss Properties' proposal to convert a building at 12545 Dorsett Road into a fitness and sports center and build a retail and office building on a nearby lot.
At Westport, LHM plans to add a 12,000-square-foot sports bar with indoor bocce ball courts and a full-size basketball court in June.
LHM also plans to start construction on a couple hundred apartments at Westport soon. "We're hoping to get started sometime next year," O'Loughlin said.
Lisa Brown • 314-340-8127
@lisabrownstl on Twitter