ST. LOUIS — It was state-of-the-art when it was built in 1930, outfitted with the latest technology in color printing so the St. Louis Post-Dispatch could keep pace with newspapers in Chicago, New York and Philadelphia.
Remnants of that past remain inside the building at 4340 Duncan Avenue in the Central West End. Ink piping spans the floors. A factory crane is still mounted to the ceiling. Its red brick walls evoke the city's heyday.
Those artifacts will continue to accent the last historic building in the city's booming Cortex tech district, though alongside today's cutting-edge equipment for the biotech industry.
"It took a lot of careful planning," said Steve Condrin, Washington University's assistant vice chancellor for real estate.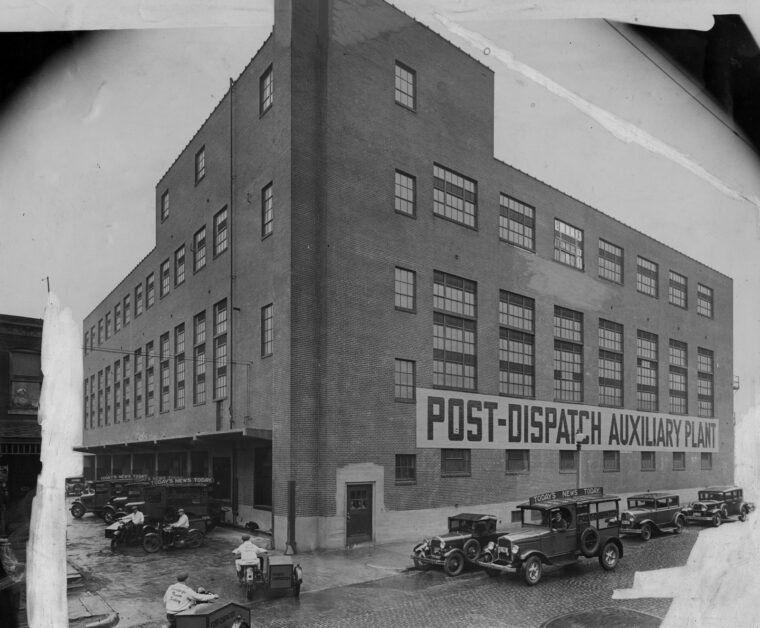 But architect HOK and general contractor Tarlton have managed to turn the old factory, owned and developed by the university's development arm, into modern laboratories for biotech startups and growing companies.
After more than a year of work, the $44 million project is wrapping up. In June, Confluence Discovery Technologies Inc. will become the first tenant, taking up 20,000 square feet on the fourth floor. The pharmaceutical firm, founded in 2010 by former Pfizer drug hunters and acquired in 2017 by Aclaris Therapeutics of the Philadelphia area, will share the building soon after with the nonprofit that helped give it its start.
Moving in later in the summer will be BioSTL, which runs investment arm BioGenerator and BioGenerator Labs. Confluence had continued leasing a large portion of BioGenerator's lab space in the Cortex One building across Duncan Avenue even as it matured into a medium-size company. Part of the problem was a lack of "moderately priced" lab space for medium-size companies in Cortex, said Hank Webber, executive vice chancellor and chief administrative officer at Washington University and chair of Cortex's board.
"This is a national issue in innovation districts," he said. "How do you hold onto and ensure that growing companies grow in the district?"
For BioSTL, the new building and 37,000-square-foot lease will allow it to consolidate employees spread across three locations. BioGenerator Labs will get about 20 percent more lab space in its new digs than it has now, and Confluence's move to its own offices will free up even more space for biotech startups that need access to specialized — and expensive — lab equipment. That extra space should be snapped up quickly.
"We're going to be filled pretty shortly after we move in," said BioSTL President and CEO Donn Rubin.
Its labs will fill an atrium surrounded by office suites and meeting rooms. Visitors to the building will be greeted by displays of scientific milestones in St. Louis history and local Nobel Prize winners.
For years, the building had sat vacant. The printing process it was built to house, known as rotogravure, allowed for far better reproduction of photographs and illustrations. But technology continued to advance and made the process obsolete by the 1970s. The Post-Dispatch closed the plant in 1974, and it was purchased by the Crescent Parts and Equipment Co. two years later. Crescent later abandoned it and Washington University bought it about 10 years ago. It sat vacant until Cortex's development spurred the need for more lab and office space.
Washington University's development company used Missouri historic tax credits and $7 million in federal New Market Tax Credits to finance the development, as well as $5 million from Cortex's tax increment financing district.
Another company that got its start in BioGenerator Labs — Arch Oncology — will take up 6,000 square feet of space in the new building.
"We can create space for graduating companies yet they can still walk down the hall and have the benefit of" BioGenerator's labs, said Mary Campbell, Washington University's associate vice chancellor for real estate.
Some 83 percent of the space is already leased, and Campbell said the university's real estate arm had letters of intent that would bring occupancy up to 92 percent. With high demand for space in Cortex — particularly lab space — Campbell expects the building to be fully leased in a few months.
"Do we see a need for further affordable space for startup companies?" she said. "Absolutely."