Humble mom-and-pop hardware stores are competing with ever expanding megastores by meeting modern-day demand and vintage rehab needs.
Steve Schneider, 61, is the fourth generation of his family to preside over the 103-year-old New Market Hardware at 4064 Laclede Avenue, and he says that the formula hasn't changed. Customer service is key.
The shop specializes in commercial business, but welcomes home-improvement shoppers with more grab-and-go impulse buy options than in years past.
"We have rare finds that aren't necessarily available at a big hardware store, but we also try to carry almost every little thing you'd need," Schneider said. A quick trip around the store reveals Q-tips for cleaning small machine parts, refurbished refrigerators for rehabbers and free, fresh-popped popcorn in case you need a snack.
That sentiment of going out of the way to service older property needs while staying up-to-date was echoed by Steve Edele of the 105-year-old Edele and Mertz Hardware at 1822 South Broadway. Edele, 32, is also the fourth generation of his family to own the operation. He bought the shop from his father and a partner this year.
Edele says he had no reservations about running a small shop in a mega-giant hardware world of shopping cart conveyor belts and sales floor space that can be measured in acres.
Edele seemed cool as a cucumber, with a bright, clean sales floor, wide aisles, easy-to-spot merchandise and niche handyman services for rehabbing the older homes of neighboring Soulard.
The store is in its third location in 105 years, but it retains some of the items that were around when it was founded, including the front counter and equipment that seems built to last several lifetimes.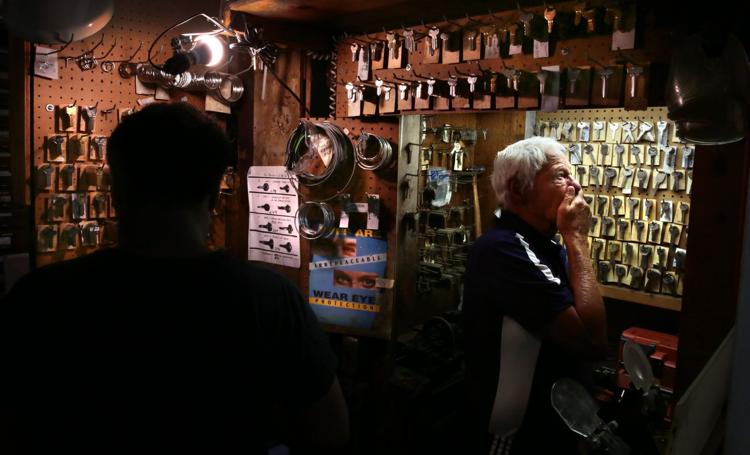 Running scared
Schneider said his biggest motivator is fear.
"We run scared," Schneider said of his staff of about 12 full- and part-time employees. "I'm always afraid that the one time I don't come through that they will go someplace else and not come back."
So despite the old school small business look and feel that can be sensory overload for newcomers, you can find a bizarre variety of goods at New Market Hardware, including kitty litter, detergent, lawn deer and porcelain figurines.
Workers will also deliver anything from a 50-cent bolt to a $1,500 air conditioning unit. The store has longtime clients at apartment buildings, hospitals and huge complexes that are known to have never-ending maintenance needs. Schneider said he takes nothing for granted.
Three delivery trucks are loaded and sent out throughout the day, because it endears the store to commercial customers by saving them hours on the job when the need for a hands-on worker can't be compromised.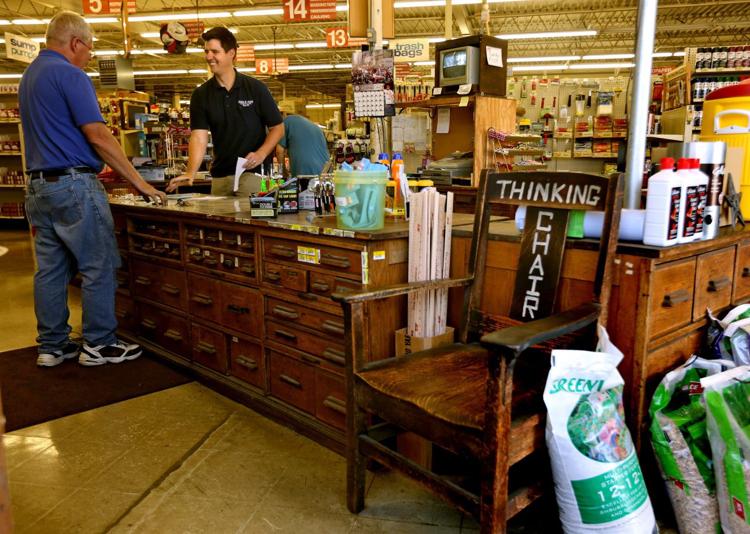 Glen Boswell, a maintenance worker at the 1,700-unit Fox Grove Management group, said that he runs to New Market about twice a day on average for parts, tools and random repair needs.
"The level of service is just off-the-charts amazing old school," Boswell said, waving to staff and greeting them by name as he walked out the door. "Real mom-and-pop style."
He was in getting a replacement pump for a toilet tank, an exterior doorknob and a mini shop vacuum. He said he's grateful to work just six blocks away from a shop that saves him a commute to a big box store and precious time searching vast terrain. If New Market doesn't have what he needs, they can get it by the next day.
Designer and craftsman Ken MacKesson explained: "I like it here because you go to a Home Depot and they carry things that a million people will buy. They don't have specific, unusual things."
When he goes to a big box store, MacKesson said, he knows he'll find a replacement item, but he likely won't find hardware or components to repair and restore an older item. New Market can't perform miracles but they care more about preservation, he said.
An architecture graduate, MacKesson said that his preference is restoring or remodeling vintage interiors to look like they did when they were originally built — instead of "looking like a Home Depot display got stuck in there."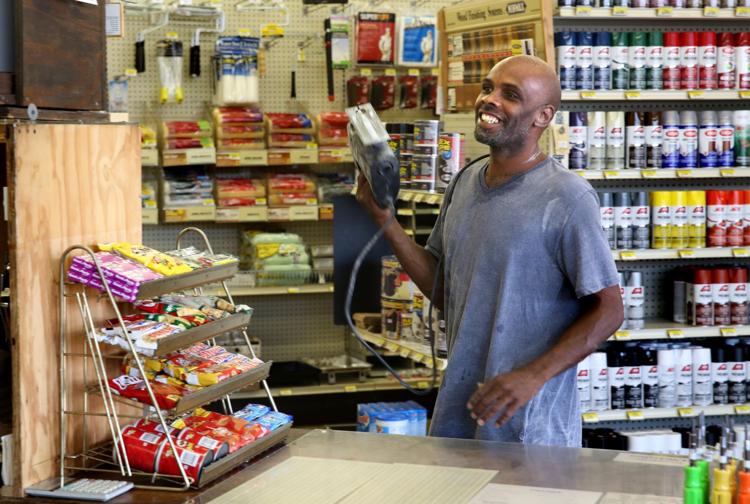 Everything old is new
It has been a family-run shop since 1912, but Edele, the great-grandson of the founder, is a Mizzou graduate with a degree in political science and business. After graduating, he interviewed with major retail chains for corporate positions and quickly realized that everything he wanted to do was waiting for him at Edele and Mertz.
"We keep up with the times. We are lucky to have a really good online rating," Edele said. Among the unusual stock is a healthy amount of plaster-patching supplies for renters in the area to fix holes before vacating. He also has a full aisle of telephone landline supplies and a few corded telephones that amuse younger customers who have grown up in a wireless world.
Meanwhile, Nate Marschalk, the executive director of the Disruption Department housed at the CIC @CET Building, formerly at the Center for Emerging Technologies, around the corner from New Market Hardware, said that he comes in frequently for parts to work with his 3D printer.
"We do high-tech and low-tech, so this is perfect," Marschalk said as he clutched an armful of adhesive remover, drill bits and random components he needed to service a machine that was the stuff of outlandish science-fiction novels when the store was founded.
Until his nonprofit group relocated to the neighborhood, he'd never visited New Market.
"When I first saw it, even with the signs out front, I didn't guess it was actually a hardware store," he said. "I didn't think these still existed."
Debra D. Bass • 314-340-8236
@debrabass on Twitter
Daily updates on the latest news in the St. Louis business community.