ST. LOUIS — The outdoor industry is working to get more Black Americans into the country's wilderness. And it's spending hundreds of thousands of dollars in St. Louis to do so.
A local hiking group is embarking next weekend on the second of five National Parks trips, funded by a $120,000 National Park Foundation stipend. And a regional collaborative is using a $300,000 grant to sponsor adventure camps, set up a free outdoor gear library, and teach middle- and high-school girls how to kayak.
"My dream is just having families pouring outside," said Chris Geden, program manager for the collaborative, River City Outdoors. "We have to remove a lot of barriers."
Decades after the Civil Rights Act, the demographics of who uses the country's public lands remain lopsided. White people comprise less than two-thirds of the U.S. population, but about 75% of participants in outdoor recreation, according to the Outdoor Foundation. And while parks, trails and rivers swelled with record numbers of visitors in the early days of the pandemic, the crowds largely looked the same as they always had: mostly white, middle-aged and middle-class.
But access can require transportation, equipment, even admission fees. Investments in trails and parks have historically tilted toward white communities. And for generations, racial exclusion was codified.
Even after legal integration, many African Americans felt uneasy or unwelcome at parks and pools.
As a Boy Scout in small-town Illinois, Anthony Beasley of the Central West End fished and camped. He stayed active during a stint in the Army. But even that breadth of experience didn't fuel his confidence that he'd be accepted as a Black man trekking around Missouri.
"I was still hesitant," he said. "I was not necessarily comfortable being the only person of color out there."
He found like-minded folks in Outdoor Afro, a California-based not-for-profit with 60 networks across the country, including St. Louis. He dove into caving, kayaking and backpacking.
Then, two years ago, Beasley was tapped for the steering committee of River City Outdoors, to promote St. Louis as a destination for outdoor recreation.
Focus on children
In May 2021, River City earned a three-year, $300,000 grant from the Outdoor Foundation, the philanthropic arm of the Outdoor Industry Association in Boulder, Colorado. The Thrive Outside initiative aims to reverse a trend that shows a "troubling youth gap in Black participation."
Children who don't interact with nature typically become adults who don't interact with nature, said the foundation's director, Stephanie Maez. And that's bad news for the industry.
"When we identify levers for systems change, youth is really a smart way to go," she said.
River City Outdoors is using the grant to partner with boys and girls clubs, community centers and St. Louis Public Schools. It's focusing its initial programs on north St. Louis and pockets of South City. This summer, it is co-sponsoring three daylong adventure camps and a Mississippi River canoe outing. In the fall, students at Hawthorn Leadership School for Girls in the Kingsway West neighborhood, north of Forest Park, will learn kayaking during their PE classes.
More extensive projects are still in the early planning stages, including a free gear library that River City Outdoors hopes to pilot next year, for checking out everything from tents and sleeping bags to cookware and canoes. Making supplies available can be enough to spur folks to try something new, said Geden, the program manager.
"The biggest thing we have to do is go where they're at," he said.
African Americans represent an unrealized market, said Aarin Weathers of Maryland Heights. He hikes about three times a month, on his own and with a group of Black hikers.
"We can only do so much to change other people's mindsets," he said. "It's going to take a concerted effort by businesses to have that conversation: Where do we open our stores? Where do we target our wares?"
The Alpine Shop, the oldest outdoor retailer in the region, strives to be a gathering space for everyone, said co-owner Lisa Hollenbeck. Its locations in Chesterfield and Kirkwood offer clinics and classes for all experience levels.
"We're not just talking about white people in West County," she said. "We want to reach people in different groups."
They've had some success, Hollenbeck said, but not as much as they'd like. Hiring a diverse staff has been a challenge, too.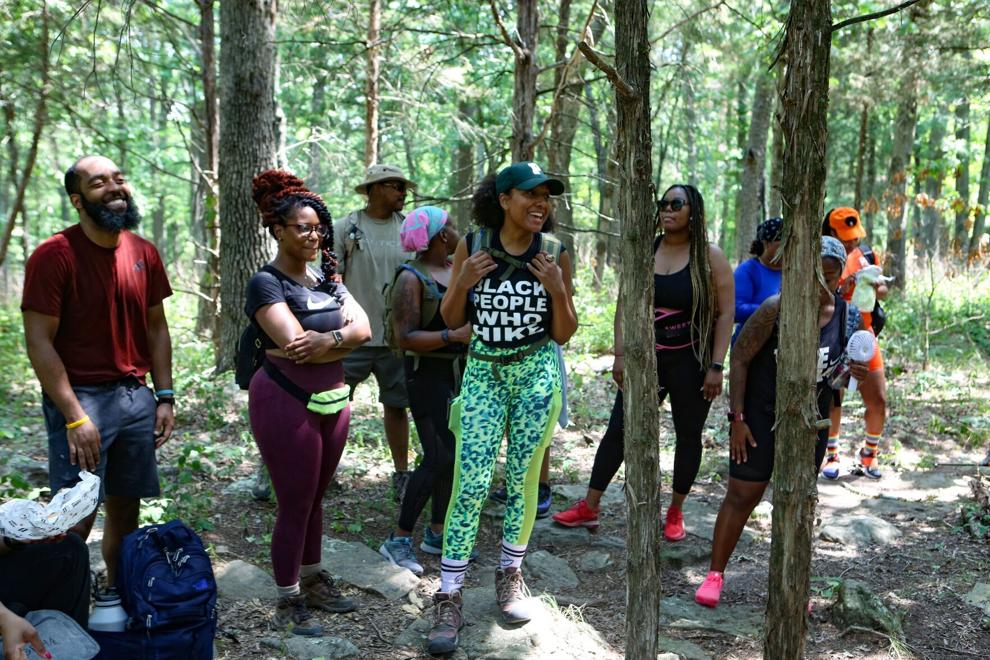 National park adventures
Outdoor recreation was not a part of Debbie Njai's life growing up. Njai, of Edwardsville, was in her 30s before she ever went on a hike. One weekend in August 2019, she tagged along with a friend on a 1.7-mile loop around Castlewood State Park. Njai was hooked.
"It was therapeutic. It was exhilarating," she said. She didn't know it then, but moving would be become a movement.
It was a slow buildup, at first.
"I tried to invite people who looked like me," said Njai. "There was a lot of reluctance."
She plowed ahead, incorporating Black People Who Hike as an LLC a month after her Castlewood initiation. On her first official hike, one person joined her. But week after week, she ventured out. Friends told friends, and more and more people showed up — to state parks, conservation areas and trails winding through Missouri and southern Illinois.
Her Instagram following ballooned — gaining momentum during the Black Lives Matter protests two summers ago — to more than 32,000. Hikes expanded, too, and sometimes incorporated yoga, bouldering or meteor-shower-viewing. Organizations such as Missouri State Parks, yoga group the Collective STL and the conservation consortium Mississippi River Network reached out to collaborate.
Late last summer, Njai applied for a new National Park Foundation grant, ParkVentures, designed to boost park use by historically excluded communities. According to national park data, only 6% of the system's visitors are Black.
In November, Njai found out that Black People Who Hike would receive $120,000 to fund trips to five national parks.
About 35 Black hikers convened in Yosemite last month for three days of trail-conquering, wildlife-watching and star-gazing. Another group is heading to Yellowstone next weekend, and three more excursions are scheduled: Great Sand Dunes in Colorado, Acadia in Maine and Hawaii Volcanoes National Park.
Each trip costs about $350 per person, which covers food, lodging and activities. Participants also have to pay for their transportation to the park. But for Yosemite, Njai was able to fund $10,000 in scholarships.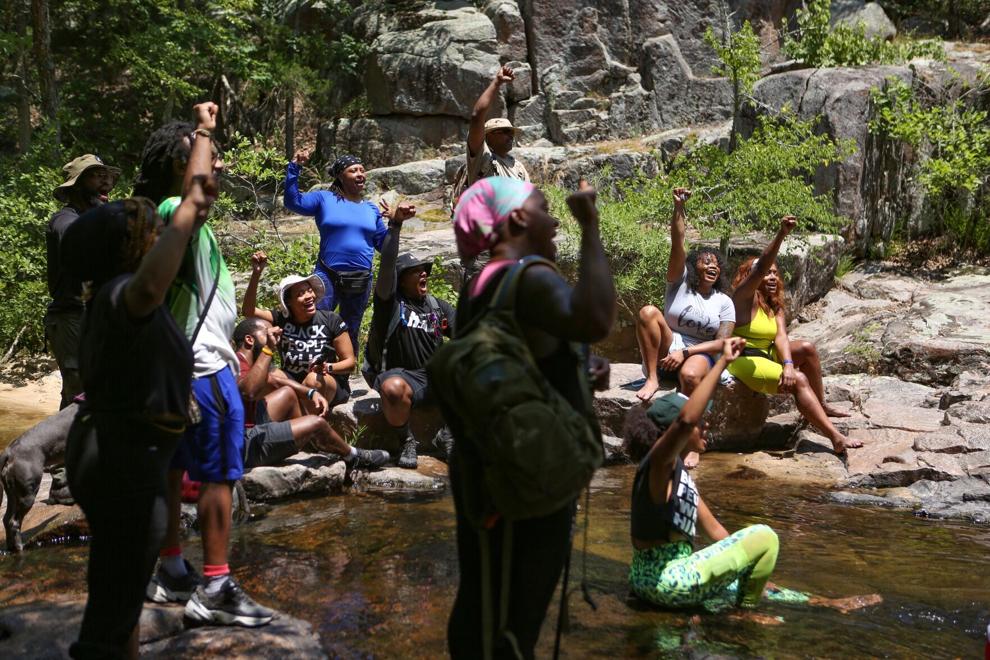 Gabby Davis of University City is already excited to see Hawaii in November. She joined Black People Who Hike almost three years ago, when she was going through a stressful period.
"Being outside helped me," she said. "More Black people have to get outside."
Njai is trying her best to make that happen: Black People Who Hike is recruiting ambassadors across the country to spread the word. She plans to apply for a capacity-building grant to hire staff; right now, her team of 19 is all-volunteer.
Eventually, she'd like to drop some of her responsibilities managing six of her family's Little Caesar franchises to focus more on the group, expanding its partnerships and maybe starting an outdoor clothing line.
"It makes me a little nervous," she said. "But it's good nervous."
Photos: Bonding at Black People Who Hike event at Missouri's Hawn State Park
Black People Who Hike brings Black people together from all over the St. Louis area to enjoy the outdoors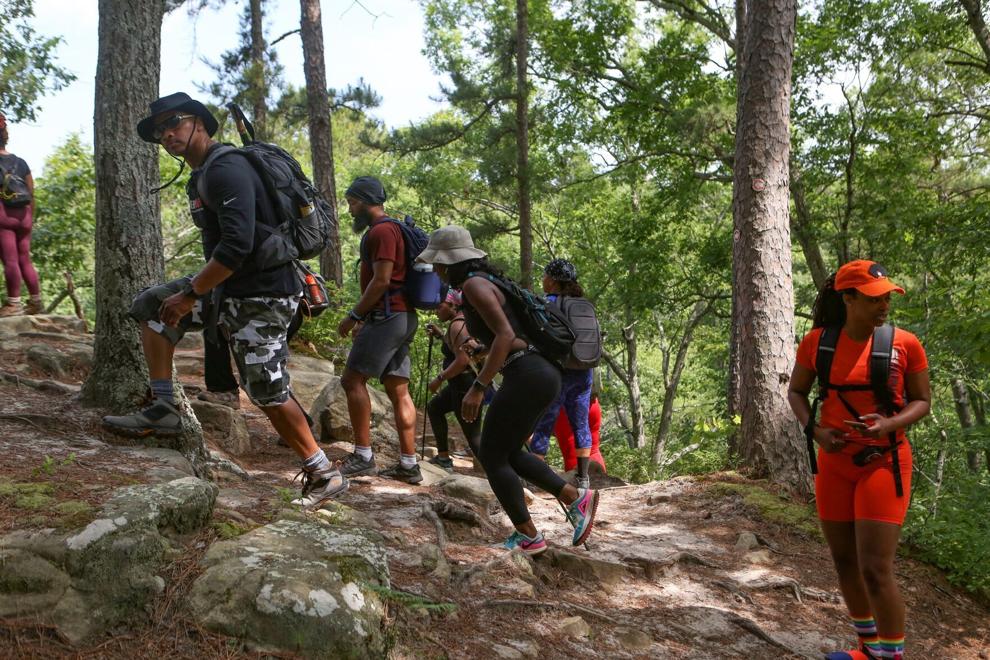 Black People Who Hike brings Black people together from all over the St. Louis area to enjoy the outdoors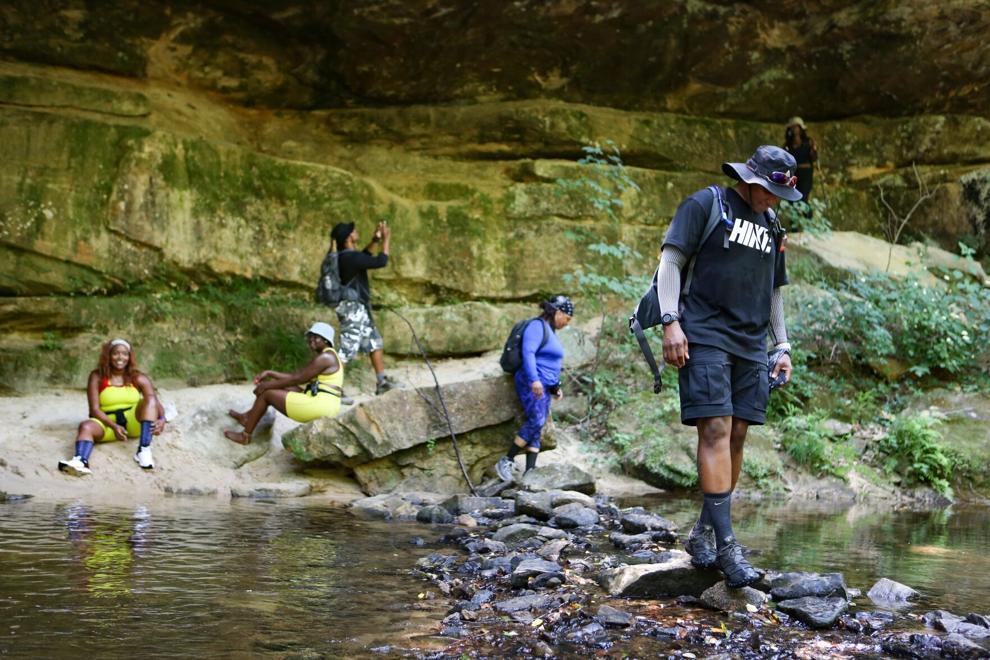 Black People Who Hike brings Black people together from all over the St. Louis area to enjoy the outdoors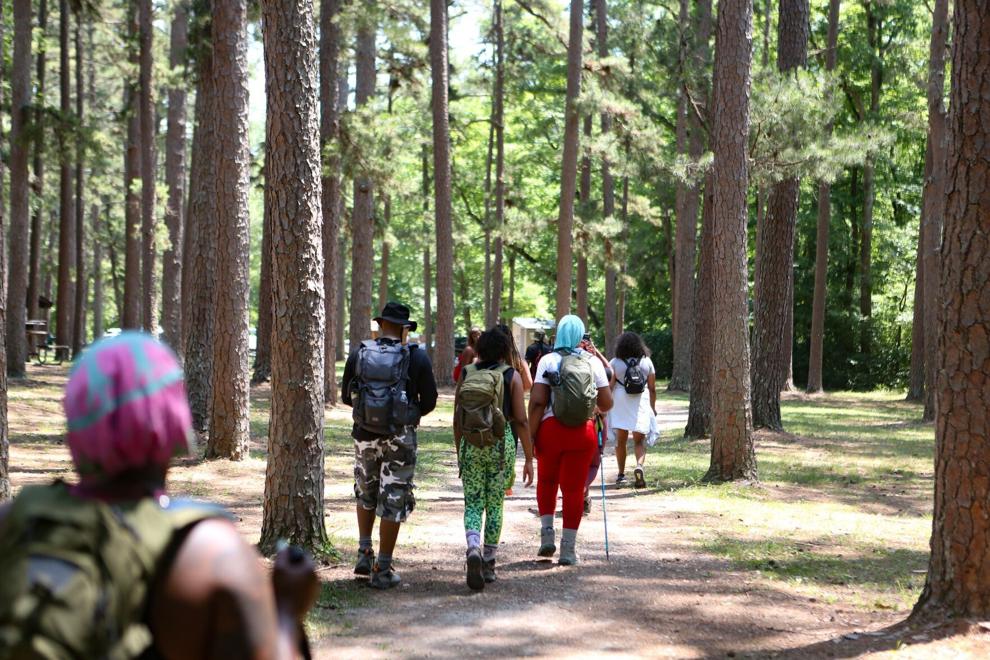 Black People Who Hike brings Black people together from all over the St. Louis area to enjoy the outdoors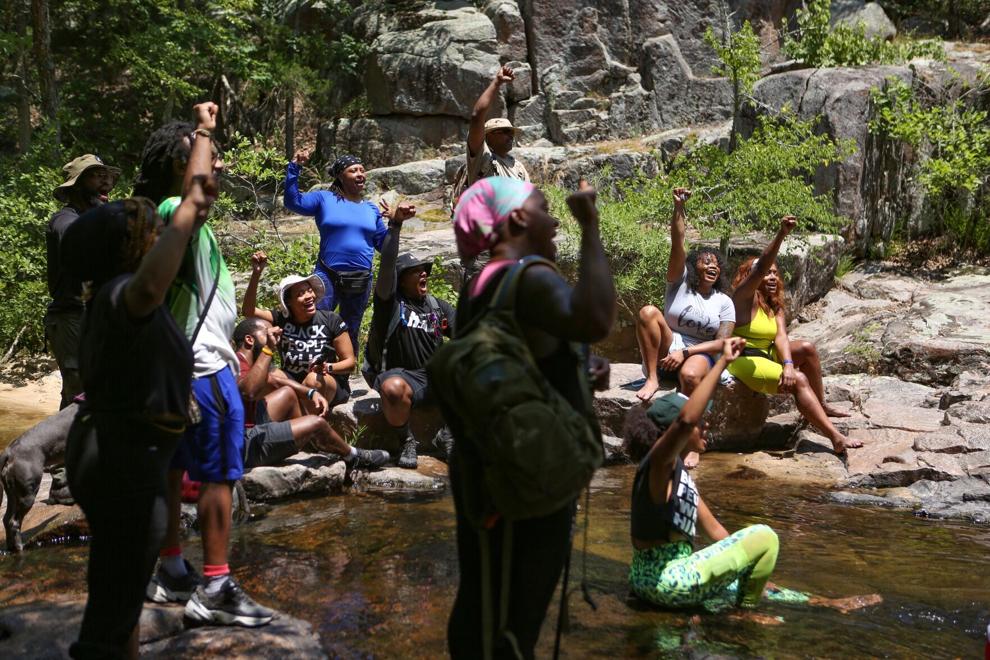 Black People Who Hike brings Black people together from all over the St. Louis area to enjoy the outdoors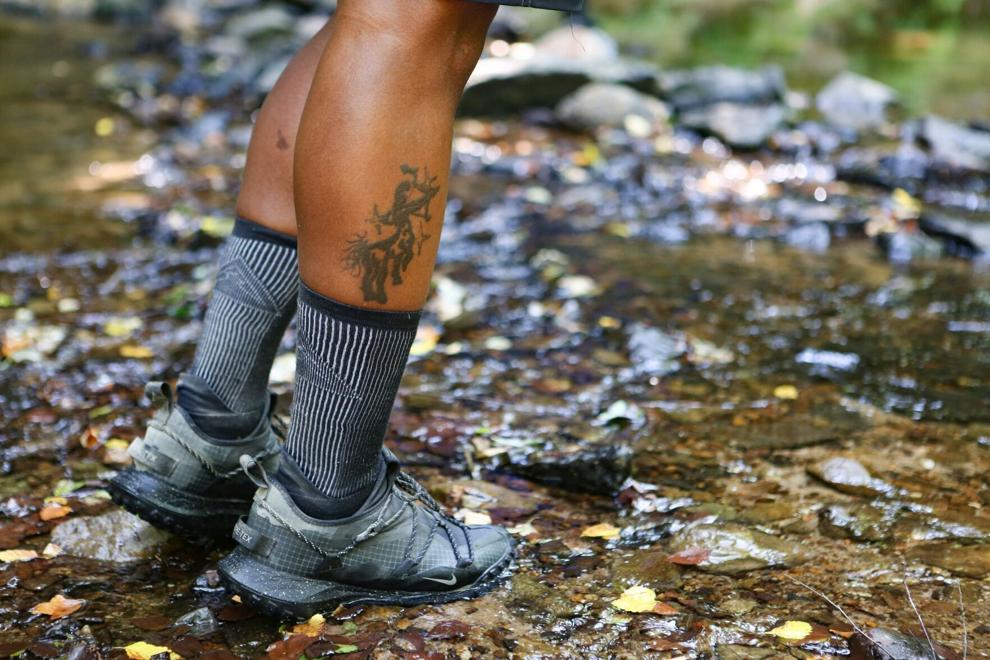 Black People Who Hike brings Black people together from all over the St. Louis area to enjoy the outdoors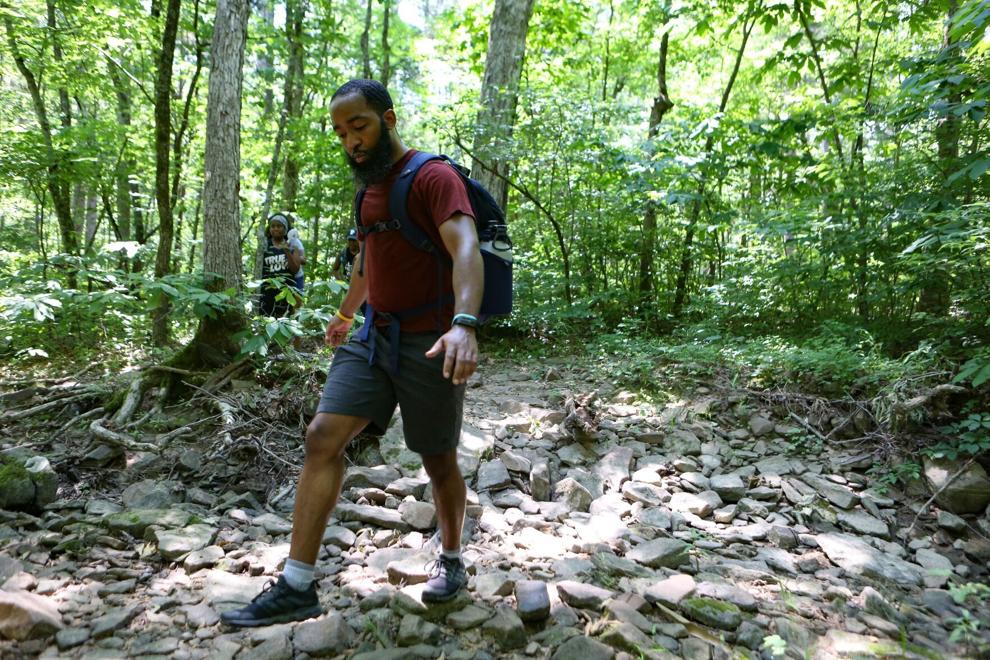 Black People Who Hike brings Black people together from all over the St. Louis area to enjoy the outdoors
Black People Who Hike brings Black people together from all over the St. Louis area to enjoy the outdoors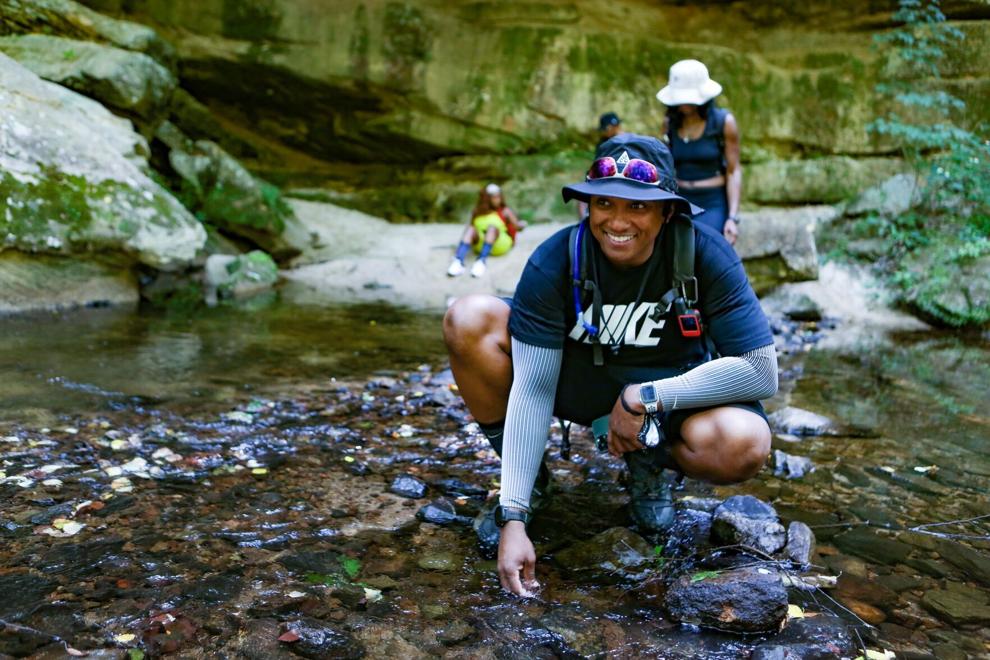 Black People Who Hike brings Black people together from all over the St. Louis area to enjoy the outdoors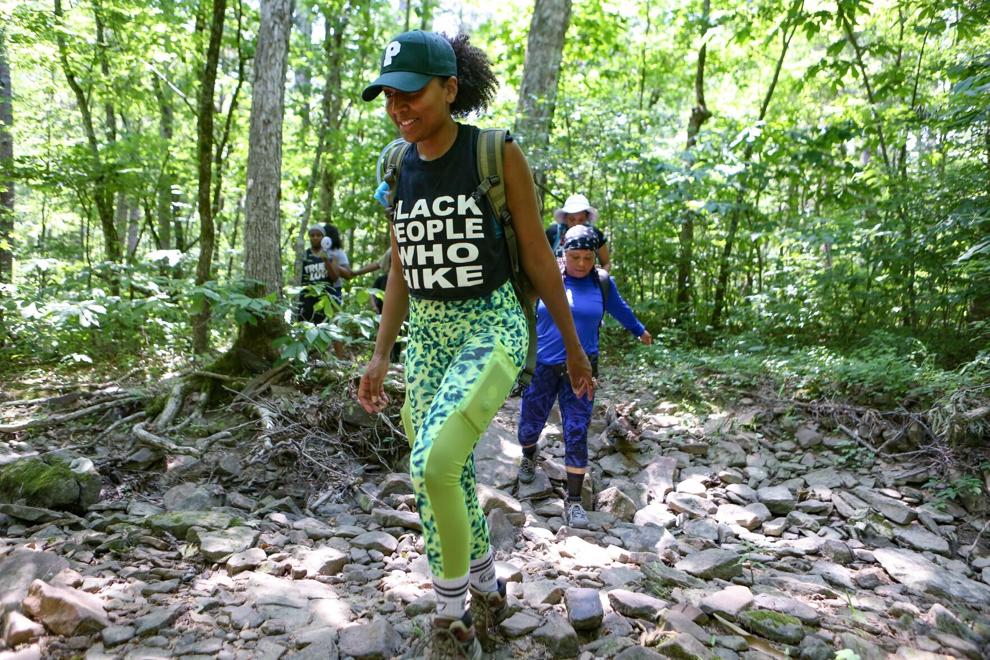 Black People Who Hike brings Black people together from all over the St. Louis area to enjoy the outdoors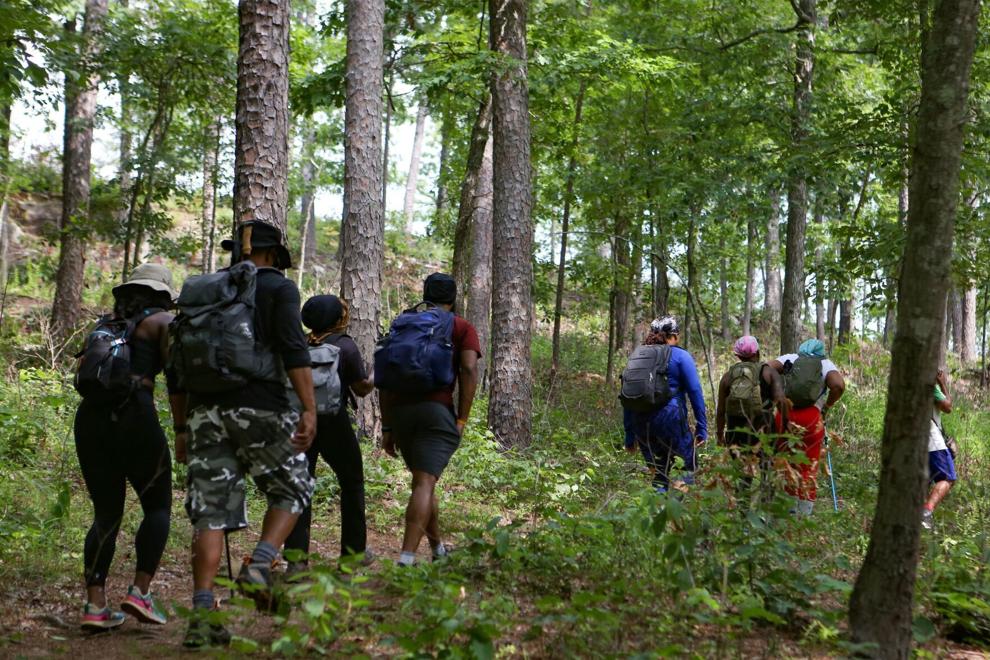 Black People Who Hike brings Black people together from all over the St. Louis area to enjoy the outdoors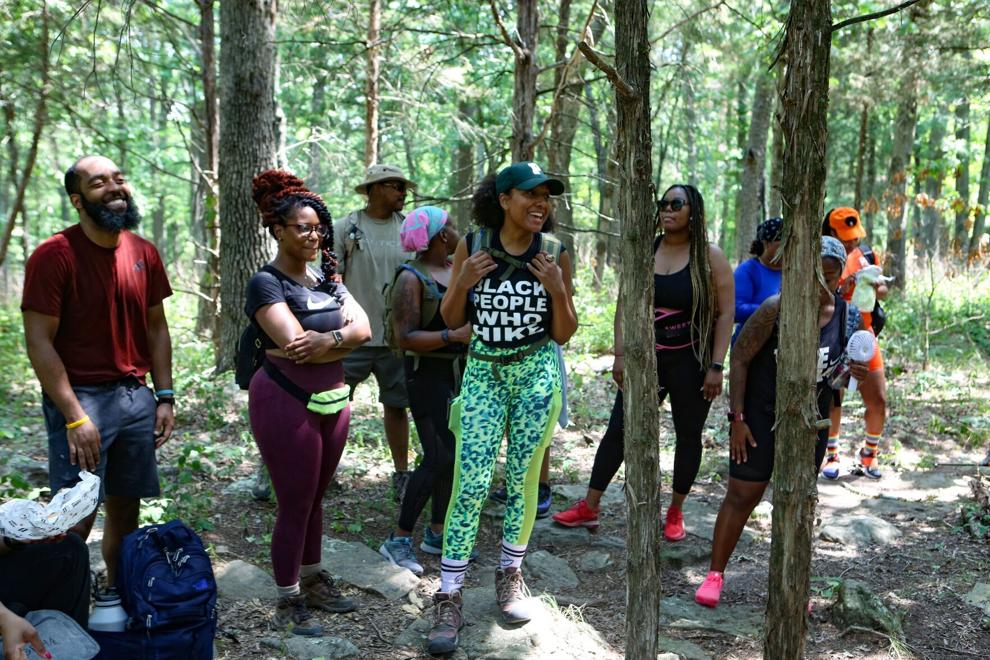 Black People Who Hike brings Black people together from all over the St. Louis area to enjoy the outdoors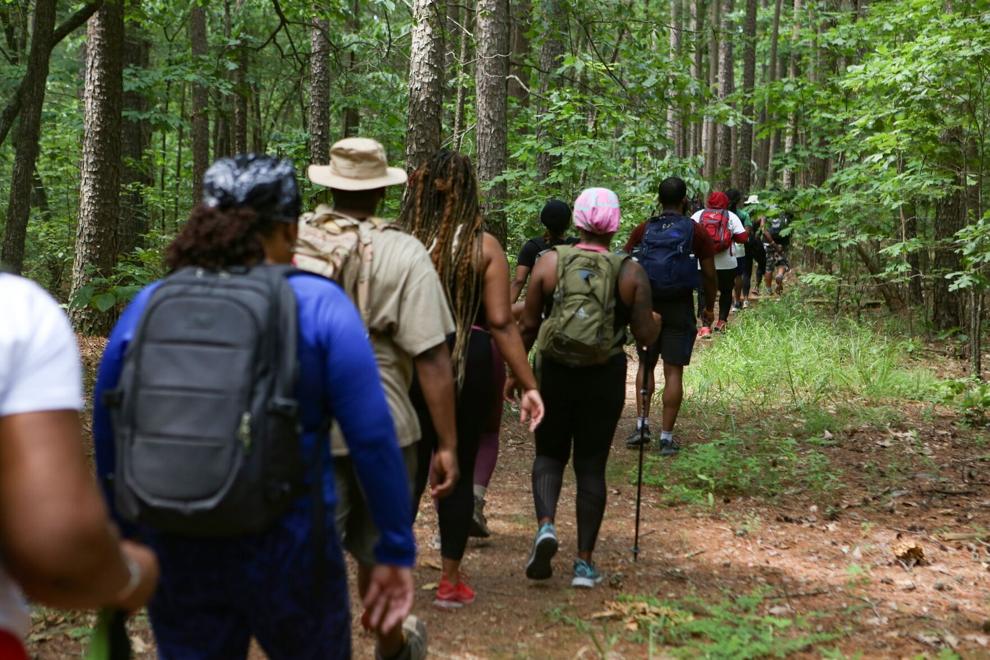 Black People Who Hike brings Black people together from all over the St. Louis area to enjoy the outdoors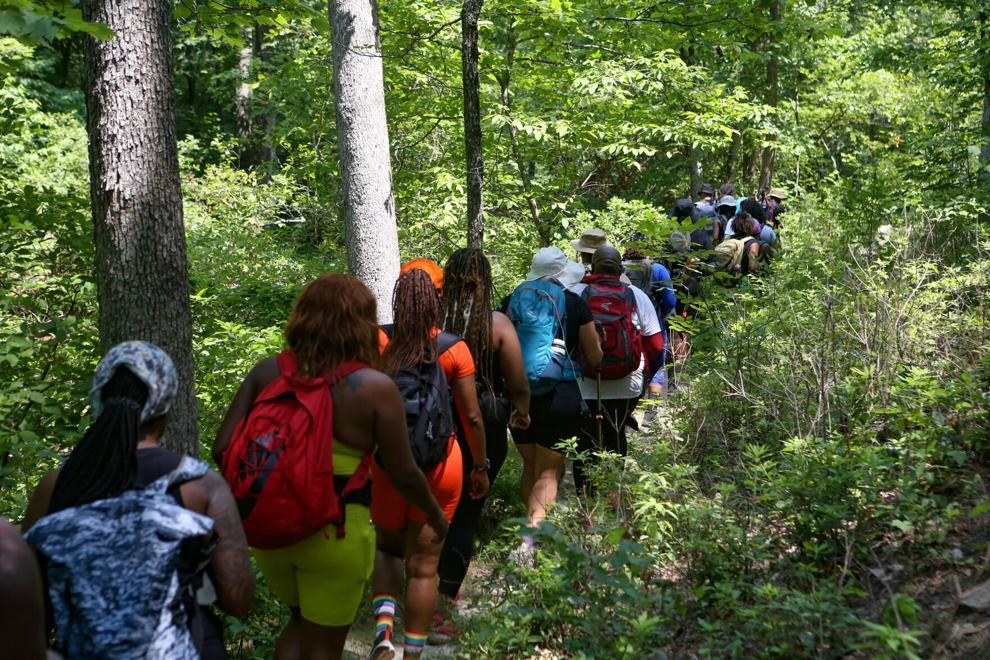 Black People Who Hike brings Black people together from all over the St. Louis area to enjoy the outdoors