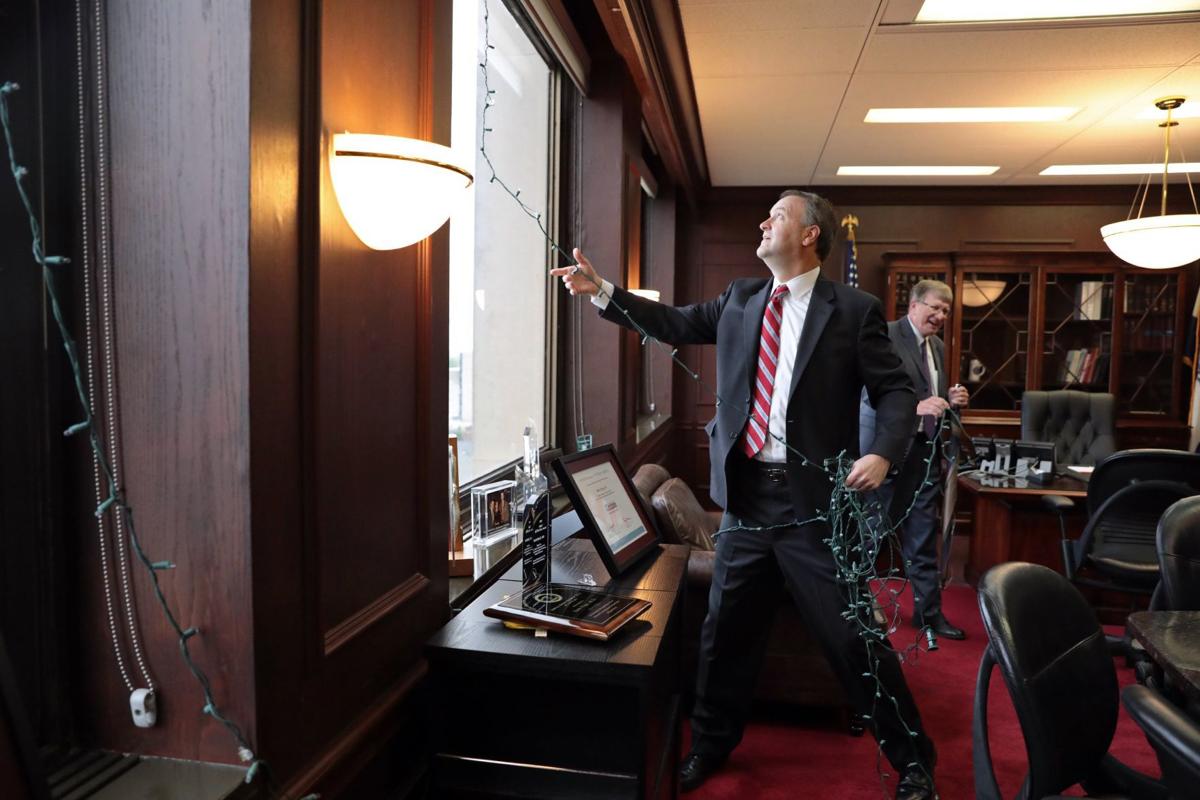 CLAYTON — St. Louis County will raise its minimum wage over the next two years to $15 per hour for the lowest-paid county employees and request the same for contract employees as contracts are renewed, County Executive Sam Page said Thursday.
The county will increase the wage to $13 this year, $14 next year and $15 in 2022, he said. The change will raise wages for 170 county employees the first year, 280 the second year and 460 the third year, he said. Most of those employees work in administrative or support roles. He said he did not know how many contract employees would be affected.
The change will add $300,000 in costs this year, $500,000 next year and $800,000 the final year, he said.
"We are in the middle of a relatively good economy with a low unemployment rate, but we still have many of our workers who struggle and struggle financially and struggle to make ends meet," Page said in a news conference. He said the wages will help employees who have been "left behind" after some county government employees received significant pay increases.
St. Louis County employees work hard for the taxpayers every day. Many haven't had more than a nominal raise in years. Today I'm announcing that St. Louis County will be raising the minimum wage for its employees to $15/hour by 2022 starting this year with a raise to $13/hour.

— County Executive Sam Page (@DrSamPage) January 30, 2020
"These are jobs that we consider to be an important part of the function of county government, and we believe they deserve the raise," he said.
Doug Moore, a spokesman for Page, said the administration can unilaterally require a $15 minimum wage for workers on any new contracts awarded by the county through its procurement process without issuing a formal order or seeking County Council approval.
City Treasurer Tishaura Jones last year did the same when she won approval of a new $15 minimum wage for 99 of her office's lowest-paid jobs, including many in the city parking division. The treasurer's office is an independent elected post and not part of the city civil service system.
Area janitors have also been seeking a wage of at least $15 an hour from cleaning contractors.
Page said: "We wish we could have done it sooner, but as you know … we've had a very busy couple of years trying to get county government working again, operationally. We've been busy trying to restore trust in county government and the next step of our plan has always been to start tackling some of the complex policy questions that are before us."
Raising the minimum wage to $15 was also one of the calls to action from the Ferguson Commission. The Rev. Starsky D. Wilson, president and CEO of the Deaconess Foundation who served as the commission's co-chair, tweeted that he was pleased Page "took this important step."
Page said he also asked staff members to identify county employees who have not received raises in recent years, determine what would be fair wages and figure out ways to increase pay.
Daily updates on the latest news in the St. Louis business community.