ARNOLD — When Rock Roll-O-Rena closed during the pandemic, Shawn Poitras sat on his couch. "I got lazy," he said.
Roller-skating forms the throughline of Poitras' life story. His parents met at the rink, decades ago. He grew up on wheels, notching laps at the rink in Arnold. Now, his 15-year-old tags along.
"It's a full family environment," said Poitras, 45, who lives in Arnold. He and his son have made a goal of skating in all 50 states.
Last summer, when bicycling boomed, roller skates had their own run. Popular brands like Moxi and Impala were on perpetual back order. TikTok and YouTube videos of flashy 20-somethings spinning and strutting went viral, leading some to speculate that the activity was undergoing a revival. But roller skating rinks across St. Louis were shutting down for the pandemic. And that left the dedicated, the steadfast and the diehards — like Poitras — all without their homes-away-from-home.
For longtime skaters and rink owners here, the century-old sport has been as constant as counterclockwise revolutions on a hardwood floor. Admission is cheap, usually less than $10, including skate rental. Tight-knit regulars return week after week for socialization, stress relief and fitness. Parents who taught their children to skate are now passing their skills along to their grandchildren.
Rebecca Jacobs, 53, of south St. Louis County, felt like she was in junior high again when she returned to South County's Rollercade to show her own kids — now 16, 18 and 24 — how to glide and weave. Recently, after her oldest daughter completed basic training, the family celebrated together at the rink.
Lisa Halim's grandparents opened Rollercade in 1971. "I think when you step on a skate floor, it brings you back to these childhood feelings of just going out and having fun," said Halim, now a co-owner.
The past year and a half have been difficult, with changing restrictions, mask mandates and strict cleaning regimens. But Halim kept her 18 part-timers employed, albeit with fewer hours.
Coachlite Skate Center in Bridgeton was closed for seven months. It reopened "with baby steps," said Gene Fridblom, who has managed the rink, owned by his in-laws, for 35 years.
"Loans are the only thing that saved us," he said.
In the fall, Fridblom had to turn away hundreds of eager skaters to maintain 25% capacity on the painted concrete floor. In April, he restarted lessons. Last month, he sold out of a shipment of new skates — which took months to arrive — in three days.
'It just bloomed back up'
Rock Roll-O-Rena owner JoDonna Neifert was a little girl when her parents opened the rink in 1965. Her dad was concerned there wasn't anything for his five children to do except go to the smoke-filled bowling alley. Neifert took to the sport, entering skating competitions around the country. She and her husband, Glen, raised their three children at the rink. She was edging toward retirement when the pandemic hit.
"The first two months, all I could do was cry," said Neifert. "But then it just bloomed back up. It just blossomed."
Two of her kids will officially take over her duties this year, but Neifert said she'll still come to the rink, to watch over the third generation of Rock Roll-O-Rena skaters.
"We treat them like they're our kids," she said.
Mandy Lopez of Affton, now 42, visited once when she was a knock-kneed middle schooler. For two hours, she inched along, never loosening her grip on the wall.
But a few years back, her 11-year-old begged to go, and the pair learned together. Eventually, Lopez's daughter lost interest, but Lopez kept returning, skating three times a week and losing 80 pounds in the process.
"You don't even feel like you're exercising. You just feel like you're having fun," Lopez said. "I got muscles in places I didn't even know I had muscles."
Last summer, with few rinks open, skaters swarmed empty parking lots and paved trails. Dee Anderson, 45, used the front porch of her Granite City home to teach her daughter, in tiny gliding laps, how to balance like a duck and roll to a T-stop.
Maurice Falls, 62, of St. Louis met up with his usual crew outside the visitors center in Forest Park. Once the sun went down, they'd sneak over to Steinberg Skating Rink, where Falls worked as a teenager.
Falls' usual haunt is Skate King in Pine Lawn, set to reopen Wednesday to adults only.
'Where the good times roll'
"We're cautiously excited," said owner Mathew Foggy. "We will still not open completely. The pandemic is not over at this point."
Skate King has been closed for 18 months, the longest Foggy has been away from a rink in his life.
Foggy got into skate-rink ownership 50 years ago. He started with the Starlight in East St. Louis, where he spent his youth.
"As with most entertainment centers, it was segregated," Foggy said. The rink shuttered amid the racial turmoil of the 1960s and eventually became a day care center.
In 1970, as a college student, Foggy decided to buy the Starlight and return it to its glory days. He named it the Martin Luther King Memorial Rink, as a tribute to the civil rights icon and a recognition that roller rinks, like swimming pools, were a focal point in the battle for racial equality.
"It's an integral part of the African American community," Foggy said. "It was one of the few places people could congregate and have fun."
In 1978, Foggy bought a rink in Pine Lawn that had closed not long after segregation was abolished.
By that time, he had shortened the name of his ventures to "Skate King."
"One of the incentives of me opening the skating rink was that at other skating centers in the community, if you showed up on nights other than 'soul night,' you would not be welcome," he said.
Larry Wise started working for Foggy a half-century ago, as an 11-year-old in East St. Louis.
"I grew up at the skating rink," Wise said. "It's a fairy tale story."
He worked his way up to manager at the East St. Louis location, but after he became a sheriff in St. Clair County, he didn't have the time to devote to it.
Then Foggy closed the rink, in 1996.
"It was a big loss to the community," Wise said. Neighborhood teenagers, especially, didn't have anywhere to go.
In 2002, Wise bought the rink and renamed it Skate City. His wife and two children help him run it. Wise's son, a Shiloh police officer, mans the DJ booth on many nights.
A disco ball hangs over the center of the rink, but the music trends toward classic R&B and old-school soul: Isley Brothers. Some Michael Jackson. A little Drake.
For now, no one under 21 is allowed, at least until COVID cases go down. Everyone is still required to wear a mask. The air gets heavy with sweat and basslines, but the skaters are light on their feet, spinning like tops or linking arms to synchronize their crossover strides. Once in a while, a daredevil turns a cartwheel.
Across the bubble-gum pink wall, "Where the good times roll!" is painted in red, to match the picnic tables where skaters can take a breather or put their sneakers back on at the end of the night.
Eddie Sattlefield of East St. Louis has a longstanding spot on the bench. The 73-year-old skated for most of his life until a bum leg put him out of commission. He still frequents Skate City, watching whirls and twists from the sidelines as motivation until he can lace up his boots again.
"I just enjoy the people," Sattlefield said. "All of them are my friends."
Photos: Family keeps Monday night skate going at Skate City
Monday night skate at Skate City in East St. Louis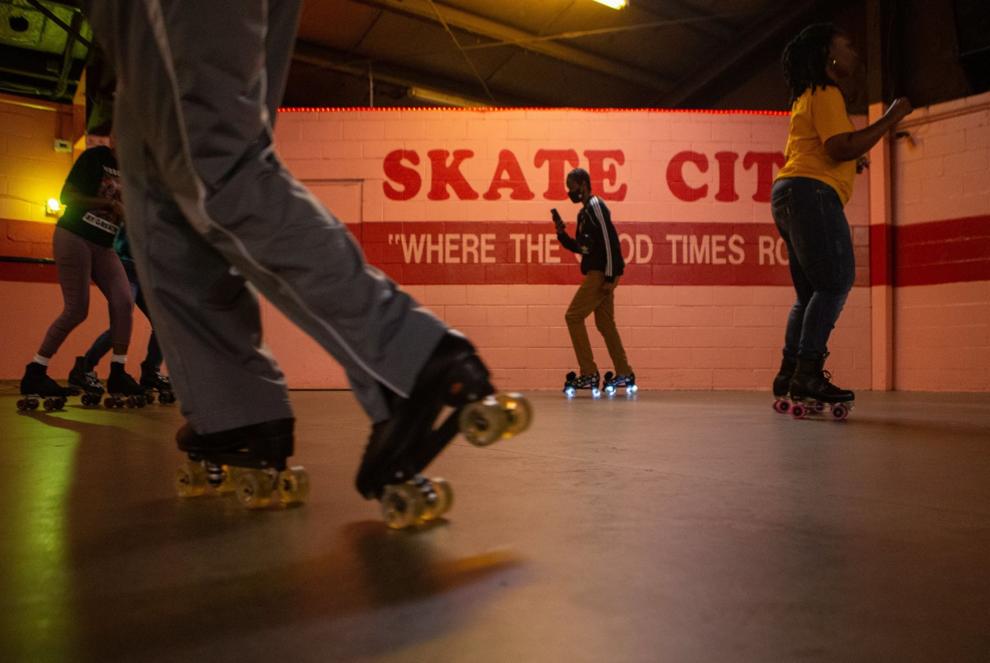 Monday night skate at Skate City in East St. Louis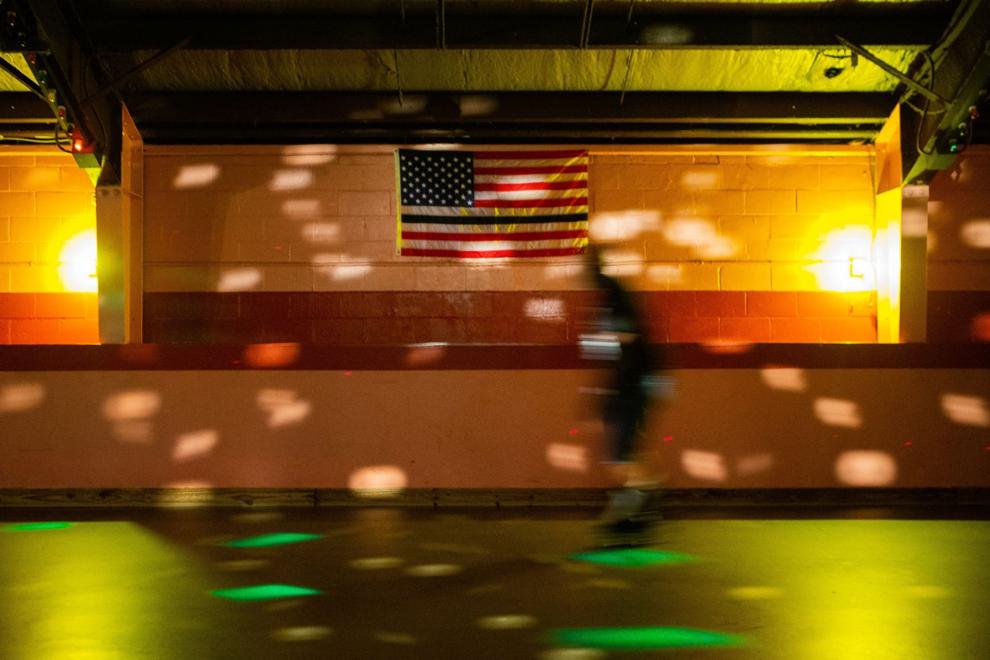 Monday night skate at Skate City in East St. Louis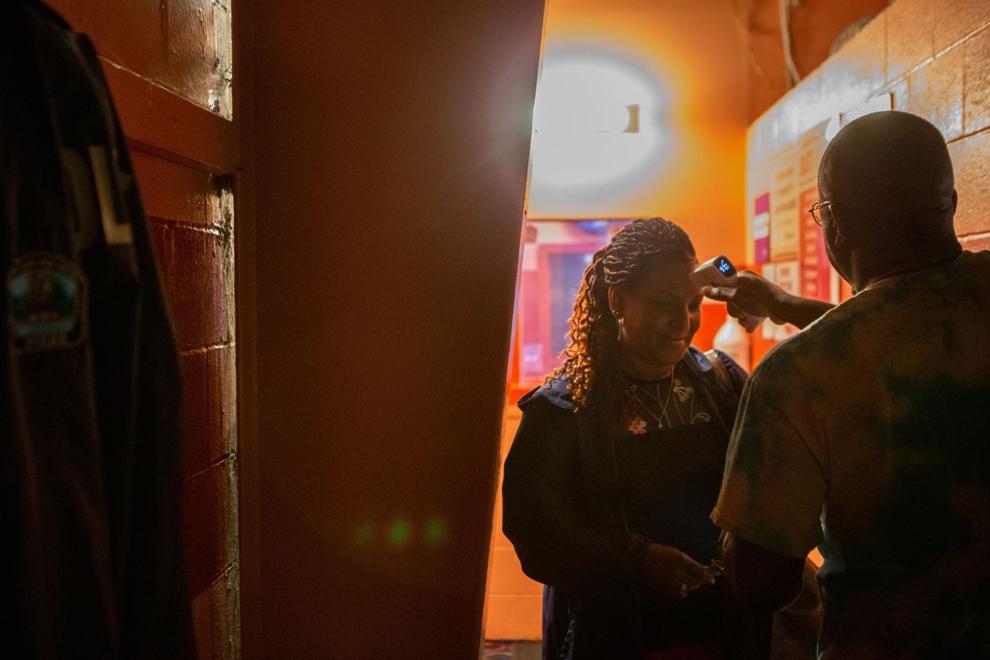 Monday night skate at Skate City in East St. Louis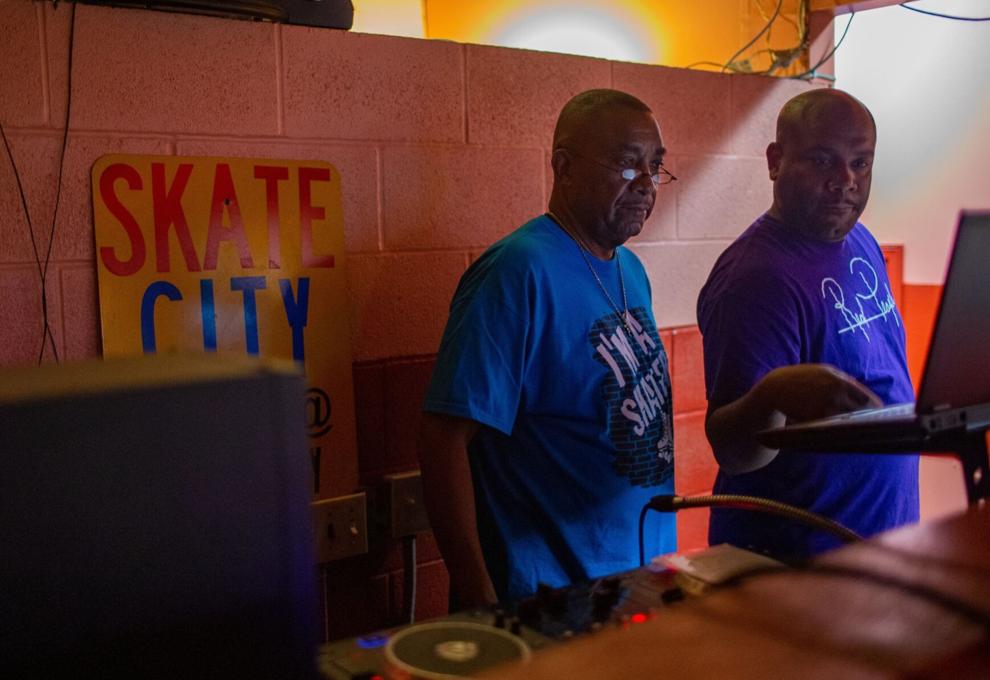 Monday night skate at Skate City in East St. Louis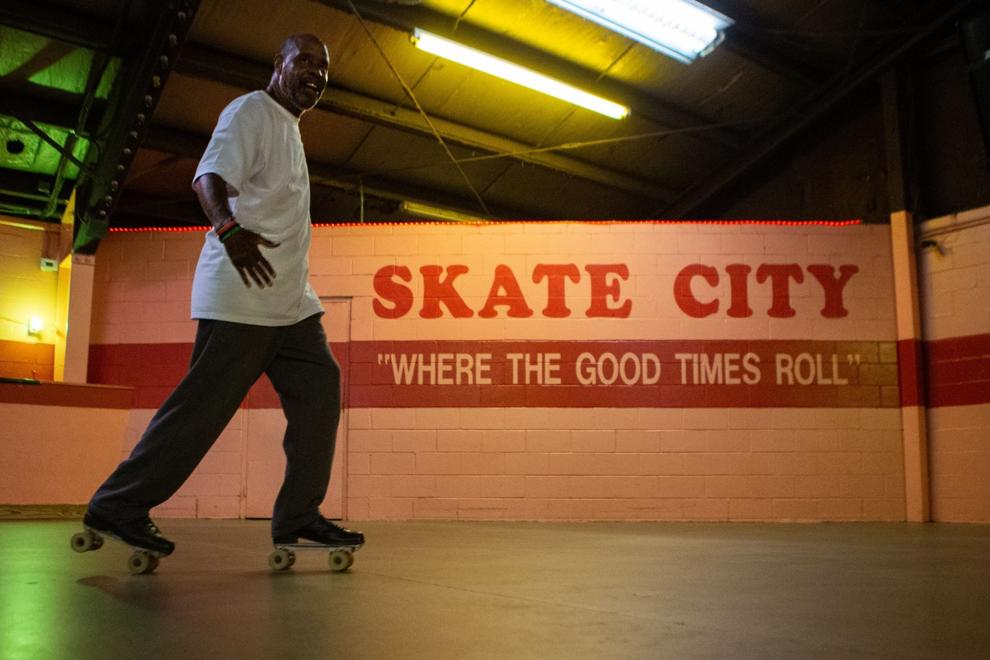 Monday night skate at Skate City in East St. Louis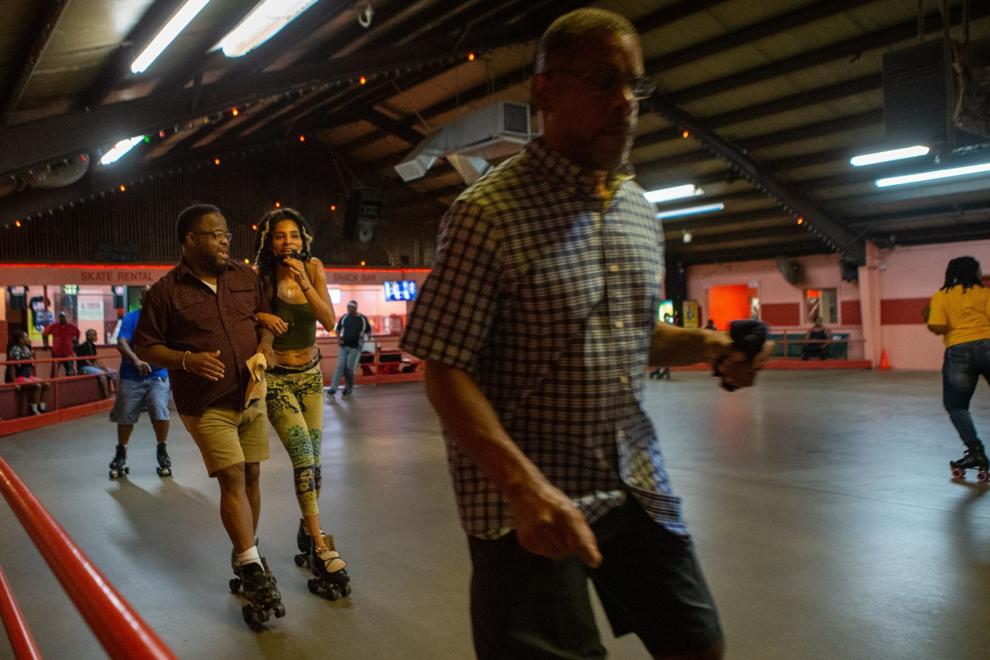 Monday night skate at Skate City in East St. Louis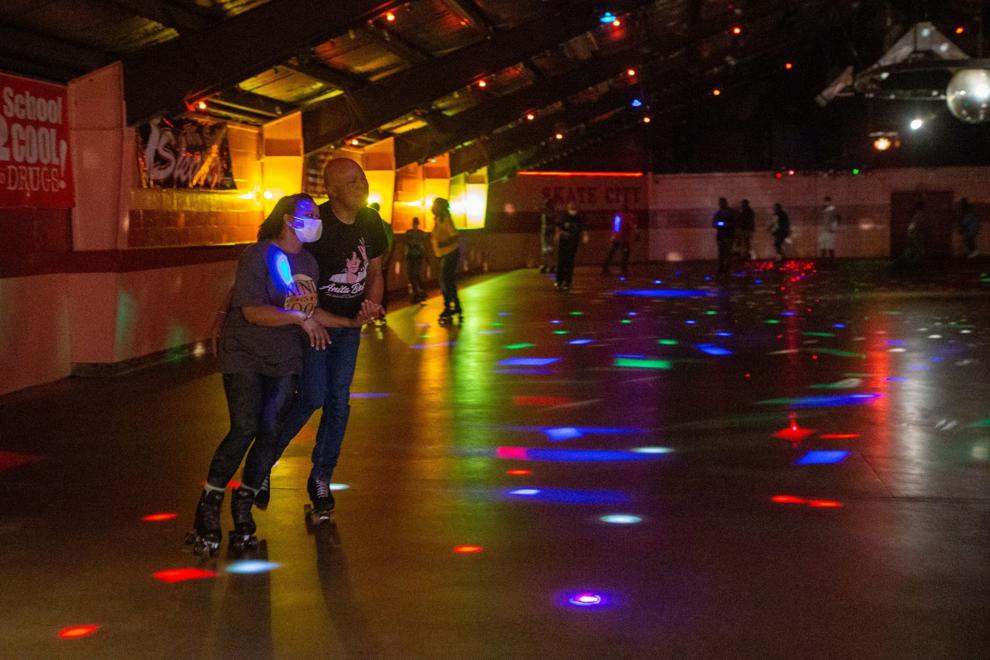 Monday night skate at Skate City in East St. Louis
Monday night skate at Skate City in East St. Louis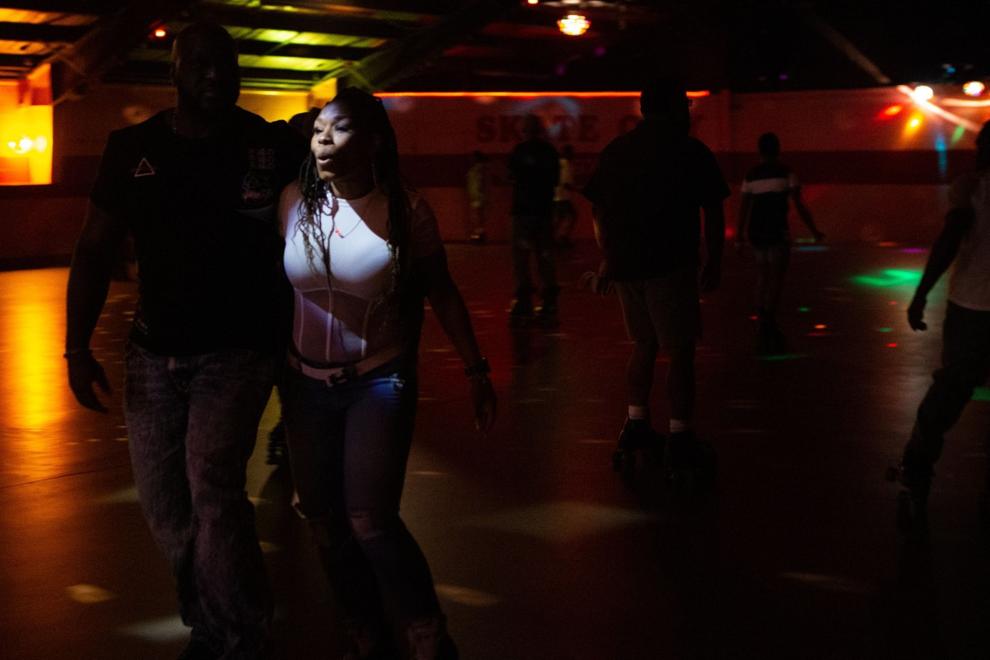 Monday night skate at Skate City in East St. Louis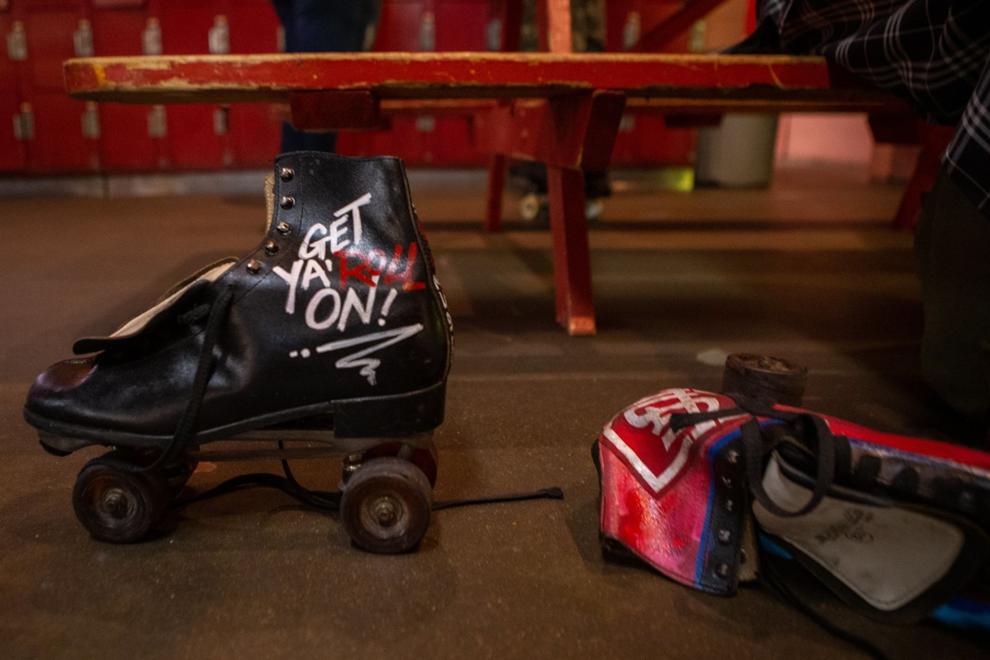 Monday night skate at Skate City in East St. Louis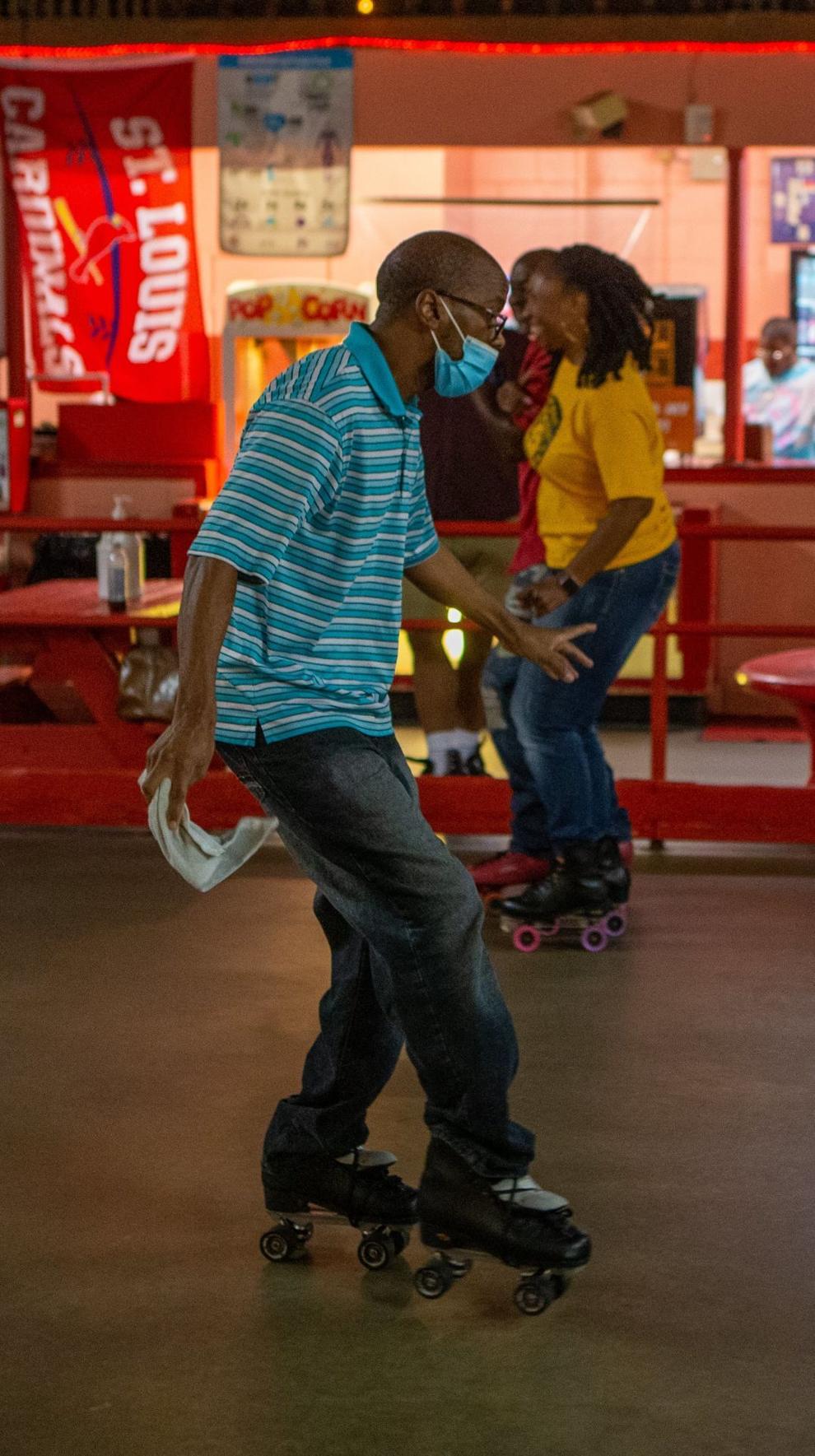 Monday night skate at Skate City in East St. Louis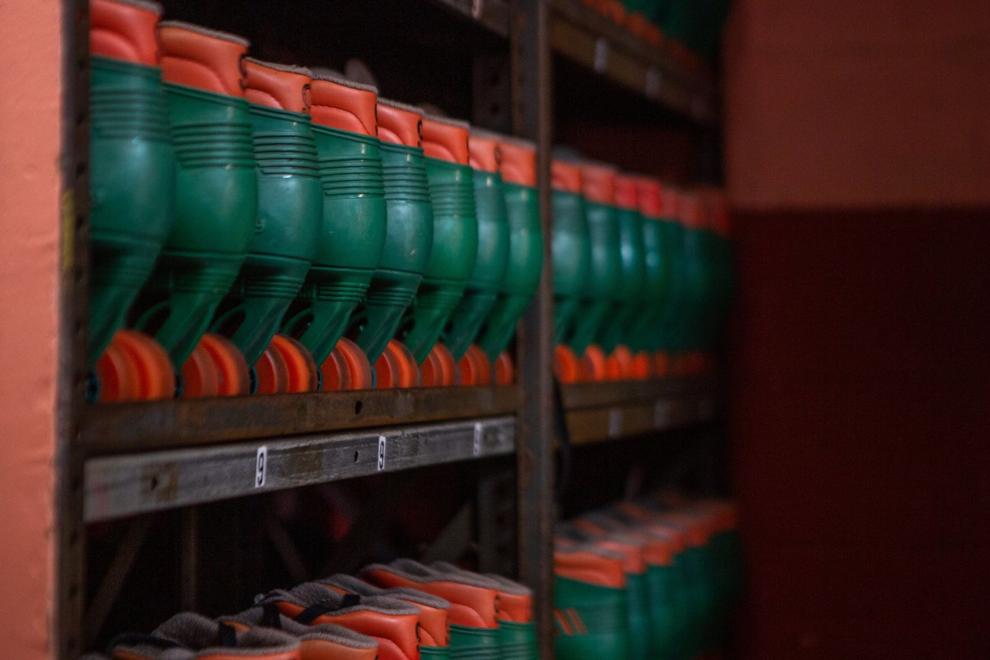 Monday night skate at Skate City in East St. Louis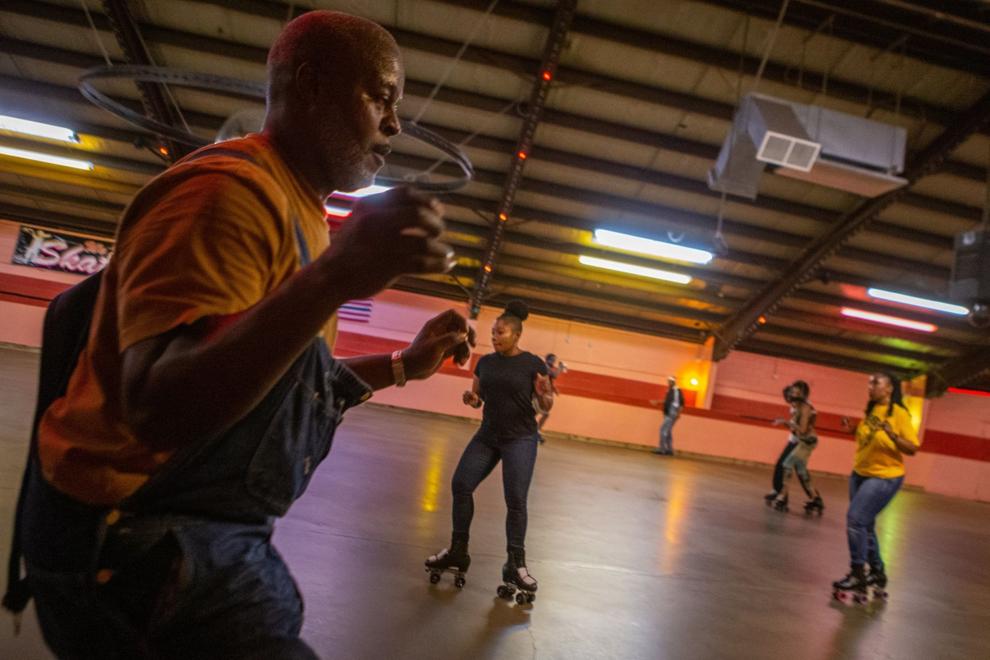 Monday night skate at Skate City in East St. Louis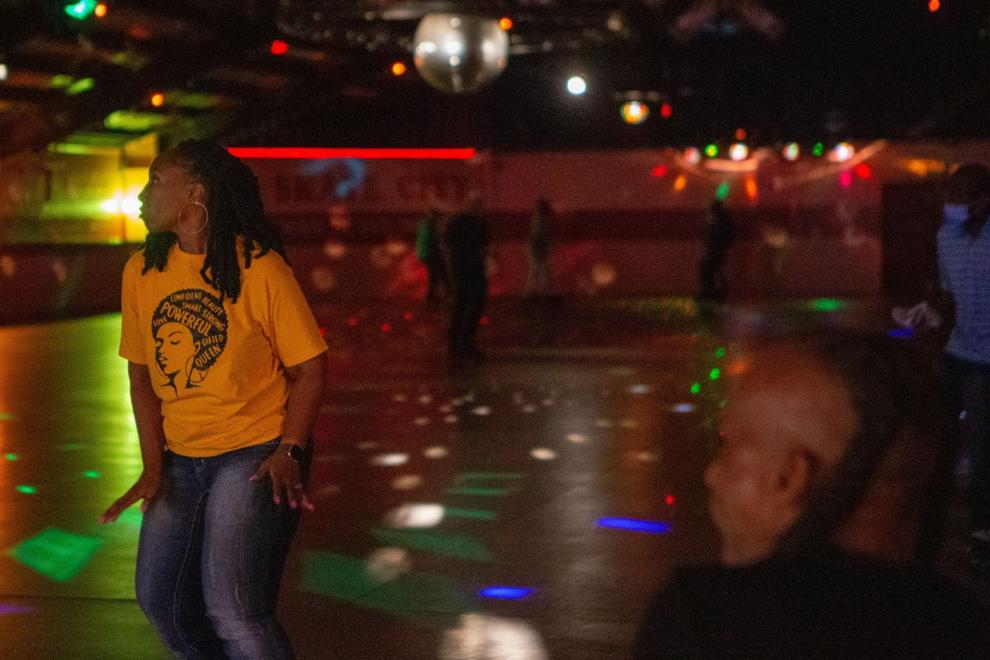 Monday night skate at Skate City in East St. Louis