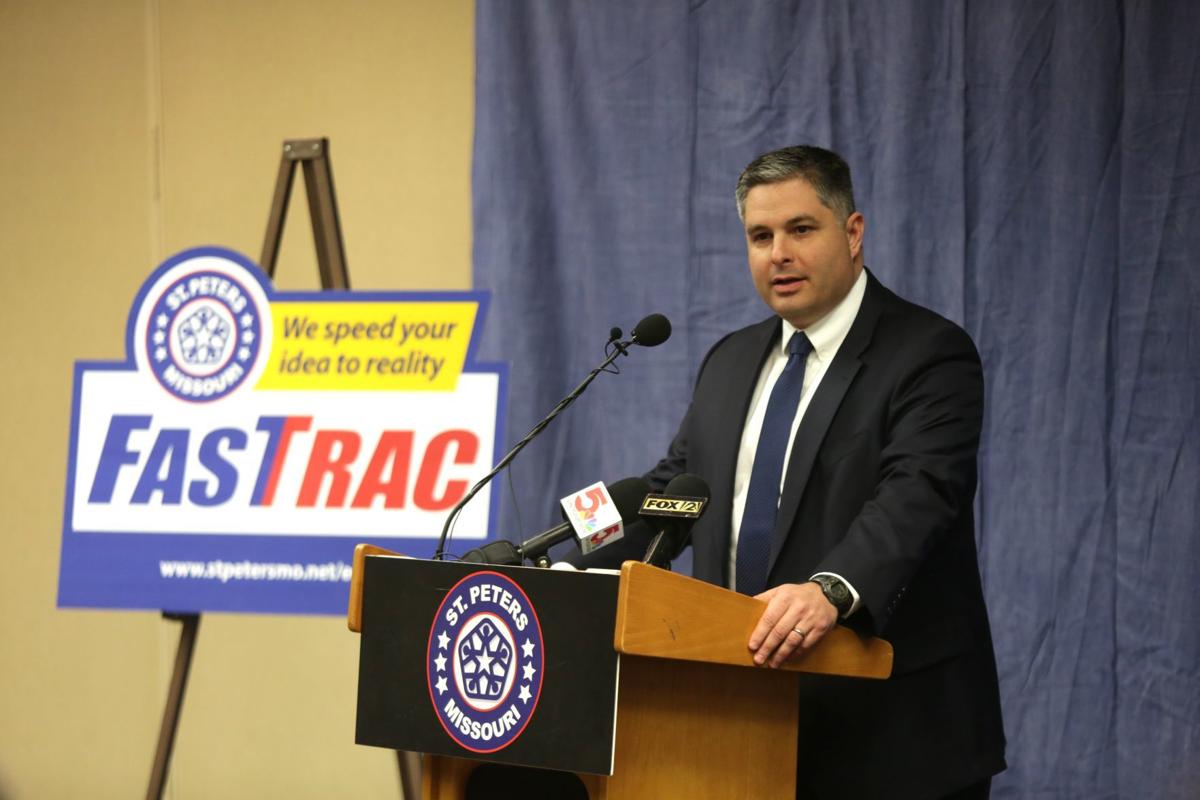 JEFFERSON CITY — Missouri Gov. Mike Parson, a week after encouraging businesses to reopen, said on Tuesday that his administration is "focused on getting people back to work," an economic recovery that his development chief warned could take years.
"Missouri citizens and businesses are eager to get back to work, and now more than ever, they need our support to get back on their feet," Parson said before introducing Missouri Department of Economic Development Director Rob Dixon to discuss his effort developing a state economic recovery plan.
Dixon said he expects Missouri's April unemployment rate will be similar to the 14.7% national rate when state-specific figures are released in a few weeks.
"The virus is not going away anytime soon," Dixon said. "We're going to have to learn to safely and responsibly conduct business in this era of the new normal that we're facing."
Religious services, restaurants and movie theaters will all be allowed to reopen with social distancing in many parts of Missouri. 
Earlier Tuesday, speaking to the St. Louis Regional Chamber, Dixon warned of more "hard choices" to be made during the last six weeks or so of the state's fiscal year. He reminded the region's business leaders that it took five years for state revenue to recover from the Great Recession, when unemployment peaked at 9.8% in February 2010.
"I think we have to be realistic about the long road that's ahead here," Dixon said. "It's going to take years, frankly, to recover fully from the effects of this thing."
The national unemployment rate released last week reached levels not seen since the Great Depression. Missouri, with an economy not overly reliant on any particular industry, could well notch a similar rate. Missourians have already filed just more than 500,000 initial unemployment claims with the state since March 15, a figure equal to about 16% of the state's labor force.
Missouri reported 88 new confirmed cases of the virus and 36 additional deaths Tuesday, second only to the 44 deaths announced April 24. Tuesday's spike was caused by a delay from an unidentified county reporting weeks' worth of data to the state, Parson said.
The state topped both 10,000 cases and 500 deaths connected to the pandemic Tuesday, with a total of 10,006 confirmed cases and 524 deaths.
But daily counts have recently been falling: The seven-day average number of new Missouri cases fell Tuesday to 156, the lowest point since March 31.
"The good news is things are trending in a positive direction in the state," Parson said.
Dixon said at the governor's briefing that the state's efforts to reactivate the economy will remain "rooted in public health." Parson's reopening plan limits occupancy in retailers to 25% for spaces less than 10,000 square feet and 10% for spaces larger than that. Those limits don't apply to restaurants, which are now allowed to open their dining rooms.
However, the plan gives leeway to local jurisdictions that opt for more restrictions, such as those in St. Louis and St. Louis County where a majority of the state's confirmed cases are. Leaders of those jurisdictions plan to begin easing some restrictions Monday.
The county demands a list of every customer who entered House of Pain locations and for the company to test them for the coronavirus.
Dixon said if businesses and customers continue practicing "good mitigation techniques" like social distancing, extra sanitizing, and rearranging work spaces and schedules, "we'll be able to engage in additional economic activity."
Much of the impact thus far has been in retail, restaurants and manufacturers, with about 23% of Missouri's unemployment claims tied to leisure, hospitality and tourism, Dixon told the Chamber Tuesday.
"I know some large manufacturers are coming back on line this week and next week in particular, so we should start to see and feel that through the economy," Dixon said. "General Motors, Ford, when they're open and when they're operating, there are truly billions of dollars of ripple effects throughout our economy."
The data suggest the state is struggling to keep up with the unprecedented surge in claims. 
For economic activity to begin returning, Dixon said, the private sector will need to lead the way on restoring consumer confidence by exercising precautions such as using personal protective equipment and sanitizing areas the public accesses.
"Until there's a vaccine for the virus, the only way that consumer confidence is really going to be restored is if private actors like business owners and business leaders really demonstrate to the public and to their customers that they're taking those precautions seriously and that customers can see it," Dixon said.
Illinois reported its largest number of tests, 29,266, completed in a 24-hour period Tuesday, state health officials said. So far the state has completed 471,691 tests. Officials also announced 4,014 new cases Tuesday, the most reported in a single day since the start of the outbreak and 114 additional deaths, the second most reported in a single day. In total, Illinois has had 83,021 confirmed cases and 3,601 deaths, including more than 100 in the Metro East.
While several states are hiring hundreds, it appears no such statewide plan is in the works in Missouri.
In the St. Louis metro area, including the Illinois suburbs, at least 549 people with COVID-19 have died.
COVID-19 hospitalizations in the St. Louis area rose slightly Tuesday, but remain on an overall downward trend.
At the St. Louis area's major hospital systems — BJC HealthCare, Mercy, SSM Health and St. Luke's Hospital — 531 people diagnosed with or suspected of having the virus received treatment over the prior 24 hours Tuesday, up 39 from the day before.
Of those, 137 were in intensive care units Monday, slightly more than April's low, and 94 patients were using ventilators to breathe, the lowest number the hospitals have reported.
The seven-day average of hospitalizations in the region was at 543 Monday, down from the April 21 peak of 706.