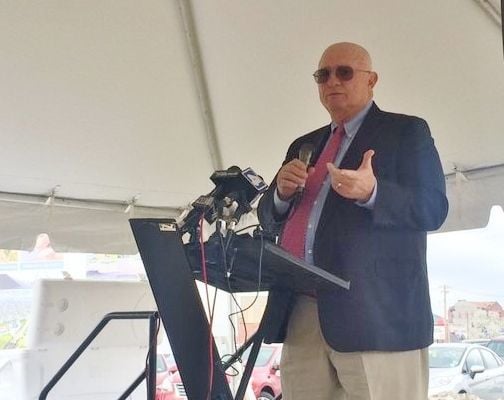 Developer Paul McKee presented Wednesday afternoon another planned development for his long-awaited NorthSide Regeneration Project in St. Louis.
The developer addressed a small crowd gathered on the future site of a development, located at North 13th Street and Tucker Boulevard, that will include a fresh food market and a gasoline station.
The GreenLeaf Market will be run by Good Natured Family Farms, a farmers' group that provides fresh food from small family farms around the Kansas City area.
Yet, residents who lived in the area didn't seem impressed with McKee's latest plans. They say it's just another promise to try and persuade the National Geospatial-Intelligence Agency, or NGA, to relocate to McKee's 1,500-acre site.
"He hasn't put one brick in the ground," said Joyce Cooks, a resident near the site for more than 40 years. "The neighborhood is crumbling."
But McKee said the shovels will be ready to break ground, likely in July, after the Board of Aldermen approves the tax-increment financing ordinance for this latest development.
The $20 million development will be financed with a loan from Cedar Rapids Bank and Trust, and because of the fresh market, the U.S. Department of Agriculture has guaranteed 70 percent of the loan, he said.
Without them, there would be no deal, McKee said of the USDA.
There has been little progress on the NorthSide project.
In 2009, McKee announced plans for an ambitious project in north St. Louis that would include offices, retail stores and homes. Four years later, the city agreed to provide up to $390 million in tax-increment financing.
So far, the only proposed use for the site has been plans for a health care campus with a three-bed hospital. And even that campus was later moved outside the NorthSide footprint to make room for a proposed NGA site.
The city is hoping to persuade the U.S. spy agency to relocate to north St. Louis from its current offices near the Anheuser-Busch brewery.
Meanwhile, the proposed health care campus is still in the planning stages.
Dr. David Lenihan, a former professor at Logan College of Chiropractic, is helping draft and execute a larger plan for the health care campus, which relies on McKee's hospital that was approved by state regulators in November 2014. Construction has yet to start.
Lenihan, who is president and CEO of Ponce Health Sciences University in Puerto Rico, said the expanded plan is to open freestanding emergency rooms elsewhere in the region, so it can subsidize the three-bed hospital that will care to uninsured and underinsured individuals in north St. Louis.
"We're going to build and link up emergency urgent care centers throughout the area," he told the Post-Dispatch Tuesday. "We can use the payer mix from those regions to help fund the hospital in the city."
Lenihan does have experience running medical centers in low-income areas. He was part of the executive team at Touro College of Osteopathic Medicine in New York that opened a new medical school campus and clinic in Harlem, Steven Mantz, director of human resources for the New York college, told the Post-Dispatch on Tuesday.
Further down the road, Lenihan said he sees an opportunity to staff the facilities with residents from his medical school in Puerto Rico.
Jim Gradl, spokesman for McKee, said they were still looking for a clinical operator to run the $6.8 million hospital that will be situated at North Jefferson Avenue and Thomas Street.
Samantha Liss • 314-340-8017
@samanthann on Twitter