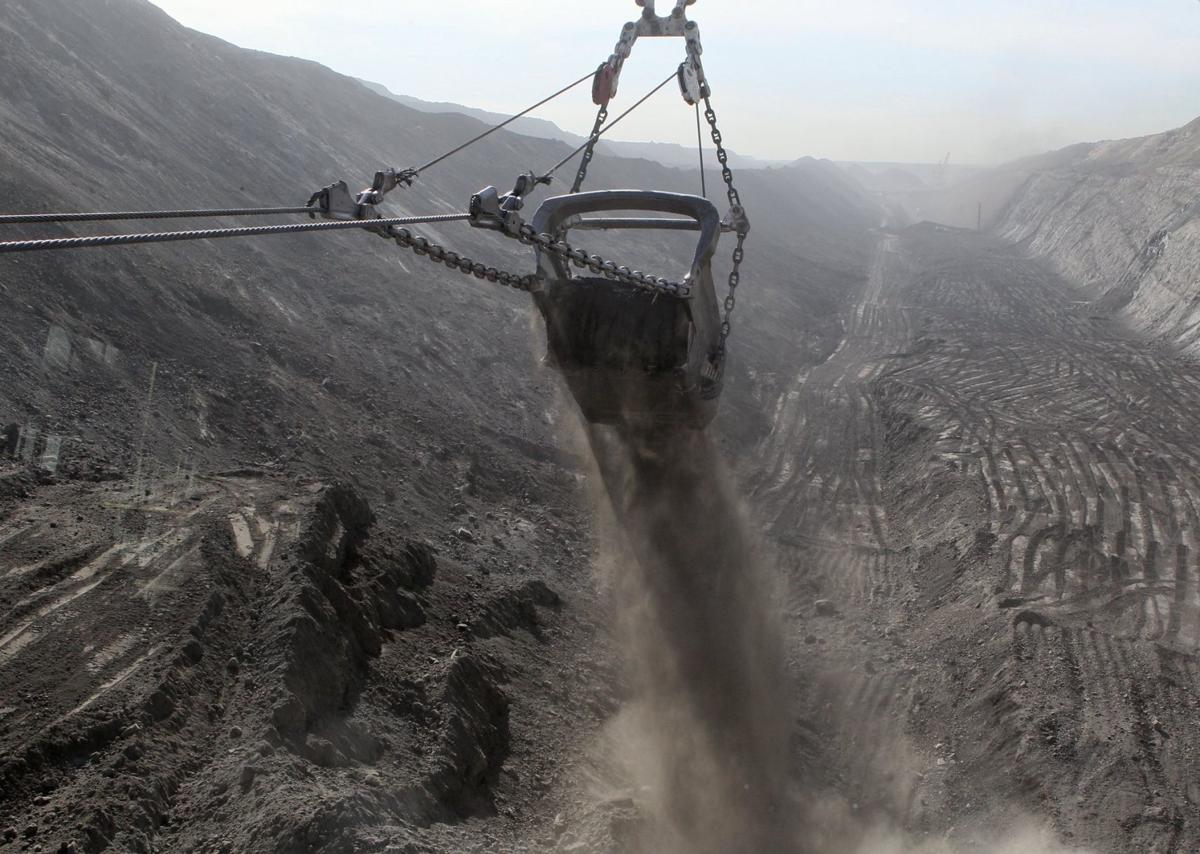 The two largest coal companies in the U.S. — both headquartered in the St. Louis area — announced a landmark deal Wednesday that would unite the country's two largest coal mines and other assets into a joint venture, run by a single operator.
There's no question that the combination of Peabody and Arch Coal's assets in Wyoming's Powder River Basin and in Colorado will produce an overnight coal juggernaut, if approved by regulators. But the announcement — which took at least some experts by surprise — does raise natural questions about its broader significance and what it could mean for the two companies, moving forward.
Under terms of the agreement, Peabody would control 66.5% of the joint venture, with a 33.5% stake going to Arch Coal. The deal is expected to "unlock synergies" of approximately $820 million, according to the companies.
The centerpiece of the move, the companies said, is the combination of Peabody's North Antelope Rochelle Mine and Arch Coal's Black Thunder mine — adjacent surface-mining operations near Wright, Wyoming, that share a property line.
The two coal mines are the most prolific in the U.S. by far, respectively accounting for 101 million tons and 70 million tons of production in 2017, according to the latest government data. For comparison, the country's third-most productive coal mine — also in Wyoming — produced 28 million tons that year.
Of course, Wyoming's Powder River Basin is known for more than simply the massive size of its mines. Mining in the region is more cost-effective, thanks to thick coal seams relatively close to the surface, and coal from the geologic formation is lower in sulfur compared to that from other regions, like Appalachia — putting it in greater demand for wide swaths of coal-burning power companies looking to comply with air pollution standards.
Following the announcement, Peabody said the deal arose after conditions aligned on a variety of fronts, according to company spokesman Vic Svec.
Peabody "has a pretty rich set of experiences with joint ventures," Svec said, explaining that at its operations in Australia, for instance, it is relatively common for the company to partner with nearby miners, or even large customers at times. But the announced partnership with longtime neighbor and competitor Arch Coal is a first, he said.
While some have speculated that an alliance between Peabody and Arch could make sense, other outside experts said the news was a bit unexpected.
"I didn't foresee it between Arch and Peabody," said Rob Godby, a University of Wyoming professor of energy economics, noting that some other coal companies have sought partnerships since the wave of bankruptcies that rippled through the industry in recent years.
But he said the deal makes sense on a variety of levels — particularly for reasons stemming from control and reduced competition.
"This creates one operator that controls almost a third of U.S. coal production and two-thirds of Powder River Basin coal production," said Godby. "If they avoid competition with one another, that's better for both companies. … You don't want two giants hammering one another. That's bad for both."
Godby doesn't think the move is necessarily the prelude to a merger or something more — noting that the companies run much larger enterprises than just their coal operations in Wyoming and Colorado.
But he said the joint venture essentially provides all the benefits of a merger without any of the messy sticking points that can often derail such a deal — like who would acquire whose debt. In the meantime, he explained, the companies can benefit from cutting costs and coordinating deliveries at their nearby or adjacent operations.
"In some ways, it might be better than a merger," Godby said. "They're getting the best of all worlds."
Godby said the arrangement reminded him and some colleagues of an old tactic used elsewhere in the fossil fuel industry: the practice of "unitization" employed in oil fields. Instead of competing to draw from the same oil patch and driving down prices during an oil boom, producers historically devised strategies to "put the field under one operator, allow them to avoid competition and share profit," Godby said.
"This looks a lot like that. It's almost like they unitized a good chunk of the Powder River Basin," said Godby, adding that unitization was first used at an oil field near Midwest, Wyoming — only about 50 miles west of the giant Powder River Basin coal mines. "We're not used to seeing that in coal."
Despite the maneuver to reduce competition, Godby thinks the companies can assuage any concerns from antitrust regulators by arguing that it is a needed move, given the intense competition faced within the basin and across the industry. Some, though, may see otherwise.
"I'm sure it will raise some eyebrows," he said. "There could be some people who think they're trying to corner the market for Powder River Basin coal."
Peabody, meanwhile, said it has a high level of confidence that the deal will be approved within multiple months, according to Svec.
Arch Coal did not respond to a request for comment.
It is not immediately clear what the impact of a deal could be for workers, or how many employees may get roped into the "synergies" touted by Peabody and Arch. Wednesday's announcement indicated that the assets involved in the joint venture "are operated by a workforce of approximately 3,300."
Svec said workforce reductions are not a main focus of the companies' cost-cutting aspirations.
"This is about mine sequencing, planning, purchasing, economies of scale and things such as blending and other elements," Svec said.
Godby added that while some people in Wyoming could be nervous about the move shedding jobs, others are optimistic and believe "it gives the company a little more strength, which keeps those jobs a little more stable."
In the end, though, the move may be unlikely to change the long-term outlook for the companies and the market for coal used in power generation.
"It's pretty clear that the Powder River Basin looks like it's in a long-term structural decline," Godby said.
Instead, he sees the move as consistent with the companies' post-bankruptcy behavior. Whereas the coal giants used to be more willing to gamble on expansion or aggressive moves for growth, this deal reflects a new attitude geared more toward careful profit maximization, he said.
"Both companies — but particularly Peabody — since their bankruptcy, have been clear about that," said Godby. "You could argue it was that growth strategy that led both companies to bankruptcy."
Daily updates on the latest news in the St. Louis business community.