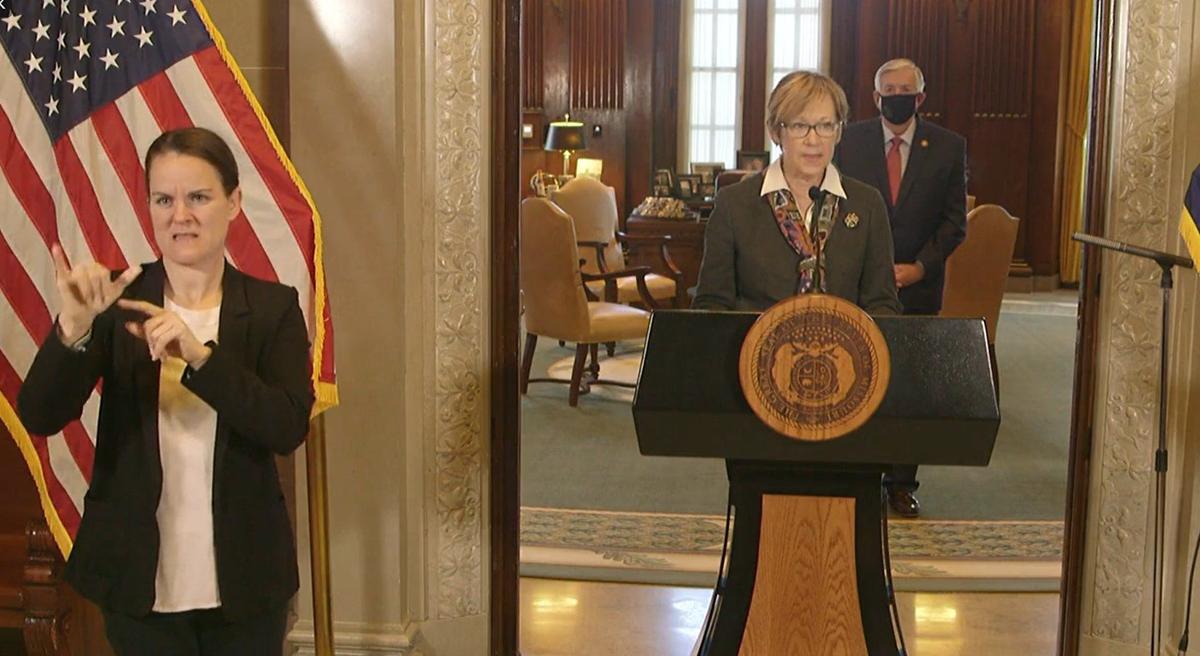 CHESTERFIELD — The hopes — and health — of a nation rest on a coronavirus vaccine.
And the success of a leading vaccine candidate relies on a facility in suburban St. Louis.
Workers at Pfizer's research and development center in Chesterfield are playing a key role as the company's vaccine candidate hurtles through clinical trials and regulatory procedures, on a desperately anticipated path to the general population.
The New York-based pharmaceutical giant announced this month that the vaccine developed by the company and a collaborator, German biotechnology company BioNTech, demonstrated better than 90% effectiveness in the latest stage of ongoing trials involving more than 43,000 participants worldwide — news that sent financial markets skyward.
"We are very excited and encouraged by these initial results," said Christine Smith, the local site leader and a vice president of biotherapeutics pharmaceutical sciences for Pfizer, speaking at a recent press conference with Gov. Mike Parson. "Although we have not seen any serious safety concerns, I cannot underscore the importance of knowing more about the safety profile of our candidate. We will know more about these results in the coming weeks."
But, she said, if the data is sound, distribution of the vaccine could start by the end of the year. Production has already begun, in preparation for final regulatory approval.
"Ninety percent (efficacy) is a really good number in vaccines," Smith said. "We're incredibly happy with that number."
Pfizer later said new results suggested the vaccine was even better: 95% effective.
And more than 200 St. Louis-area employees are a vital part of the effort, helping produce a chief component of the vaccine at Pfizer's operations in Chesterfield.
Pfizer facilities dotting the map are tasked with producing different components and raw materials for the vaccine. The drug, itself, will be produced at Pfizer's operations in Andover, Massachusetts.
Pfizer's Chesterfield site will perform some analytical testing to support the vaccine's eventual release. More importantly, it is responsible for manufacturing a specific type of DNA, called a plasmid, which serves as the template used to subsequently make the messenger RNA — or mRNA — drug substance, Smith explained.
And the mRNA is key: Once injected, it instructs the body's cells to produce molecules called protein antigens. And those antigens trigger the immune response.
Initially, the Chesterfield site will produce the majority of the plasmid DNA needed by Pfizer globally. Eventually, as vaccine production scales up, other sites will follow suit. The company aims to produce up to 50 million doses by the end of this year, followed by 1.3 billion doses next year.
"Normally, we would have waited for positive clinical data to do much of this work, but not this time," Smith said. The company is moving so fast, steps are happening in parallel, rather than sequentially, as is typical. "This time, we have been, and will continue, to work as fast as science will allow."
Hurdles remain
Still, experts warn of looming difficulties and delays.
"This isn't a simple flu vaccine that you can just ship out to any normal clinic," said Dr. Alex Garza, the head of the St. Louis Metropolitan Pandemic Task Force.
The vaccine requires ultra-cold refrigeration, often only available at larger health care systems, Garza told business leaders on a recent call with St. Louis Regional Chamber.
It's a two-shot dose, adding a level of administrative logistics.
And even the big local hospital systems don't now have the ability to administer all the shots, he added.
A vaccine for the general public — which will first go to frontline workers and the most vulnerable patients — is not expected until late spring or early summer next year, said Spring Schmidt, the acting co-director for the St. Louis County Department of Public Health.
"We don't expect those to come in giant batches of a million vaccines, ready to go," Schmidt said on the chamber call. "We will get small quantities, hopefully on a really regular cadence, with a beautifully delivered federal system of distribution. But we have not seen that yet in this pandemic, so far. And so we have relied on each other to manage through those distribution conversations, and that's what we're planning for now."
Schmidt said she is planning to deal with virus outbreaks and effects for at least the next 18 months.
Garza echoed Schmidt's sentiment.
"I don't want people to have this false assumption that we're going to parachute in vaccines and everything is going to be great," Garza said. "It's light at the end of tunnel, but I tell people it's a very long tunnel. And so we have to deal with the pandemic at hand while we get to the end of the tunnel."