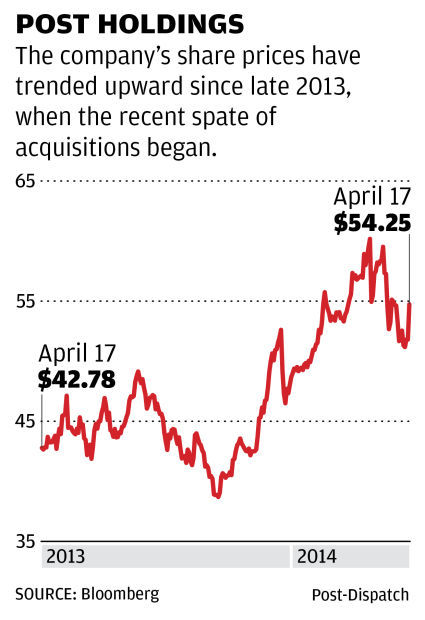 Post Holdings took another significant step away from its breakfast cereal origins Thursday with the $2.45 billion purchase of a major player in the egg, dairy and refrigerated potato markets.
The acquisition of privately held Michael Foods is the biggest move yet for the Brentwood-based firm that's been on a buying spree for much of its recent existence. The company — with iconic cereal brands such as Grape-Nuts and Raisin Bran — was spun off from Ralcorp in early 2012.
"It continues our transformation," said Bill Stiritz, chairman and CEO, during a Thursday morning conference call with investors.
The company is pushing away from the breakfast cereal market because of the stagnant growth opportunities found there. The company said consumers are increasingly moving toward protein-oriented products, including eggs, and breakfast away from home.
And while Stiritz acknowledged the size of the deal, he shrugged off suggestions that it will put Post on the deal-making sidelines in its active nutrition and private label segments.
"I don't think it sets us back in those areas at all," Stiritz said.
Indeed, Stiritz and chief financial officer Robert Vitale talked of Post being a dynamic player in a landscape that sees large conglomerates such as Procter & Gamble and Unilever looking to jettison marginal brands.
"The one thing that we are more confident in than any is that there will continue to be opportunities," Vitale said. "What the pace is. What the appropriateness for Post, we will evaluate."
Still, Thursday's deal landed the company on Standard & Poor's Rating Services CreditWatch list. The debt-rating firm sees negative implications in the deal but will evaluate financial aspects before deciding whether to affirm or lower Post's "B" rating.
The idea that Post isn't ready to end its shopping spree is not surprising to Standard & Poor's analyst Bea Chiem, who said the company should still be able to chase smaller opportunities.
Larger deals, though, could be problematic.
"I think they're going to have to focus on debt reduction first," Chiem said.
The analyst sees little to worry over in Post's rapid-fire expansion, noting the holding company strategy — absorbing firms, that are allowed to continue operating as before — eliminates some of the pitfalls encountered by companies trying to merge new and existing operations.
"They can go at the pace they have because they haven't had to integrate," Chiem said.
That could change, she said, if the company starts to develop larger operations, with multiple brands and companies, in its newer markets.
Post will acquire the Minnetonka, Minn.-based Michael Foods with $1.765 billion in lender financing. The company also plans to raise $500 million through the sale of new equities. The rest of the money will come from cash on hand.
Michael is being sold by a division of Goldman Sachs, which bought the company in 2010 for $1.7 billion.
The company produces grocery foods such as eggs, dairy products, and refrigerated potato dishes, under such brand names as Crystal Farms and Simply Potatoes. Last year, the company earned $50 million on $1.9 billion in sales, according to the company's website.
Other recent Post purchases include the February acquisitions of the PowerBar and Musashi brands, which include energy bars and performance powders, from Nestle SA. And in December, the company bought Canadian peanut butter producer Golden Boy Foods Ltd. as well as Dymatize Enterprises LLC, a maker of protein bars and nutritional supplements.
Bloomberg estimates the value of recent acquisitions at $1.2 billion.
For the fiscal year ended Sept. 30, 2013, Post earned $15 million on $1 billion of sales. With all of its recent acquisitions included, the company says it would have hit $4.1 billion in sales.
Post shares closed down 48 cents at $54.25.