ST. LOUIS — The city's new Major League Soccer team on Wednesday unveiled a partnership with St. Louis pet food maker Purina, incorporating the company's iconic checkerboard square into St. Louis City SC's uniforms and the team's identity.
"St. Louis is a sports town, but it's also a city of pet lovers and pet advocates," Nina Leigh Krueger, Nestlé Purina PetCare CEO and president, said in an announcement video.
It's the first major sponsorship deal announced by St. Louis City SC, the new MLS club scheduled to begin play in 2023 in the under-construction Downtown West stadium. The partnership promises to yield loads of pet-centric cross promotions, such as adoption events, and the team said it hoped to work with Purina to "become the most pet-friendly club in MLS."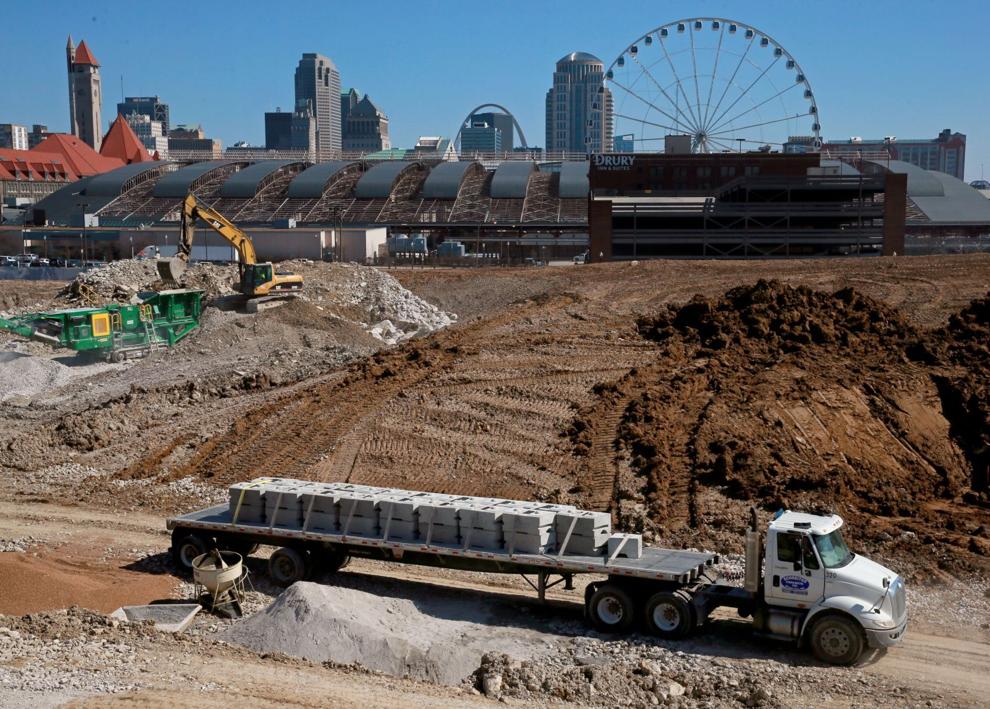 "We are thrilled to partner with an iconic company like Purina that has such deep roots in St. Louis," St. Louis City chief executive Carolyn Kindle Betz said in a statement. "Not only does Purina share our love for St. Louis, but they also have our same vision of working to make our community stronger. I couldn't think of a better company to be our club's first founding partner and to be represented on the front of our team's kit."
Kit sponsorships can be as or more valuable than stadium naming rights, said Eric Smallwood, president of sports sponsorship consultancy Apex Marketing Group, based in the Detroit area. The team didn't release financial details of the deal, but Smallwood said similar MLS kit sponsorships can be worth $3 million to $5 million a year.
"No matter where they play, they get that exposure, so it's pretty valuable for a sponsor," Smallwood said. "It becomes part of the team's colors, the team's identity."
MLS kit sponsorship is an outgrowth of European soccer, where corporate logos on jerseys and uniforms are far more common than in the U.S. Smallwood said such a deal is likely to include the sponsor's logo on virtual jerseys in video games and jerseys sold to fans.
The team is working with Adidas on the final design of the team's jerseys, Kindle Betz said. In the meantime there will be plenty of "co-branded pet swag so we can hold fans over," she said.
MLS Commissioner Don Garber also applauded the kit sponsorship in a pre-recorded message released during the announcement.
"As a passionate dog owner — my 10-year-old Labrador retriever, Boo Radley, is an important part of my family — I can't think of a better company to be associated with our new team in St. Louis," Garber said.
Purina, whose North American headquarters is a mile away from the stadium, on the edge of downtown, has had a good year because of strong demand for dog and cat food as people holed up during the pandemic and brought home new pets. Founded in 1894 in St. Louis, the former Ralston Purina was purchased by Swiss-based Nestlé S.A. in 2001.
This year, Nestle Purina promoted Krueger to president and CEO of Nestlé Purina PetCare for the Americas, making her the first woman to lead Purina and only the eighth chief executive since its founding. The soccer team has equally touted its own female leadership.
St. Louis City SC is owned by Enterprise Rent-A-Car's Taylor family, including Kindle Betz. Jim Kavanaugh, CEO of World Wide Technology, is also an owner.