Purina is lending its brand name to beer packaging for the first time to raise money to help shelter dogs and cats find homes.
Nestlé Purina PetCare, which has its North American headquarters in St. Louis, will donate $3 to the Petfinder Foundation for every eight pack of Urban Underdog American Lager sold in the St. Louis area through Oct. 21.
The "Consider a Shelter Pet" beer packaging by Urban Chestnut Brewing Co., which launched this week at area groceries and other retailers, features a dog and a cat wearing capes and touts an adoption event on Oct. 21 in Soulard Market Park, next to Soulard Market. More than 200 pets will be available for adoption at the event between 10 a.m. and 3 p.m. Another pet adoption event is slated for Friday at Urban Chestnut's Grove brewery.
Purina plans to donate up to $50,000, based on beer sales, to offer people a $50 subsidy toward pet adoption fees at the Soulard event and at 23 St. Louis area shelters, including the nonprofit Animal Protective Association of Missouri, said Libby Davidson, assistant marketing manager on Purina's pet welfare team.
"Ultimately we'd like to see a pet in the home of everyone in St. Louis," said Purina spokeswoman Lorie Westhoff. "Our hope is that with this we'll be able to help at least 1,000 pets get adopted." The fundraising effort is part of more than $32 million Purina donates to pet welfare groups and events annually, including $2.5 million in St. Louis.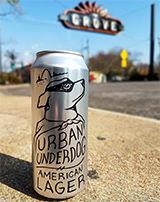 Urban Underdog American Lager was only available on draft until spring 2017. The beer marks a departure for St. Louis-based Urban Chestnut, which operates breweries in the Grove district and in midtown. Urban Chestnut typically brews traditional European beers and modern, American craft beers. Urban Underdog is designed to have a wider appeal than the brewer's core offerings, said David Wolfe, co-founder at Urban Chestnut.
The underdog name is a reference to the craft brewer's status existing in the shadow of the world's largest brewer, Anheuser-Busch InBev, which has its North American headquarters in St. Louis. "It positions us as an able challenger," Wolfe said of the lager. "American lagers are still extremely popular."
Urban Underdog's aluminum can features a unique design for beer in St. Louis — its entire top can be pulled off, creating a lidless container that customers are gravitating toward, Wolfe said. Since Urban Chestnut added the lidless containers, its packaged production has shifted to 48 percent cans and 52 percent bottles. Previously, 82 percent of its packaged beer was sold in bottles and cans totaled just 18 percent.
Urban Chestnut brewed 19,500 barrels of beer last year, and year-to-date, the company's production is up more than 15 percent, Wolfe said. Urban Chestnut's beer is sold in Missouri, Illinois, Kansas, Iowa and Indiana, and the brewer opened a facility in Germany in 2015 that's on track to brew between 3,500 and 4,500 barrels this year.
Lisa Brown • 314-340-8127
@lisabrownstl on Twitter