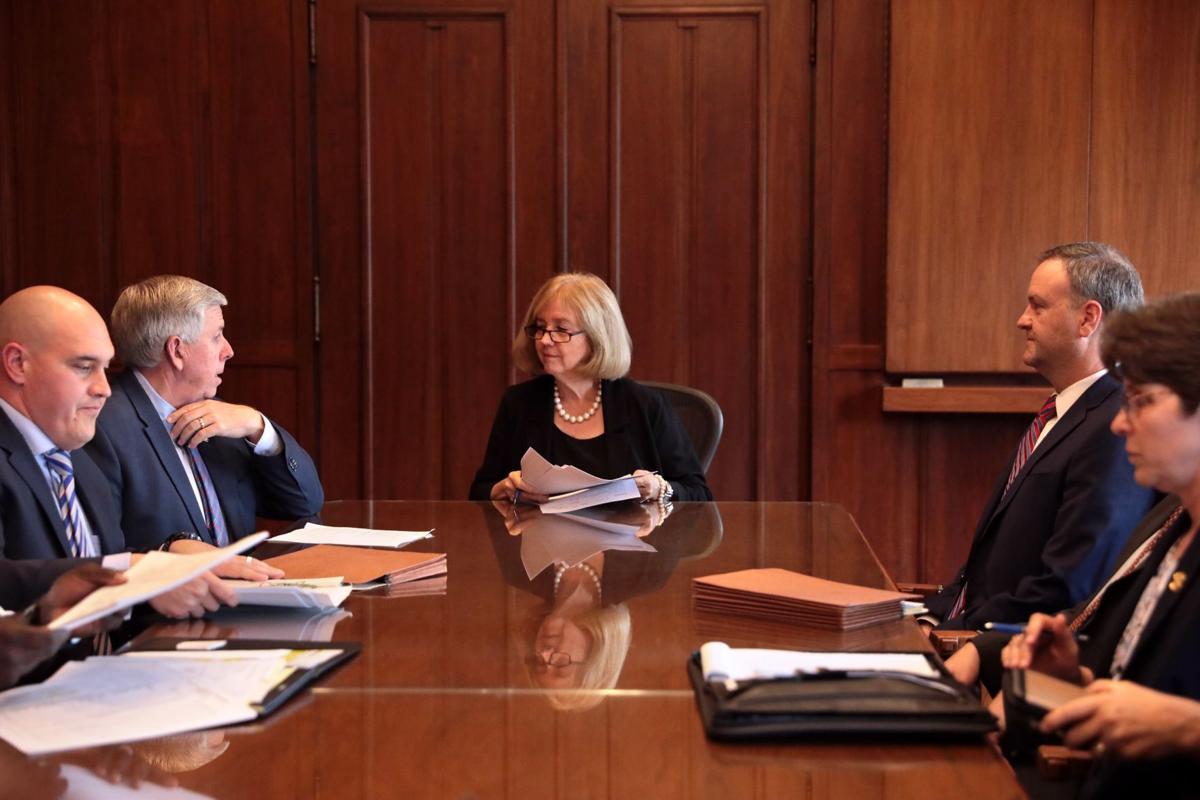 ST. LOUIS — After learning a major employer had scuttled regional expansion plans and blamed high crime rates, St. Louis Mayor Lyda Krewson retorted on Tuesday that violent crime is an issue that "belongs to all of us," and called on the region and business community to recognize that violence anywhere is a problem for everyone.
"There is too much violence in our community, but it's not just a 'city problem,' it's not just a police problem," Krewson said in an interview with the Post-Dispatch. "It's a regional problem. Often, I think it is true, that businesses and elected officials in surrounding areas, they decry the problem and they point to the city to fix it. Well, that's actually part of the problem."
On Monday, Clayton Mayor Michelle Harris said that health insurance giant Centene was putting on hold the second phase of what was supposed to be a $770 million campus expansion in Clayton. When approved in 2016, the plan called for a third office tower, a hotel and a civic auditorium.
Clayton Mayor Michelle Harris said Centene officials told her that the company is "very concerned" about crime and has put investments here on hold.
This summer, Centene CEO Michael Neidorff blasted the region's crime problem, giving a series of interviews in July after announcing a $1 billion East Coast headquarters in Charlotte, North Carolina, during which he said crime was hurting Centene's ability to recruit top talent. But he did not explicitly say that the company, which has rapidly grown into the largest by revenue in the region, wasn't building the second phase of its campus expansion.
Centene did not respond to a request for comment on Monday. On Tuesday, spokeswoman Marcela Hawn said in an email: "I am not sure this is 'news,'" and didn't respond further.
But Krewson said it was news to her.
"I understand Centene has to make the decision that's best for its stockholders, and they did get a $400 million subsidy in Charlotte, the biggest in the state's history, but that said, Charlotte's a lovely city, and Mr. Neidorff is correct, there is way too much violence in our community and in the region," Krewson said.
Most of the area's murders this year have happened in St. Louis amid a spike in homicides that has played out in other cities around the country.
The mayor said she was not deflecting responsibility, but argued political fragmentation is the main impediment keeping those who call themselves St. Louisans — and live in Florissant or Chesterfield or St. Charles — from working together to solve regional challenges. The underlying drivers of crime, many of them related to poverty, joblessness, urban disinvestment and historic racial discrimination, won't go away when she steps down as mayor in April following the end of her term.
"In other regions, other cities around the country, it's my understanding that the broader community comes together to work on these issues, and we don't tend to do that here," Krewson said. "But we've got these 80-some municipalities, 50-some police departments and it seems to be allowing us to kind of go to our corners and point outward rather than all working together on these issues."
Krewson acknowledged Neidorff's help on crime issues, and said she appreciated it. He and Centene are funding a review of city and county police functions by New York-based consultancy Teneo. Both she and St. Louis County Executive Sam Page announced the outside review the same week Centene announced its Charlotte project.
"Ramsey is one of the highest-regarded police chiefs in the nation," she said. "So having the opportunity for him to take a look at what we do and make suggestions or recommendations, that's much appreciated."
But it was unclear how much the public would be able to glean from a public report promised for late December.
Regardless, she knows where Neidorff stands.
"He believes the city and county police departments should be one, but that the other 50-something police departments should stay," Krewson said. "It's the government fragmentation that prevents bigger thinking on this subject, I think."