ST. LOUIS — On a hot June day, a $65,000 machine sliced a path through an inhospitable landscape in the heart of St. Louis.
Johnny Epps stood at the top of a steep, overgrown hill off South Kingshighway Boulevard. In his hands, an industrial joystick and control box. Epps was driving one of St. Louis city's newest pieces of equipment: a remote-controlled lawnmower.
The machine is a bright-red, 1,800-pound beast, with tank tracks, a 52-inch wide blade, and a mowing speed of almost 6 mph.
"This thing is like a mini tank," said Epps, a heavy equipment operator for the St. Louis Department of Parks, Recreation and Forestry.
And they're catching fire among parks departments and landscapers across the U.S. Here's the issue: Grass, especially wet grass, can be slick. And when employees use your typical riding cutter, they can slip and fall. That's bad for workers and bad for employers.
The Missouri Department of Transportation has been using remote-controlled mowers for 10 years, said Linda Wilson Horn, the department's communications director. It's safer to use the machines on steep hillsides near highway interchanges, she said. Paul Wappel, public information officer for the Illinois Department of Transportation, said the department has had the mowers in its arsenal for six years. They're used for steeps but also to control invasive species of grass.
St. Louis is testing out a new model, the TK-52XP, one of several remote control grass cutters built by Green Bay, Wisconsin-based RC Mowers. The company says sales have doubled every year since it opened four years ago.
The city parks department received a demo six months ago before deciding to purchase one. Crews struggled to cut grass in April and May, when the rains were heavy and the hillsides slick. But that left lawns growing out of control until summer dried the ground out a bit.
Epps started training on the machine about a month ago.
Kim Haegele, St. Louis' Parks Commissioner, said the department will probably purchase more and train two more operators for parks around the city.
"There's a knack to it," Haegele said. "If you're a gamer, then it's a lot easier to use."
Early Saturday, Epps was piloting the mower around a bowl off Kingshighway, at the edge of Forest Park.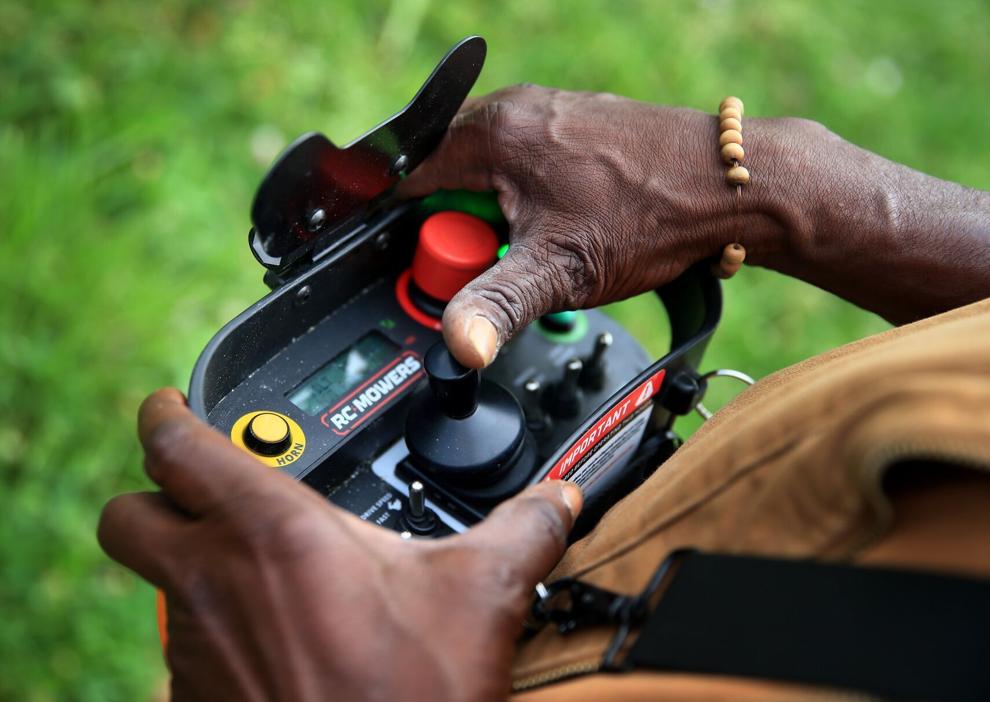 The mower zoomed to the bottom of the bowl before slowing gently to a stop in front of a stand of reeds, a habitat for birds. Epps said it can be easy to lose control of the machine going downhill if he's not careful.
Turning on its rubber treads, the mower cuts started cutting into a new row of grass and powered up the hill.
Curious drivers slowed to watch. Epps said one once stopped completely on the highway off-ramp to look at the mower.
The area used to take an entire day to mow with a riding machine, he said. He can now be finished in half the time.
And it can take down serious grass: One of the lawns he cut was more than 6 feet tall, he said.
It's not perfect: The mower makes a rough cut the first time around. It takes a second pass to look more presentable.
But training was easy, Epps said, because he's a PlayStation player.
Epps said it would be a plus for a trainee on the next mower to have video game experience, but that he could help anyone serious about operating it.
"It's like Pac-Man," Epps said. "It just chops up grass."