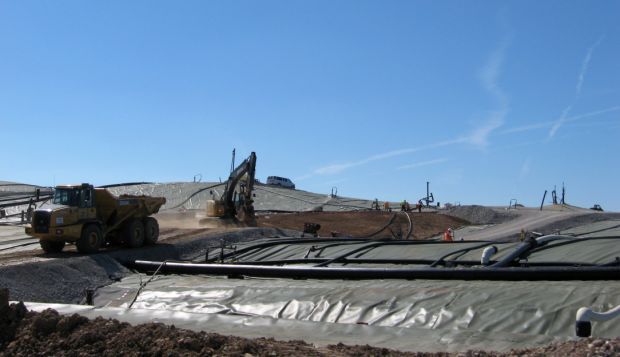 Republic Services increased its forecast of the long-term costs of managing the smoldering Bridgeton Landfill, putting a dent in the waste management company's fourth-quarter earnings.
Phoenix-based Republic Services recorded a $191 million charge related to the landfill in its financial results for the three months ending Dec. 31, reducing earnings by 32 cents per share in the quarter. Not all the cash has been spent; the charge is what Republic expects to pay for managing the landfill over the next 35 years.
"A majority of the charge relates to additional costs to operate, maintain and replace equipment through the end of the post-closure period," Republic said in a statement. "We were able to make a better assessment of future costs now that the leachate management facility is operational, and operating costs stabilized on equipment that was upgraded in prior quarters."
In its financial results, released Thursday after the market closed, Republic reported net income of $50.3 million, or 14 cents per share, during the fourth quarter. In all of 2014, it earned $547.6 million, or $1.53 per share, below its third quarter forecast of $1.86 to $1.87 per share.
The burning Bridgeton Landfill has been a financial and public relations headache for Republic Services, which acquired the closed landfill during its 2008 merger with Allied Waste.
In addition to an underground fire that was discovered four years ago, it also owns the adjacent West Lake Landfill, which contains radioactive waste another company illegally dumped in the 1970s.
It faces a lawsuit from Missouri Attorney General Chris Koster to force remediation actions.
The company has built a $36 million liquid waste treatment plant on site and covered the landfill with a liner to reduce odors. It has installed temperature monitors and gas wells to monitor and manage the underground fire and keep it from spreading north to where the radioactive waste is buried.
It also worries the Environmental Protection Agency could order a massive cleanup of the West Lake area instead of the cheaper alternative of capping it, as the agency proposed in 2008.
In all, the company has recorded Bridgeton Landfill-related charges of $409.9 million to its results from 2012 through the end of last year. It says it has already spent $125 million.