As it faces a possible sale or spinoff, the Save-A-Lot grocery store chain is boosting the number of national brands on its shelves, remodeling to highlight fresh foods and adding stores.
The changes underway at some of the discount chain's 1,368 stores nationwide come as the Earth City-based grocer is poised to change ownership and as its discount chain rivals Wal-Mart and Ruler Foods are adding stores and services in the St. Louis region, vying for market share.
Eden Prairie, Minn.-based Supervalu, which owns Save-A-Lot, is exploring spinning off Save-A-Lot as a stand-alone company or a sale of the chain amid increased competition and declines in prices for eggs, pork, beef and other foods.
Reuters reported last week that Toronto private equity firm Onex Corp. was the leading bidder if Supervalu pursues a sale of Save-A-Lot, with a sale value of up to $1.8 billion. Supervalu is expected to announce Save-A-Lot's fate soon, according to Reuters. The company did not respond to requests seeking comment. In a regulatory filing this summer, Save-A-Lot said if it's spun off, its headquarters would remain in Earth City.
Private label foods, which are sold under store brands, account for 60 percent of sales at Save-A-Lot's corporate-owned stores and 55 percent at its licensee stores. Founded as a single store in Cahokia in 1977, the chain's business model has centered on offering low-priced alternatives to national brands but it's expanding its lineup of national brands.
The company said this year that all of its corporate stores and most of its licensed stores recently started carrying 130 "must have" national brand items in a bid to attract and maintain new customers.
Save-A-Lot's private label offerings include maple syrup and biscuits sold under its own "Morning Delight" brand. "Private label branding at Save-A-Lot has no brand equity with consumers," said Ajay Jain, a senior analyst at Pivitol Research Group in New York.
To attract more brand-conscious customers, Save-A-Lot is carrying more national brands and consolidating its myriad private label offerings to one primary brand, America's Choice, which it acquired earlier this year.
"Over time, we expect that America's Choice will become the predominant food private label brand in our stores as we seek to consolidate our private label brand offerings by reducing the number of private label brands that we offer while increasing brand recognition and enhancing brand equity," the company said in the regulatory filing.
Save-A-Lot's current ads show an expanded array of national brands available, including Maxwell House coffee, Totino's pizza rolls and Lay's potato chips.
"The American consumer does appreciate and demand their brands," Supervalu's president and CEO Mark Gross told analysts at the RBC Capital Markets Consumer and Retail Conference in Boston in June, referring to Save-A-Lot's changes.
While it adds brands, Save-A-Lot also said it plans to open 75 new stores in fiscal 2017, and "we believe the United States can support more than 3,500 Save-A-Lot stores under our existing store concept and layout," according to the filing. The grocer also is remodeling its stores to bring its produce departments closer to the front of each store, expanding its fresh cut meat offerings, adding more ethnic foods and expanding its frozen and smoked meat departments.
"The merchandising could use a shot in the arm," Jain said of the remodels the chain is pursuing. "The stores were pretty tired looking."
Changing landscape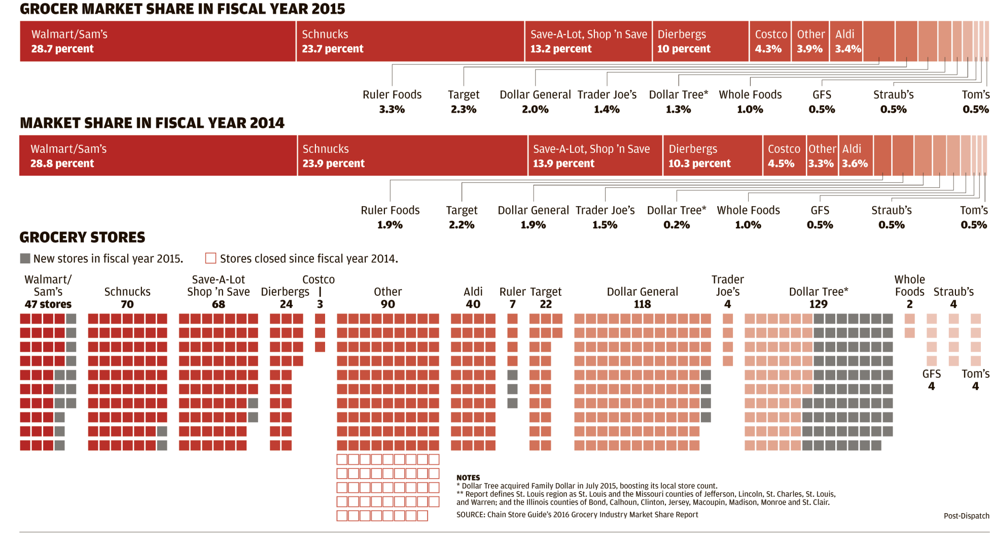 Walmart Neighborhood Markets have about 41,000 square feet of space, and the grocery stores have fresh produce, pharmacy, deli and bakery departments. That size makes them smaller than most Schnucks stores, but larger than Save-A-Lot's average 17,000-square-foot store. At the Walmart Neighborhood Market at 45 Sutters Mill Road in St. Peters, customers can order groceries online and have them delivered curbside to their cars, beginning Nov. 9. Wal-Mart said it plans to have online order pickup available at 600 stores by the end of the year.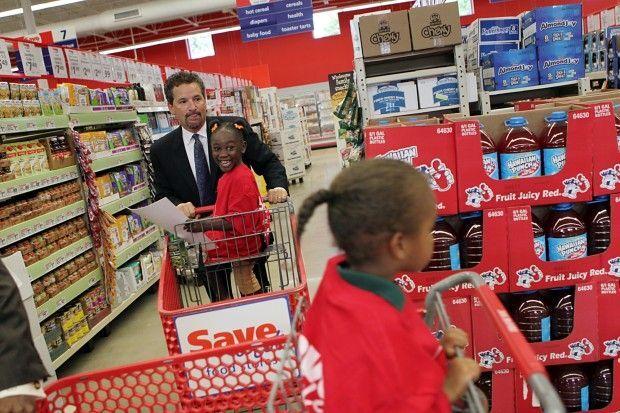 Combined, Walmart's Supercenters, Neighborhood Markets and Sam's Club stores have 28.7 percent market share of grocery sales in the St. Louis region, according to Chain Store Guide's 2016 Grocery Industry Market Share Report, which reflects fiscal year 2015 sales. Included in Chain Store Guide's definition of the St. Louis market are the Illinois counties of Bond, Calhoun, Clinton, Jersey, Macoupin, Madison, Monroe and St. Clair; and the Missouri counties of Jefferson, Lincoln, St. Charles, St. Louis, St. Louis city and Warren.
In 2014, Wal-Mart's local share totaled 28.8 percent. Wal-Mart may put the brakes on adding stores, however. The retailer said Thursday that it plans to slow down its store openings to focus on online sales, store remodels and tech initiatives.
Maryland Heights-based Schnuck Markets Inc., the largest locally based, independently owned grocer, has 23.7 percent market share, a drop from 23.9 percent in 2014, according to Chain Store Guide. Supervalu's Save-A-Lot chain and another chain it owns, Kirkwood-based Shop 'n Save, combined have 13.2 market share — the report does not break down the figures for each chain. Chesterfield-based Dierbergs comes in fourth, with 10 percent market share.
Other chains that are expanding include German-based Aldi, which opened its newest St. Louis area store in Shrewsbury this week and plans to open a location in Wentzville early next year. Aldi had 3.4 percent market share in St. Louis last year, down slightly from 3.6 percent.
One of the biggest increases in local market share came from Cincinnati-based Kroger Co., which re-entered the St. Louis market under a subsidiary's Ruler Foods brand in 2014. Ruler, which has added seven local stores in the past year, now has nine St. Louis area stores. Ruler Foods grew its market share in St. Louis to 3.3 percent in 2015, up from 1.9 percent a year earlier.
"We're constantly looking at sites," Ruler Foods' executive director of merchandising, Mark Belleville, said of St. Louis. "We're very happy with what is happening in the market and how customers are accepting us. We want to continue to grow."
About 85 percent of Ruler Foods' merchandise is private label, many under the Kroger brand. Belleville said Ruler Foods stocks Kroger-branded food items, which resonate with customers who remember when the chain had stores here in the mid-1980s.
"There are people who tell us it's like an old friend coming home," Belleville said.
Lisa Brown • 314-340-8127
@lisabrownstl on Twitter