Schnuck Markets has agreed to buy roughly half of the Shop 'n Save stores in the St. Louis area in a deal that CEO Todd Schnuck called a "generational transaction."
The 19 Shop 'n Save stores to be acquired — 14 on the Missouri side of the Mississippi River and five in the Metro East — will be closed in waves of three beginning Oct. 7, undergo a renovation and reopen as a Schnucks store less than three days later.
A schedule of the closures and reopenings has not yet been released. Financial terms were not disclosed.
The approximately 1,500 Shop 'n Save union-represented employees working at those locations will be offered jobs at the Schnucks stores, pending a background check.
"I am happy to hear that a good family-owned employer here in St. Louis will be adding to their union family by acquiring many Shop 'n Save locations," David Cook, president of the United Food and Commercial Workers Union that represents Shop 'n Save employees, said in a statement. "Our union's number one priority remains maintaining the good benefits and wages of our hard-working partners at Shop 'n Save."
All Shop 'n Save store directors, pharmacy managers and pharmacists will be interviewed by Schnucks over the next week, the company said.
"Since announcing plans to pursue the sale of our Shop 'n Save banner earlier this spring, the team has worked diligently and successfully to put this agreement together," Mark Gross, president and CEO of Shop 'n Save's parent company, Supervalu, said in a statement. "This transaction is an important step in the continued transformation of our business. Schnucks is an excellent retailer in the St. Louis area, and we're pleased that these stores will become a part of their operation, including continuing to serve the communities and providing jobs to many of our employees."
The fate of the remaining 17 Shop 'n Save locations remains uncertain. Supervalu said Monday the stores not acquired by Schnucks will remain open for now but will close "later this year" if a buyer doesn't emerge.
Schnuck said the company considered buying those, but declined to acquire them as "they didn't make sense for our business."
Supervalu's St. Louis Distribution Center on Hazelwood Avenue, which predominantly serves Shop 'n Save stores, will close "later this year following the completion of this transaction and any sales or closures of the remaining Shop 'n Save stores," Supervalu said.
A growing footprint
Schnuck said the acquisition of the 19 Shop 'n Save stores is an indication of the family-owned grocer's commitment to its St. Louis customers.
"This is about a 20 percent increase in our store count," he said. "We have a number of locations in the market already, but there were a number of areas where we had voids and we didn't have the representation that we wanted. We think this creates a stronger locally owned supermarket operation."
Most the stores Schnucks is acquiring are leased, but stores in St. Ann and Edwardsville include the real estate.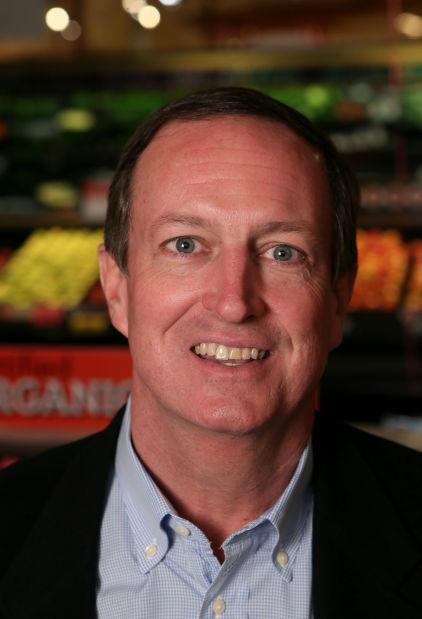 A standalone Shop 'n Save pharmacy in Union, is also included in the transaction. And Schnucks is also buying the remaining prescription files of the Shop 'n Save stores not included in the deal, too. Customers are being notified this week of the transfer of their pharmacy files to Schnucks.
Kirkwood-based Shop 'n Save is owned by Minneapolis-based Supervalu, which this year agreed to be acquired by United Natural Foods for $2.9 billion. Prior to that deal, Supervalu had sought to divest its retail operations, including the Shop 'n Save brand, though a buyer had not yet emerged.
Schnuck said the two companies had been in negotiations for at least some of the stores included in this deal prior to that announcement.
Maryland Heights-based Schnucks, which had about $2.7 billion in revenue last year, could gain approximately 10 percent of the local market share following the deal. It was already the region's largest grocer by market share, holding nearly 30 percent. Once each of the locations is rebranded as Schnucks, the grocer will have 118 locations. Another store that will open later this year in Warrenton will bring it to 119.
Schnuck compared the deal to buy the Shop 'n Save stores to when the grocer acquired 60 National supermarkets, including 53 in the St. Louis area, in 1995. That deal more than doubled Schnucks' store count and clearly positioned it as St. Louis' largest grocer.
"We've had a couple of generational transactions," he said. "Back in 1970, we acquired (Allied Companies' Bettendorf-Rapp division) and in 1995 we acquired the National stores. Now here we are in 2018, and we're acquiring 19 Shop 'n Save stores."
As part of the deal, Schnucks will contract with Supervalu's wholesale unit to supply its six stores in the Rockford, Ill., area, as well as locations in DeKalb, Ill., Janesville, Wis., and Bettendorf, Iowa.
Previously, Schnucks had been supplying those stores from its own St. Louis-based operations.
"They have distribution centers all over the U.S. and happen to have a few distribution centers closer to those markets than our own so it was logical from a supplier and efficiency standpoint to talk to them," said Schnuck Markets President Dave Peacock. "In this instance, it's good because we're adding 19 stores here, which will significantly increase the supply volume coming out of our St. Louis facility."
Supervalu's decision to divest its Shop 'n Save brand left open the possibility a national chain, such as Kroger or Publix, could break into the market, though the St. Louis grocery industry is already crowded with firmly entrenched local players including Schnucks and Dierbergs. Walmart also has added to its grocery capabilities, and Aldi and Fresh Thyme have expanded and opened new locations.
Each slowly chipped away at Shop 'n Save sales.
Supervalu did not detail Shop 'n Save's annual sales in its most recent annual report, instead classifying it (along with Farm Fresh and Shop 'n Save East) as discontinued operations, which lost $3 million last year on $1.5 billion in sales.
List of Shop 'n Save stores being sold to Schnucks:
1.) 1721 Homer M. Adams Parkway; Alton
2.) 800 Carlyle Avenue, Belleville
3.) 634 Berkshire Blvd., East Alton
4.) 2122 Troy Road, Edwardsville
5.) 1900 East Edwardsville Road, Wood River
6.) 1253 Water Tower Place, Arnold
7.) 7909 State Highway N, Dardenne Prairie
8.) 45 Gravois Bluffs Plaza, Fenton
9.) 1275 North Truman Blvd., Festus
10.) 2183 Charbonier Road, Florissant
11.) 1032 Lemay Ferry Road, Lemay area
12.) 3740 Monticello Plaza, O'Fallon, Mo.
13.) 1421 Mexico Loop Road East, O'Fallon, Mo.
14.) 10634 St. Charles Rock Road, St. Ann
15.) 60 Harvester Square, St. Charles
16.) 9070 St. Charles Rock Road, St. John
17.) 7057 Chippewa Street, Shrewsbury
18.) 5780 South Lindbergh Boulevard, Affton area
19.) 100 Jungerman Road, St. Peters
500 West Highway 50, Union