Schnuck Markets traces its start, 75 years ago, to a small corner store in north St. Louis.
Next month, the region's leading grocer will have only one store in the city north of Delmar Boulevard.
The Maryland Heights-based company announced Monday it is closing its grocery at North Grand Boulevard and Kossuth Avenue, effective 6 p.m. May 10. All 65 employees will be transferred to other Schnucks stores, the company said.
Customers at the North Grand location reacted Monday to the news with disappointment.
"There's plenty of people here, all the time," said Ernest Williams, 64, who had already heard the news and was one of a couple dozen people walking the aisles, shopping.
While Williams said the store at the northeast corner of Fairground Park seems busy to him, the grocery chain said it has been a money-loser. The 28,000-square-foot store, at 4127 North Grand, has "consistently" operated in the red since it was purchased as part of the 1995 acquisition of National stores, the company said in a statement.
"Closing any store is a difficult decision, particularly when we have invested so substantially in the 45-year-old facility, including a $200,000 pharmacy remodel just one year ago," Todd Schnuck, president and CEO of Schnucks, said in a statement. "Nothing we've done has helped improve the store's performance."
The Schnucks closing will leave only five major grocery stores — the Schnucks at 3431 Union Boulevard, two Aldi stores and two Save-A-Lots — nearby.
Alderman Freeman Bosley Sr., who represents the area around the North Grand store, was sharply critical of the closing.
"That's really hurtful to that community," Bosley said. "That store is always crowded with people. But they know that the poor people in that area are going to come wherever they go."
Bosley added: "What they need to do is build another damned store up there.
"These people are trapped and they have nowhere else to go," Bosley said. "That's one of the highest margin of food stamp users in the city of St. Louis."
D. Jones, 55, didn't hide her dismay when asked about her longtime grocery store of choice closing.
"Where are people gonna shop at?" she asked, then began answering her question.
There is an Aldi just to south on Grand Boulevard. And a Family Dollar and a Dollar General are within walking distance from the Schnucks lot, although neither of those have "quality food" like Schnucks, Jones said. After a few minutes, she shrugged and said she'd probably go to Aldi.
"People don't have another place but Aldi's," Jones said.
There will always be a place for Schnucks in the broad middle market of the region, said David Rogers, a retail research consultant in the Chicago area. But that market is being compressed somewhat, he said, with new formats for more affluent shoppers and discount grocers like Aldi taking a greater share of low-income grocery sales.
"They can't meet the prices of Aldi, so in a very income-pressed area, they're not going to be as attractive as in a Chesterfield," Rogers said.
Some shoppers' brand loyalty runs deep.
Williams said he had been shopping at the location "long as it's been here." He knows there's an Aldi just south of the park along Grand, but Williams thinks he may make the three-mile trek west to what will be the last Schnucks in north St. Louis.
"I'll stick with Schnucks," he said.
Sticking with Schnucks could be tough for other residents of north St. Louis neighborhoods.
"The higher rates of no-vehicle ownership on the North Side, it just adds another barrier," said Kara Lubischer, a community development specialist with the University of Missouri Extension. "You can ride a bus to a supermarket, but you can only carry so much on a bus."
Lubischer is also the co-coordinator of the St. Louis Healthy Corner Store Project, which works to partner with family-owned convenience stores to help them offer healthy food to their customers. The program has worked with several north St. Louis store owners to build up community demand before the owners stock up on produce or other items needed in the area.
That helps fill some of the gaps, she said, but losing a full-service grocery store is still "a loss to the neighborhood."
"Families still need to go to a supermarket where they can buy household goods and have more choices," Lubischer said.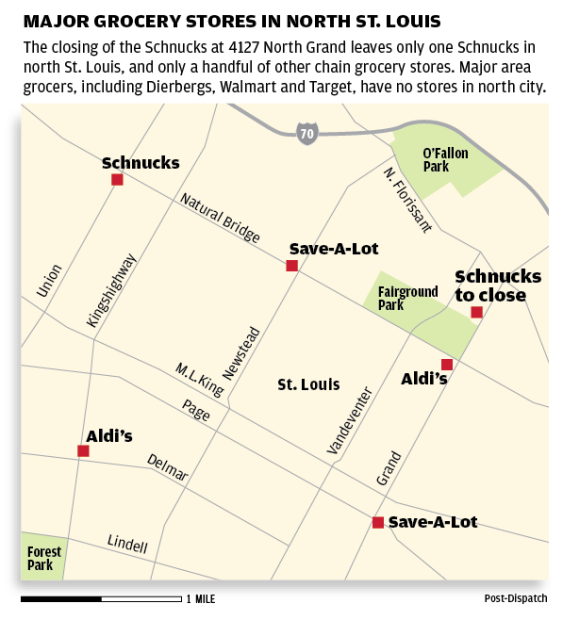 The first Schnucks store started on Labadie Avenue in 1939, just a mile southwest of the North Grand store. Over the years, the grocer's presence has gradually waned on the North Side. It took the efforts of former Mayor Freeman Bosley Jr. — the alderman's son — to woo the company to set up shop in the City Plaza Shopping Center in late 1998. That's the one that's staying open.
In 2000, the chain shuttered two north St. Louis stores: one at 710 North Kingshighway at Delmar and another at 1030 Cass Avenue. There, too, the grocer cited years of losses.
Barbara Wilson, 72, remembers those stores. She shopped at both before they closed. Come May, she figures she'll head to the last one — for as long as it's open.
"If they close this one up, I'll have to go to (Union Boulevard) and Natural Bridge," Wilson said.
Nicholas Pistor of the Post-Dispatch contributed to this report.