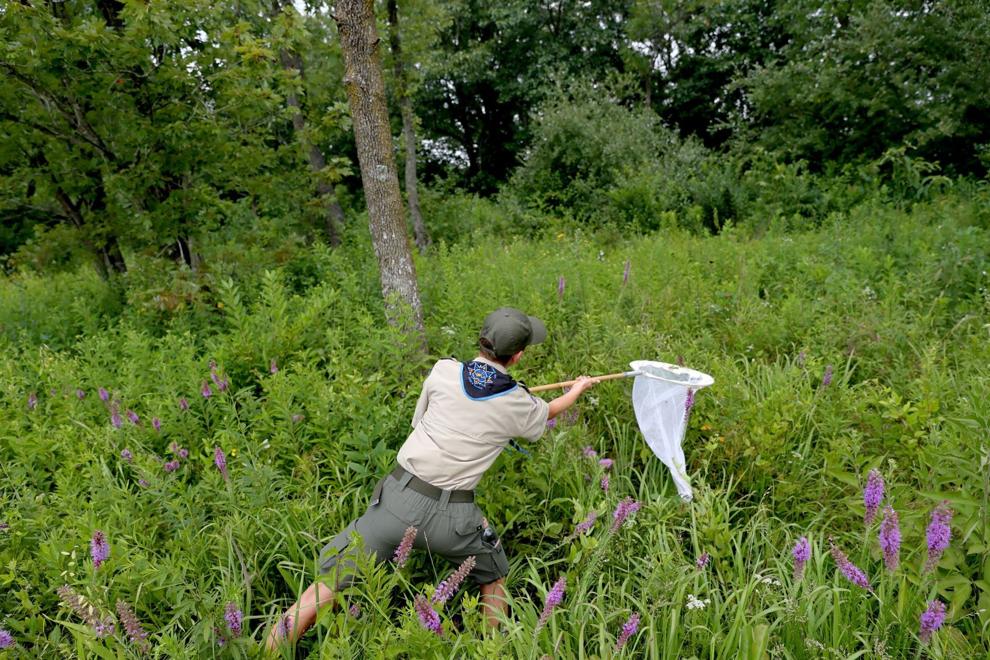 TROY, Mo. — Six volunteers in tan shirts and forest green pants slathered themselves with sunscreen and bug repellant deep in Cuivre River State Park one recent Thursday. They grabbed long-handled nets, clipboards and coolers of ice. Then they stepped into the prairie.
They were catching bumblebees.
Bumblebees — powerhouse pollinators — are in decline, some species at risk of extinction. And scientists worldwide have been working to save them, tracking bee populations, studying lifecycles and pushing governments and residents to protect or even grow bee habitat.
Missouri has too. But now the state is wading in deeper: Scientists here are gathering their bug nets, loading into cars and beseeching residents to join them in hours of often hot, sweaty hunts for bumblebees across Missouri, the first effort to count these insects statewide.
The hope is that all of this work will, first, help scientists track bee populations long-term, and, second, update their understanding of where bees live, what flowers they love and how to better protect them.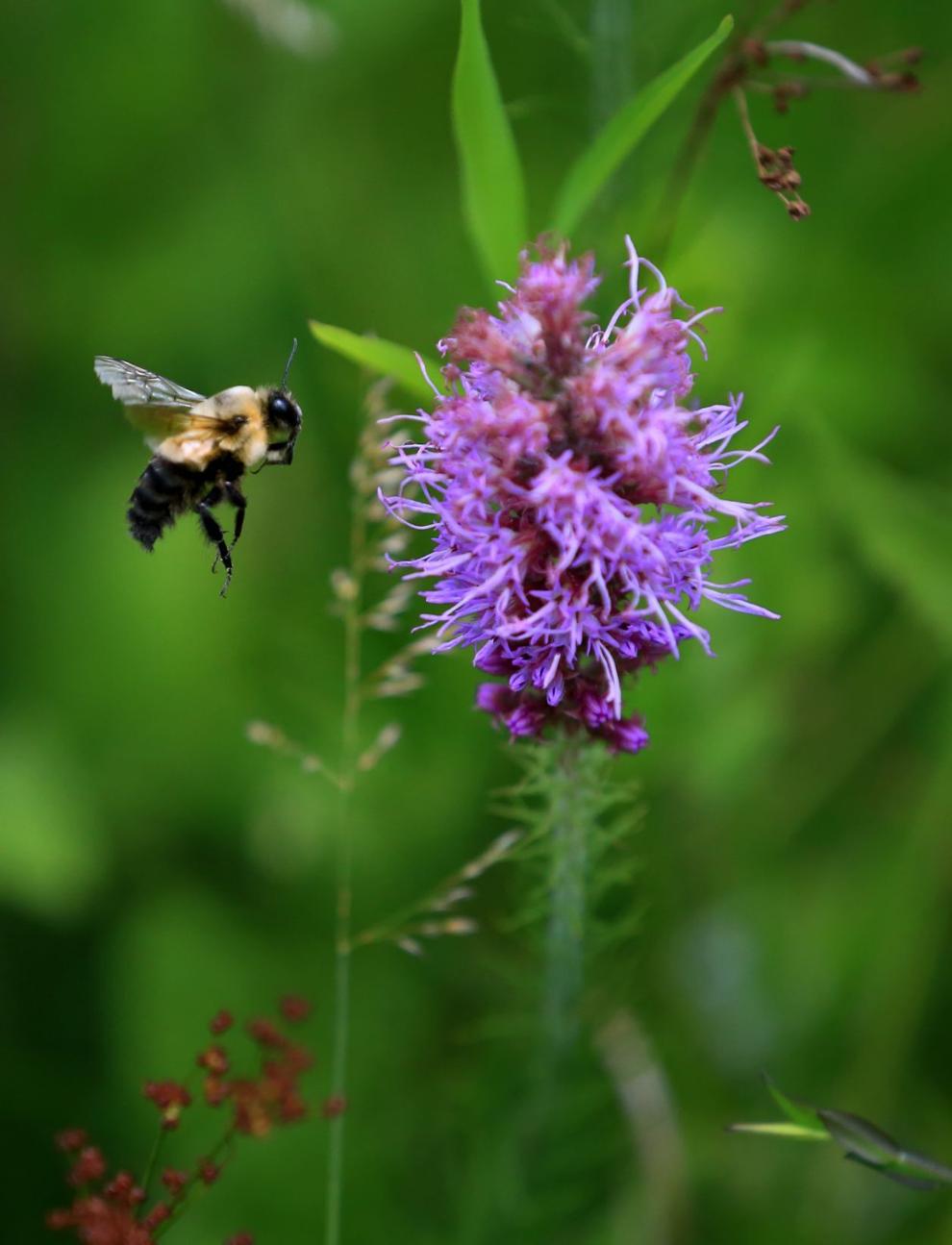 "If we want to continue to have the variety of fruits and vegetables we have," said Bill White, community and private lands conservation chief for the Missouri Department of Conservation, "... we need to keep them on the landscape."
Bumblebees are especially well suited for such a count. They're big, easy to catch and easy to identify.
Moreover, their success generally tracks that of other bee species, giving scientists a window into the welfare of those otherwise difficult to find.
"They do serve as a great indicator," said Gerardo Camilo, professor of biology at St. Louis University who studies bees. "The proverbial canary in the coal mine."
'Death from a thousand cuts'
There are more than 4,000 bee species native to the United States, from "fairy bees" the size of a pencil tip to inch-long carpenter bees. Over 450 can be found in Missouri, including about 10 species in the genus Bombus — the super-fuzzy bumblebees.
Natural ecosystems rely on bees to pollinate the majority of flowering plant species and to provide food for many birds and mammals. Bumblebees are near-perfect pollinators. Their wings vibrate at a frequency that knocks pollen grains out of tricky flowers — called "buzz pollination." Their bodies are covered in tiny hairs that trap the pollen. And they even have little baskets built into their back legs that can hold thousands of pollen grains each.
Insect-for-insect, they're significantly better pollinators than honeybees, the poster child in the field.
Honeybees, imported by European colonists in the 17th century, live in dense hives, can be trucked from crop to crop across the country as needed and even fed artificial diets when flowers are scarce.
But they're no bumblebees.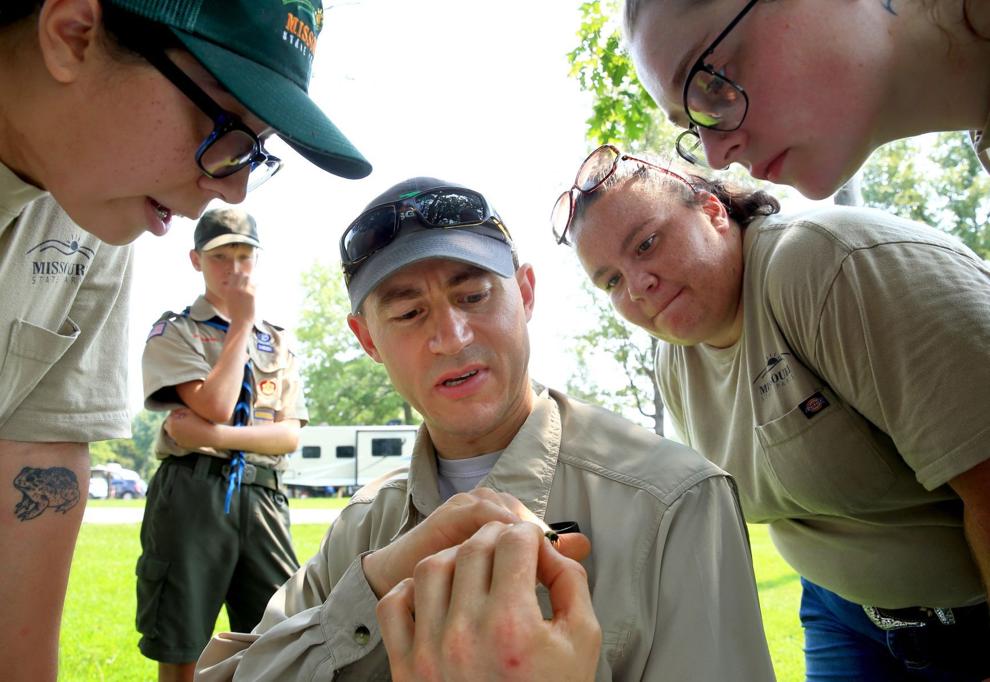 "Honeybees are very lazy. We have domesticated them ..." Camilo said. "They're livestock. They're like cattle. And they're managed like cattle."
Camilo estimates that honeybees only effectively pollinate approximately one-third of our animal-pollinated agricultural crops. Plants in the nightshade family, such as tomatoes and peppers, require buzz pollination, and fruits such as melons and squash also rely on native bees.
Bumblebees also fly in cooler temperatures than honeybees, providing pollination in a wider range of weather conditions.
This contribution is not small: Native insects provide an estimated $3 billion worth of U.S. crop pollination services every year.
But scientists have observed declines in several bee populations. In 2017, the rusty patched bumblebee, found in the eastern half of the U.S., was federally listed as endangered — the first bee in the continental U.S. to be granted that protection. Many more species are presumed to be declining, but scientists lack the long-term data to know conclusively.
Habitat loss is a major concern.
"Think about the Midwest 300 years ago," Camilo said. "You had prairies, you had sand dunes, you had a large diversity of habitats."
Agriculture now dominates the landscape, and corn provides scant food for pollinators. Pesticides kill them. Fungicides hurt their ability to survive.
"It's like a death from a thousand cuts," Camilo said.
'Here's what you should do'
Five partners — the Xerces Society for Invertebrate Conservation, the Missouri Department of Conservation, the University of Missouri, and hunting conservationists Pheasants Forever and Quail Forever — launched the Missouri Bumble Bee Atlas last August for a monthlong pilot run, modeled after similar projects in the Pacific Northwest, Nebraska and California.
This year will be the first full season, June to September, of statewide bumblebee surveys.
White, the Missouri conservation chief, had the idea after helping with the Nebraska survey.
The project goals are to see which species of bumblebees are present in Missouri — scientists expect to find about 10 — and to measure bee ranges. Eventually this will allow researchers to chart long-term population trends.
Volunteers also track the flower species and habitats bumblebees are sampled from to better understand the plants on which the bees rely. They can then turn those discoveries into recommendations:
"We can say: 'Here's what we found during this project,'" said Katie Lamke, conservation biologist with the Xerces Society and atlas coordinator. "Here's what you should do to help the bees in this area."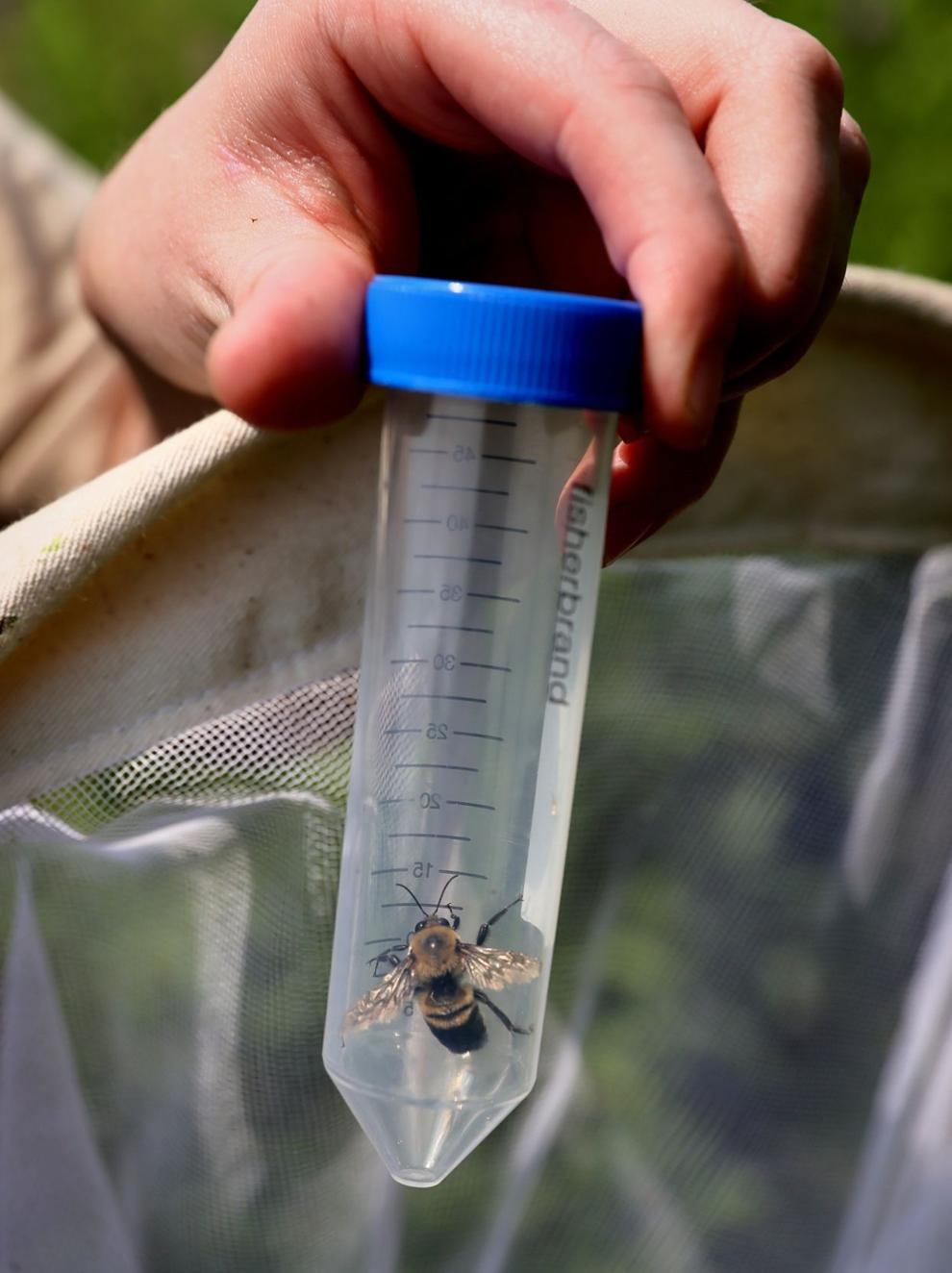 This year, volunteer numbers are up to 184, from 70 last year. Lamke said she's still looking for volunteers who "adopt" a region of the state and survey it at least twice a summer.
"These projects — they're more of a local-level way for people to get involved. If you can't plant a pollinator garden, you can take pictures of bees while you're out on a walk or a hike," Lamke said. "And that is helping bees."
Cold bees
Back at Cuivre River State Park, the volunteers waded into the prairie, risking bites from ticks and mosquitos to count bumblebees.
The park has managed this prairie for about 40 years, burning it every other winter to keep woody plants from dominating and giving native wildflowers space to grow. Trees appear sparingly on the edge, and then transition into a dense hardwood forest. It's well suited for pollinators.
Walking through the chest-deep vegetation, park naturalist Jamie Hubert began identifying blooming flower species — blazing star, self heal, mountain mint — and writing them down on her clipboard. Large yellow-and-black bumblebees buzzed flower to flower.
Kim Scott, a seasonal naturalist at the park, swung a gauzy net and snagged a bee out of the air. She whipped the net back and forth to work the bee into the bottom, then carefully guided the bee into a plastic vial. It vibrated audibly against the plastic.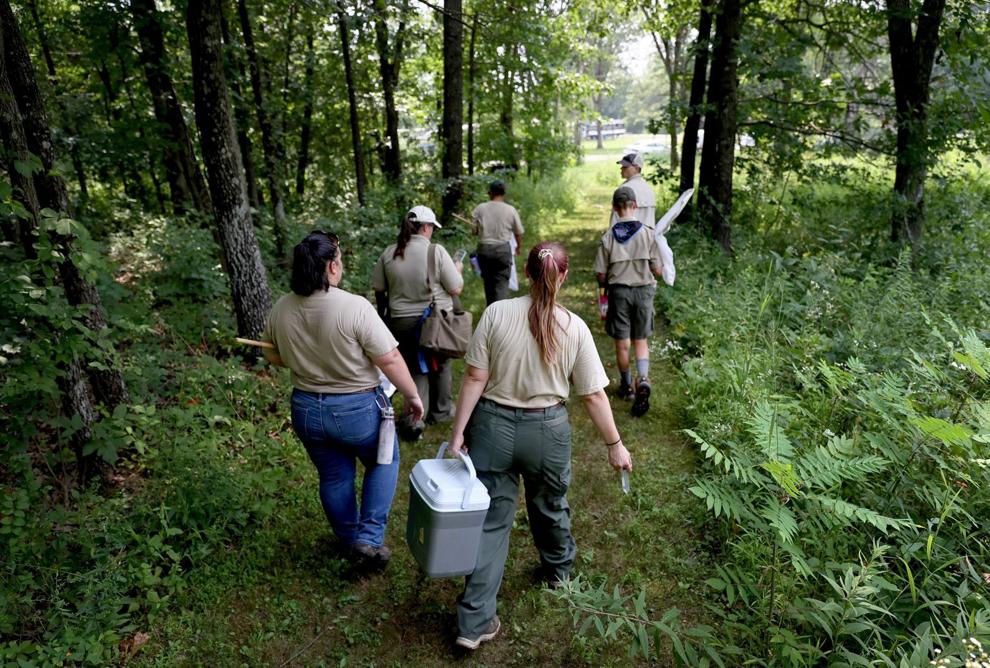 After about 25 minutes, the volunteers hauled two coolers full of bee vials back down the trail.
At the parking lot, they popped up a camp table and covered it with bee and wildflower identification guides. The cold had stunned the bees, allowing the volunteers to dump them out of the vials and hold them before identifying, photographing and logging each bee. As the bees warmed up, they began to move, buzzed their wings and flew away.
"It's really exciting to see the variety of species we get because it makes all the management worth it," Hubert said. "It's hot work and it's hard work, so seeing this is really rewarding."
Photos: Catching and counting bumblebees in Missouri's first statewide survey of the powerhouse pollinator
Missouri Bumblebee Atlas, counting the bees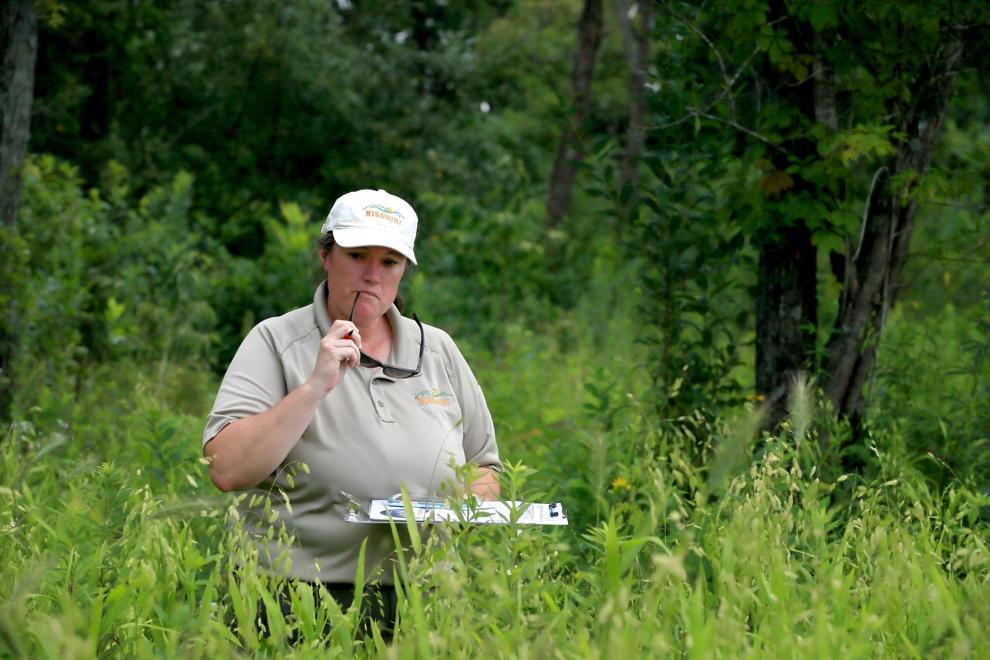 Missouri Bumblebee Atlas, counting the bees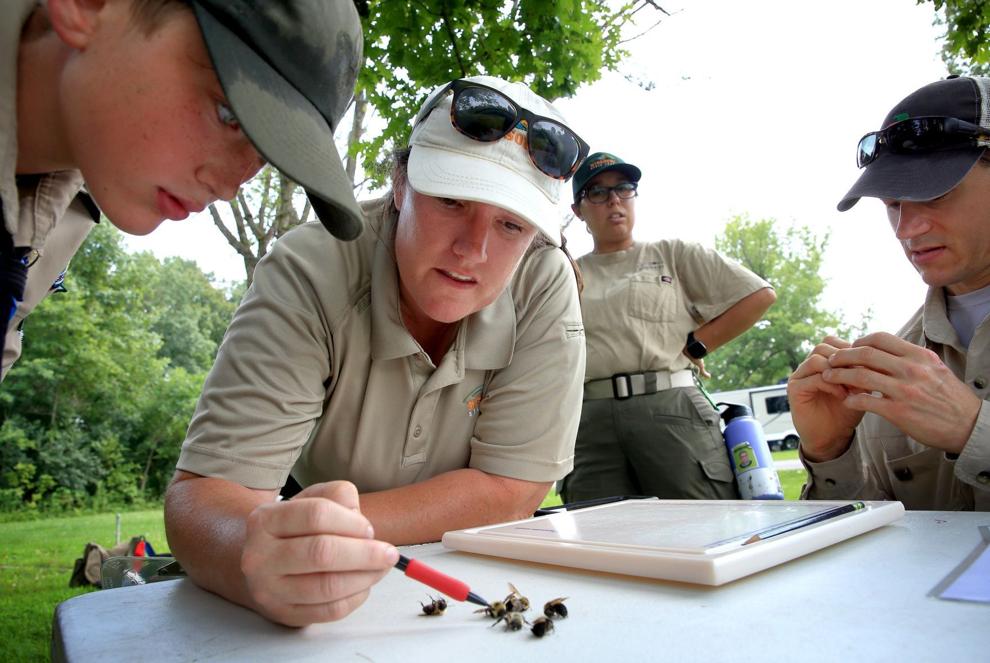 Missouri Bumblebee Atlas, counting the bees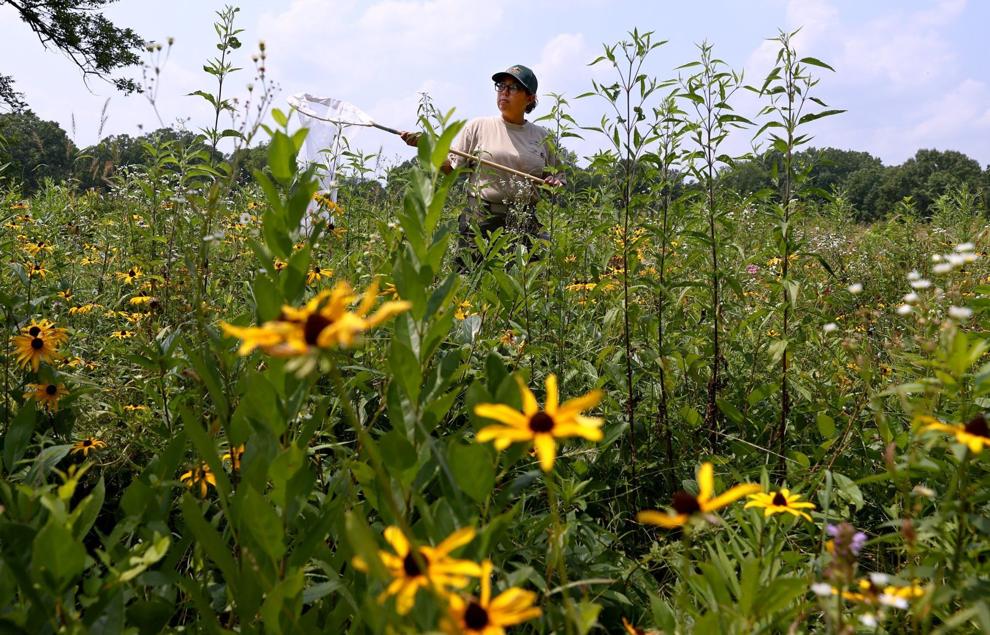 Missouri Bumblebee Atlas, counting the bees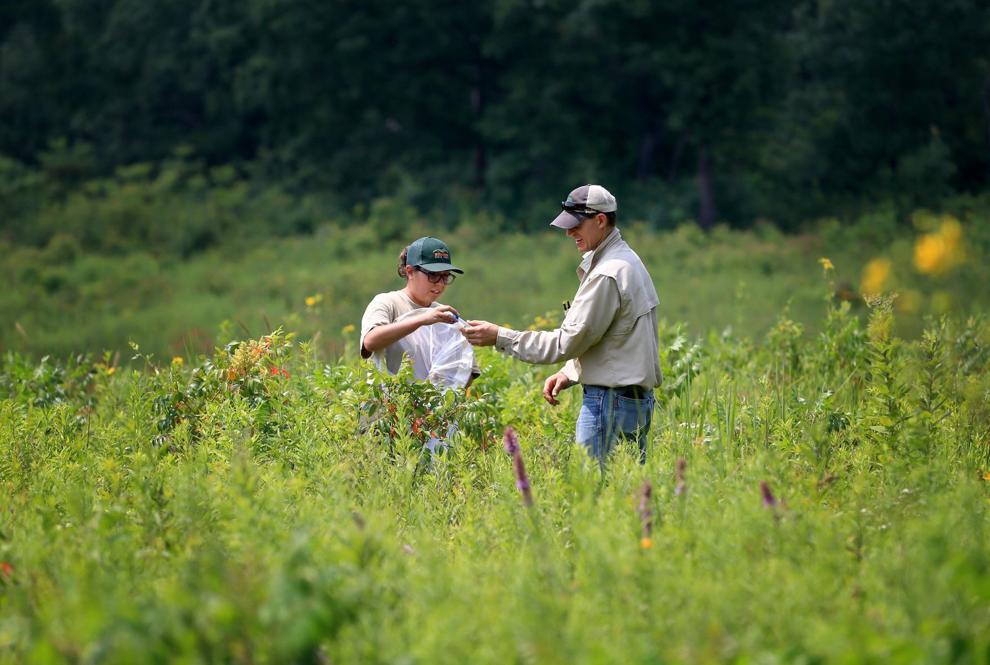 Missouri Bumblebee Atlas, counting the bees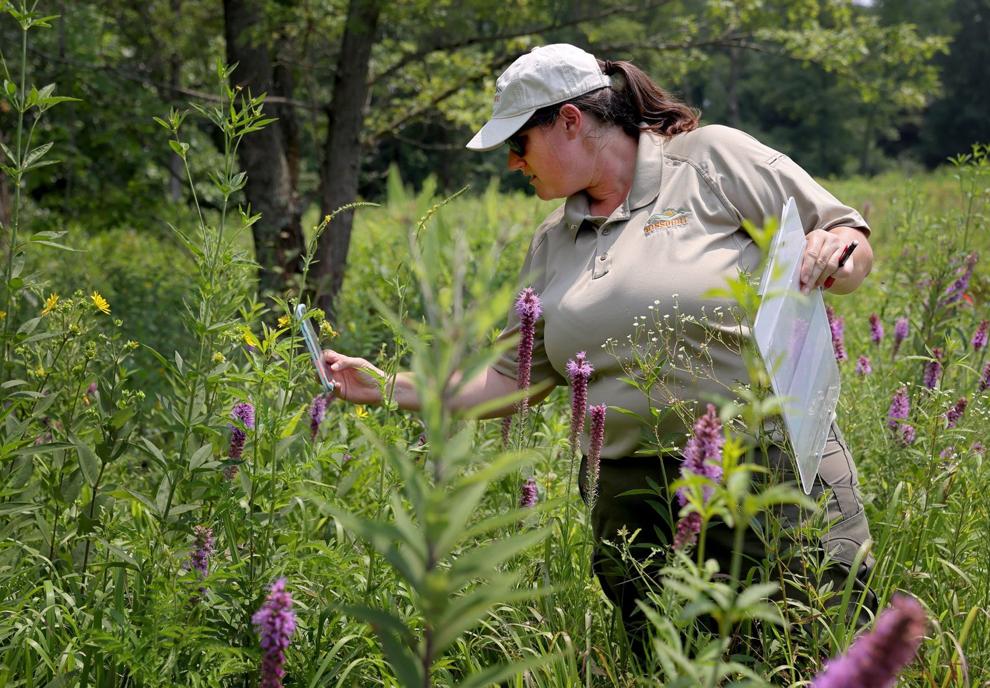 Missouri Bumblebee Atlas, counting the bees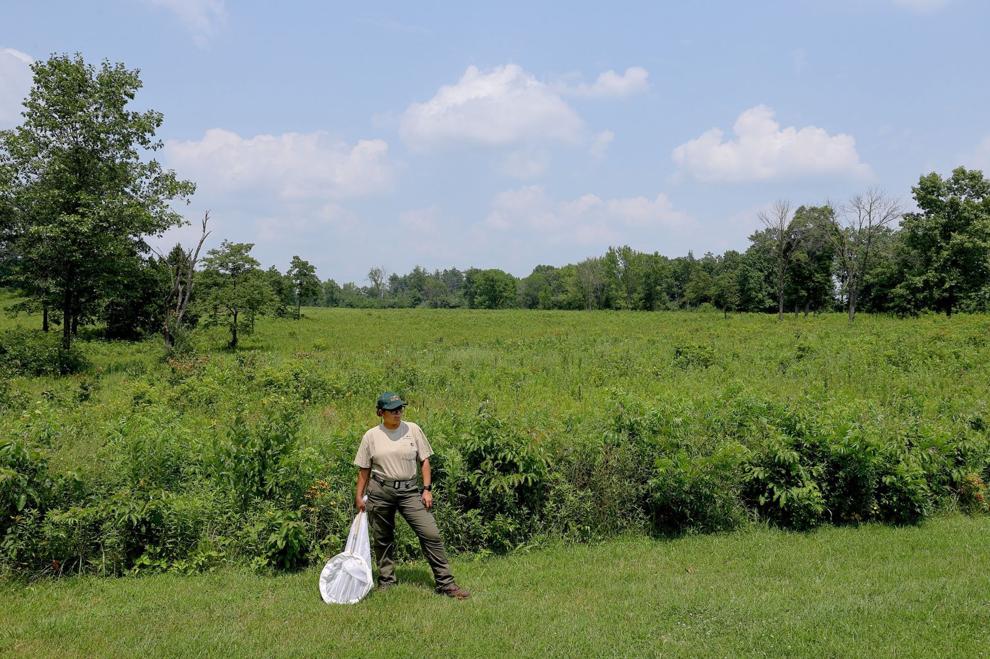 Missouri Bumblebee Atlas, counting the bees
Missouri Bumblebee Atlas, counting the bees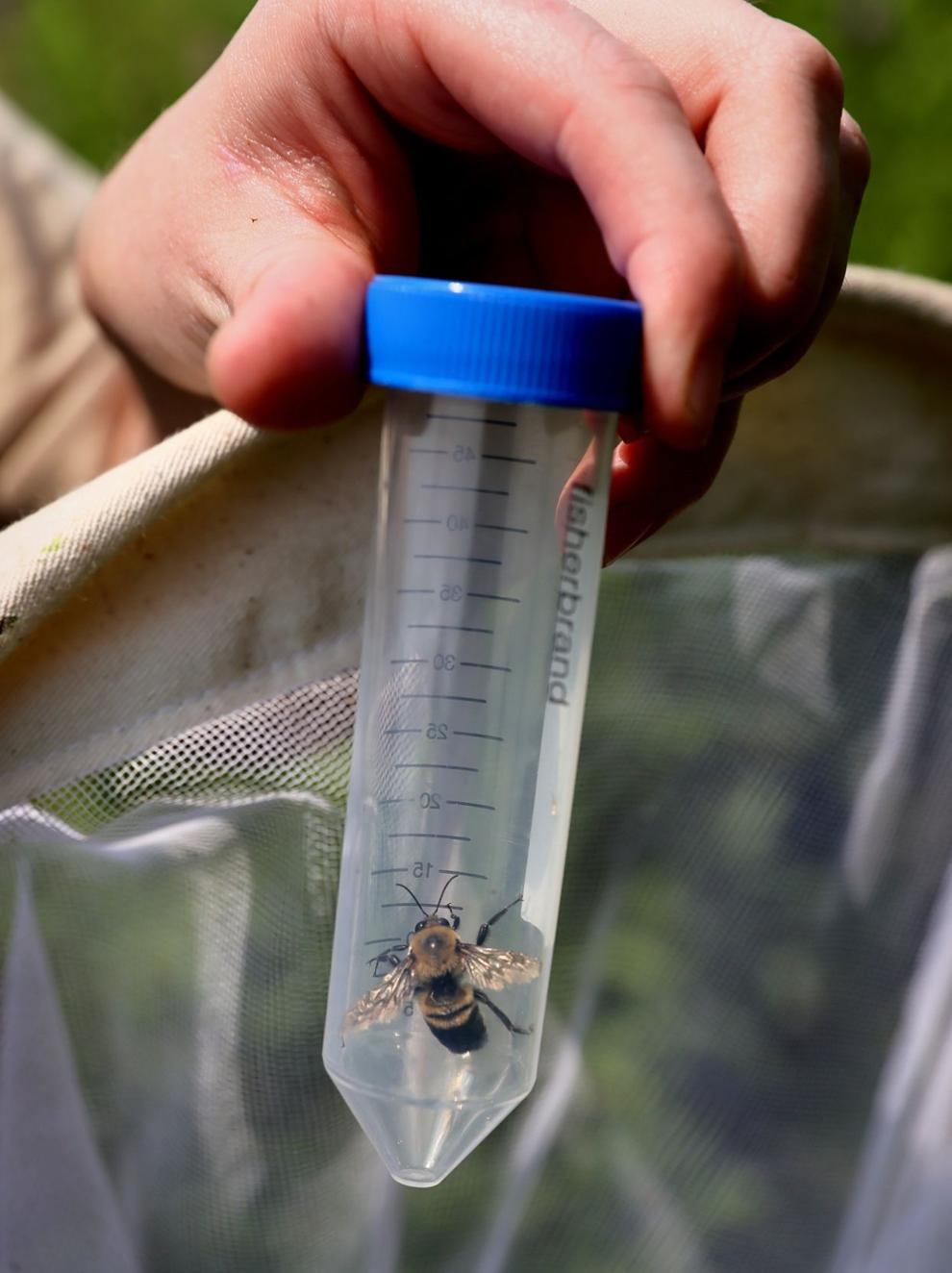 Missouri Bumblebee Atlas, counting the bees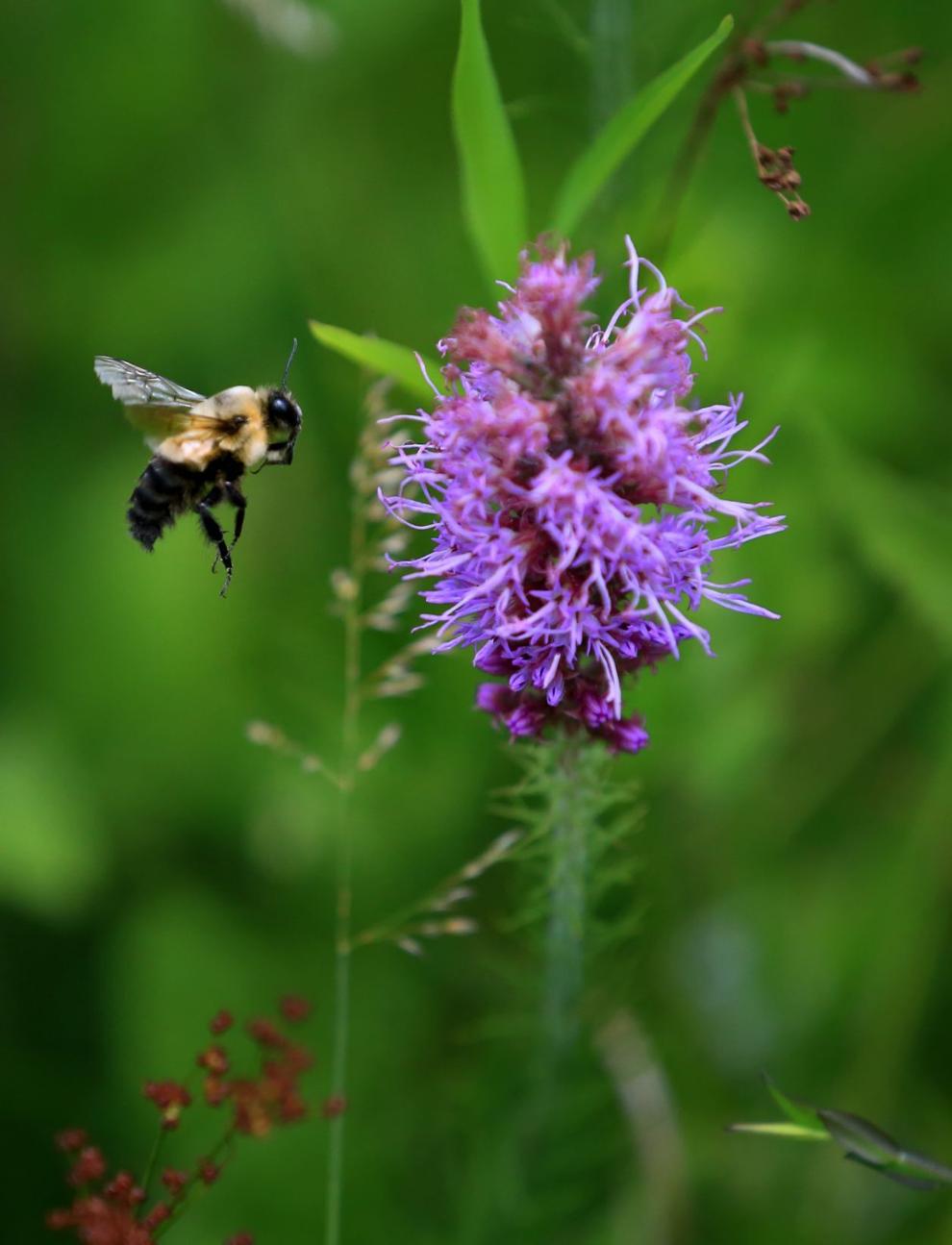 Missouri Bumblebee Atlas, counting the bees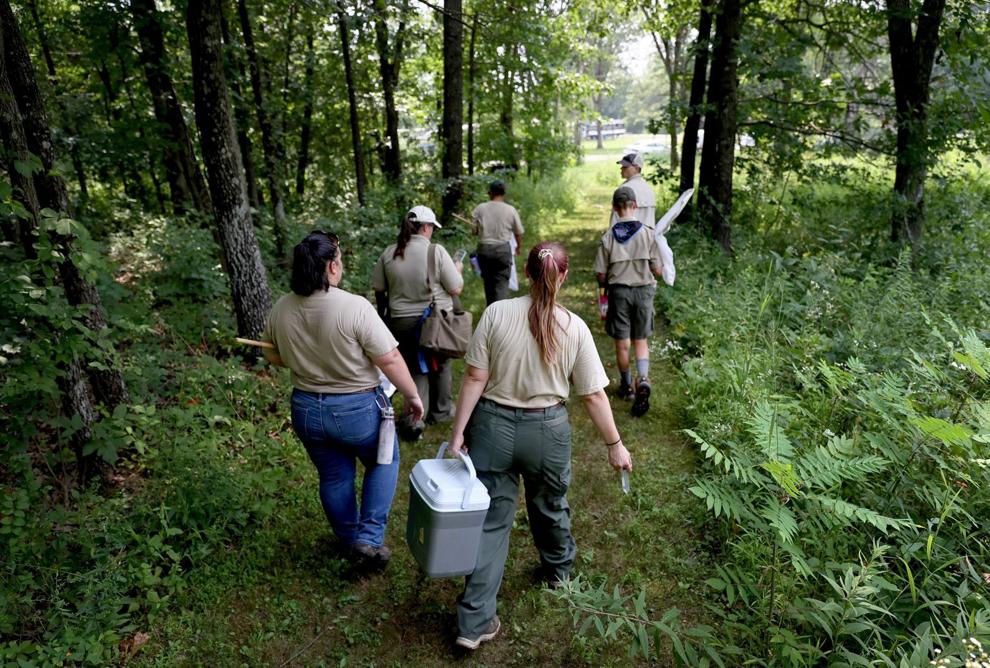 Missouri Bumblebee Atlas, counting the bees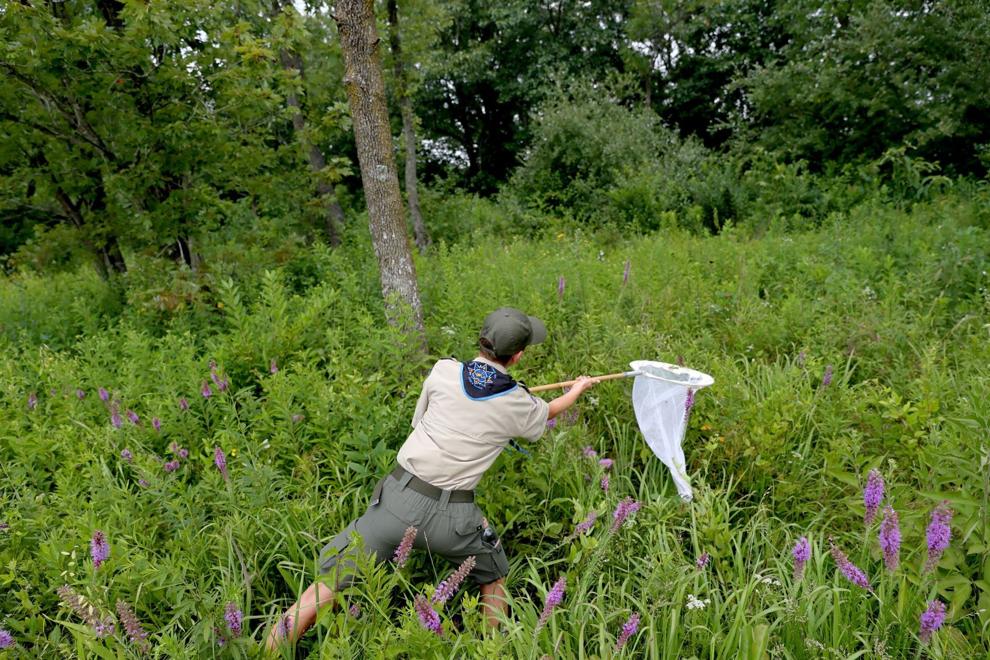 Missouri Bumblebee Atlas, counting the bees