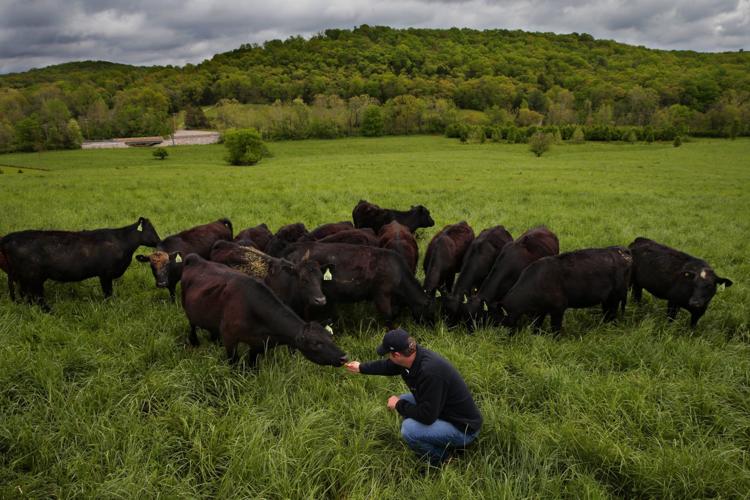 As grocery stores limit purchases of fresh meat amid the spread of the coronavirus, more shoppers are turning to local cattle farmers for their beef.
But they'll have to be patient — that demand is causing longer-than-normal waits.
"Since we started selling beef, this has outpaced anything we've seen before," said Matt Hardecke, owner of Clover Meadows Beef in Wildwood.
The farm is sold out of sides of beef through late September.
The uptick comes as meat processing plants shut or slow down, processors warn of shortages, grocery stores limit meat purchases and Americans seek to stock up.
Several U.S. production plants have been temporarily shuttered in recent weeks after hundreds of workers were sickened by the virus. The fast food chain Wendy's has pulled some burgers off its menus. Costco has limited fresh beef, pork and poultry purchases. And even local markets, like Schnucks and Dierbergs, have cut back: Schnucks is limiting fresh-beef packages to two per shopping trip; Dierbergs is placing limits on fresh chicken, pork and beef.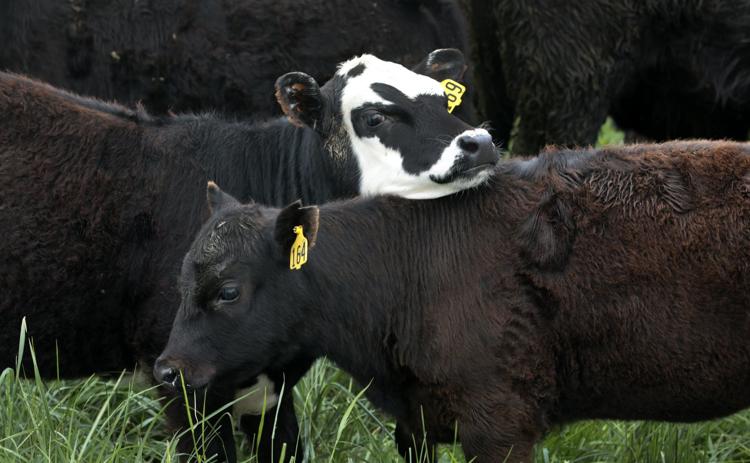 "Our overall goal is to make sure we have product available for our customers, so we are watching the supply situation daily and remain focused on keeping our shelves stocked with good-valued items," Dierbergs said in a statement.
Beef and pork processing capacity is down 40% from last year, according to Jayson Lusk, head of the department of agricultural economics at Purdue University.
Some meatpacking plants are coming back online after President Donald Trump issued an executive order requiring them to stay open. But until they're back at full capacity, consumers likely will see some shortages and higher prices for beef and pork, Lusk said. Poultry production also has been affected, but to a lesser degree.
"We don't have a beef shortage. We have a processing and transportation shortage, and that's where the bottleneck is," said Bill McLaren, owner of Crooked Creek Beef, which has three farms in Franklin County.
He said demand for beef from his farms is up three- or four-fold, and he's taking orders for delivery for the end of July — weeks ahead of schedule.
"People are a lot more interested in buying local and knowing where their food comes from. I hate that the virus did it, but I love that it's happening," McLaren said.
Hardecke, of Clover Meadows Beef, said families like being able to buy meat in a large quantity and not have to go to the store as frequently — something many are doing especially now, as stores ask for just one person per household to shop.
A quarter of a cow, which typically lasts a family of five about six months, costs $775 with delivery included. It includes 50 pounds of hamburger, 25 pounds of steaks, 25 pounds of roast and other cuts.
"Our clients are families that consume a lot of protein. When they go to the store and can only buy a day or two of supply, that's when they look at options like us," Hardecke said.
Tracy Herman, a customer for more than five years, said she had to order her family's quarter-cow earlier than usual for delivery by August, when she typically needs it.
She said the decision to buy in bulk initially was spurred by getting grass-fed beef at a good price, but she has been sold on having plenty of meat in her freezer and not having to pay attention to sales at grocery stores.
Starting today, it will require all shoppers to wear masks or face coverings to reduce the chances of transmission of the virus.
Area butchers are seeing the demand, too. Chris Bolyard, owner of Bolyard's Meat and Provisions in Maplewood, gets his beef from a cattle farm in Troy, Missouri, and does all his butchering in the shop.
Bolyard said ground beef is his most popular item and that he can sell as much as he has on hand.
"People's buying habits have changed," Bolyard said. "People used to come in, say on a Wednesday, and get steak for dinner. Now we're only open a couple days a week and they'll buy for a week or two at a time."
The store is now closed to walk-in customers, but Bolyard's is taking online orders, with curbside pickups on certain days.
Resolving national processing delays won't come quickly. Todd Hays, a pork farmer in Monroe City in northeastern Missouri, said finding a place to slaughter his pigs is weighing heavily on his mind.
His biggest customer is Smithfield Foods, but he said that in two weeks, he could be begging a processor to take his pigs.
Even small lockers near him are overbooked, he said, with waits until mid-June or July to get a pig butchered and until September for beef.
"There's plenty of cattle and plenty of pigs," he said. "But there's not enough beef and pork."
— The Associated Press contributed to this report.
As the peak of farmers market season takes off, organizers are changing how they do business — something restaurants and farmers who sell to them have been doing too