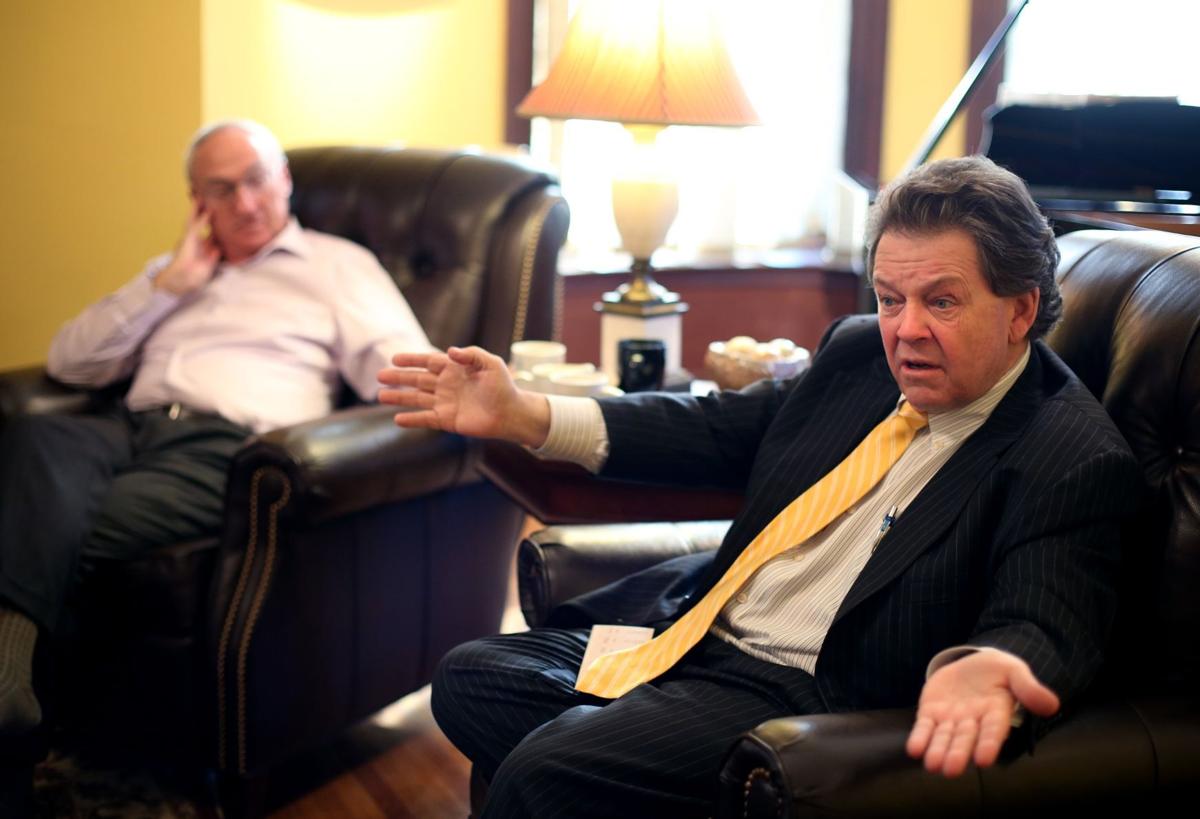 ST. LOUIS — Libertarian political donor and philanthropist Rex Sinquefield has cut ties with Travis Brown and Brown's Pelopidas consulting firm, ending a partnership that for more than a decade used Sinquefield's vast personal wealth to influence public policy with campaign contributions and a cadre of political operatives.
"Travis Brown, his firm Pelopidas and its associated entities no longer represent me," Sinquefield said on Tuesday in a statement sent by spokesman Mark Niebling. "My vision is still to support activities that will help improve our state and our city."
The two separated Sept. 1, the statement said.
Also out is Sinquefield's chief of staff, Mary Ellen Ponder, who worked in the same role for former St. Louis Mayor Francis Slay until being hired in 2017 by Pelopidas affiliate First Rule.
Brown and Ponder declined to comment.
It was unclear if Sinquefield — a retired multimillionaire who made his fortune as a pioneer of index funds — was taking a break from politics or just finding another shop to advance his low-tax philosophy. Regardless, the separation is the end of an era for Missouri politics.
Sinquefield's regular six-figure checks to Jefferson City Republicans easily made him the most generous political donor in the state. Brown had lobbied for Sinquefield since 2007, helping push through changes including a requirement that voters in St. Louis and Kansas City reauthorize their 1% earnings taxes every five years. Brown even co-wrote a book with Sinquefield and Ronald Reagan-era economic policy darling Arthur Laffer promoting lower state income taxes.
The breakup comes on the heels of a recently abandoned effort to privatize St. Louis Lambert International Airport. A renewed effort, financed by Pelopidas, to get the issue placed on the November ballot was pulled last week. Brown was forced to defend accusations that he was pursuing the last-ditch effort mainly as a way to recover some $44 million a Sinquefield-funded nonprofit, Grow Missouri, had spent on the first privatization attempt that Mayor Lyda Krewson killed in December. Those consultant costs were to be reimbursed, but only if a privatization deal was reached.
Sinquefield issued a statement Sept. 3 saying that though he continued to believe the privatization concept was a good one, "now is not the right time."
He made no mention last week that he had already cut ties with Brown and Pelopidas.
It wasn't the first high-profile implosion of an ambitious policy proposal pushed by Pelopidas and Brown with the financial backing of Sinquefield. The firm and its affiliates had a seemingly limitless war chest and a roster of professional politicos — among them former Missouri House Speaker Tim Jones, former Missouri Senate President Pro Tem Tom Dempsey and Nancy Rice, a top aide to former St. Louis Mayor Vince Schoemehl. Yet its recent efforts collapsed in spectacular fashion.
In early 2019, the aggressive Better Together city-county merger campaign fell apart after the federal indictment of former St. Louis County Executive Steve Stenger.
In December, Mayor Lyda Krewson pulled her support for the Lambert effort, ending a first run aimed at leasing the city's most valuable asset.
And in January, the Missouri Ethics Commission forced a nonprofit tied to Brown that pushed a failed medical marijuana amendment to reveal that $100,000 in its funding for the campaign came from Sinquefield and his wife, Jeanne Sinquefield. Another $875,000 came from Great St. Louis, a nonprofit Brown leads that was also used to funnel money to Stenger.
Niebling said there was no one issue that led Sinquefield to break from Brown.
Increasingly, though, Sinquefield's name was tied to the political efforts of Pelopidas. And while Sinquefield was clearly the largest client for Pelopidas and affiliated groups, it wasn't clear how involved he was in all of Brown's efforts.