ST. LOUIS • For those who thought the city's ambitions of becoming a Major League Soccer town died at the ballot box last year, there is hope — and its name is Taylor.
A multigenerational cohort of the founding family of global car rental behemoth Enterprise Holdings is making a bid for one of the last two planned MLS expansion team slots. The Taylor family members forming the group would make the team majority-owned by women, the first in the league and one of few ownership groups controlled by women in all of professional sports.
"We've had such a great tradition of soccer here with our youth clubs," said Carolyn Kindle Betz, a granddaughter of Enterprise founder Jack Taylor who works as a senior vice president at Enterprise and executive director of the Clayton-based company's charitable foundation. "We also fill a void in the Midwest if you look at how the MLS has awarded its teams in the past."
At an announcement ceremony Tuesday at the Mathews-Dickey Boys & Girls Club, where officials touted the relationship the nonprofit group has with the Scott Gallagher Soccer Club, Kindle Betz said her family has "a long-standing commitment to the revitalization of St. Louis" and an MLS team would leave "a lasting legacy to the city we love."
A roughly $250 million stadium dedicated to the soccer franchise would be "overwhelmingly" privately financed, the Taylors say. Public help would likely come from dedicated sales taxes on concessions and other merchandise sold to patrons, a property tax break from a city agency owning the stadium site and leasing it to the group, state tax credits and a break on the city's 5 percent ticket tax.
"As you all know, the Taylor family has been soccer fanatics for a number of years," Kavanaugh joked to the crowd.
It wasn't a long-standing love of soccer that initially drew the Taylors to form a partnership — though Kavanaugh said they are really starting to get into the sport now — but instead "because the entire Taylor family is so passionate about St. Louis."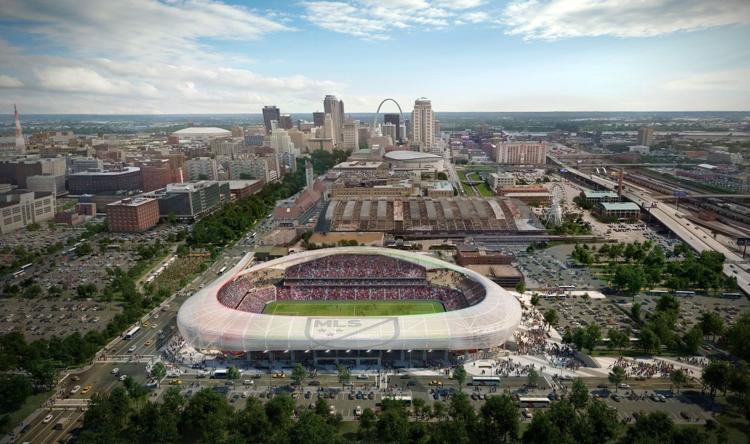 Enterprise, the largest privately owned company in the region, is known for its participation in sports ventures and area philanthropy. It recently took over naming rights for the Blues arena, and some of the family shares a stake in the hockey club's ownership. Jack Taylor, who died in 2016, was said to have given some $860 million over the years to area cultural institutions such as the St. Louis Symphony and Forest Park, and charities that work with youths, such as Boys & Girls Clubs of Greater St. Louis. The Enterprise Holdings Foundation is an active philanthropic organization, and the family has been heavily involved in the Gateway Arch grounds revamp. Kindle Betz serves as chair of the Gateway Arch Park Foundation board.
In recent years, the family has watched MLS develop and is confident it is in good health and will grow in popularity.
"We are also a family that is very interested in the city of St. Louis," said Andy Taylor, Kindle Betz's uncle and executive chairman of Enterprise Holdings who formerly worked as the company's CEO.
The ownership group is in negotiations for a break on the city's 5 percent "amusement" or ticket tax charged for sporting events, an arrangement similar to deals given to the city's other professional sports franchises.
Because they are not seeking any commitment of citywide resources, a public vote like the one that doomed the financing package for the last effort in April 2017 won't be necessary. St. Louis aldermen would need to pass legislation approving the deal.
"It's certainly a more attractive arrangement that we're intending and hope to come out with than the previous (MLS proposal), which was certainly more expensive for the city," Taylor said. "This is an addition (of revenue) to the city."
Though details on the financing package are still being negotiated, St. Louis Mayor Lyda Krewson said early projections suggest the stadium could add a net $1.5 million a year to city revenue. She called it an "excellent business deal for our community."
"St. Louis is a soccer town," she said. "We play it. We watch it. Now let's score us a franchise."
Similar to the last MLS proposal, the Taylors and Kavanaugh are eyeing the same land just west of Union Station, along Market Street, for a downtown stadium. The land, currently owned by the Missouri Department of Transportation, is expected to be freed up as part of a revamp of the Jefferson Avenue interchange with Highway 40 (Interstate 64). A city option on the land recently expired but is expected to be renewed by the agency as soon as next month.
A 20,000-seat stadium could cost around $250 million total, according to information from the group. The city's Land Clearance for Redevelopment Authority would own the stadium and the MLS team would operate under a long-term lease, resulting in an exemption from property taxes.
A tax on concessions and other sales within the stadium could contribute to its operation, according to information that was on an early version of the group's website accessed Monday, though Taylor and Kindle Betz said it would be overwhelmingly privately financed. Taxing districts allowing up to a 3 percent charge on sales within the stadium could help pay for its operation and construction.
Soccer fans "might pay an additional 3 cents on your $1 hot dog," Krewson said, but only users of the stadium would be paying that tax.
There are also talks to establish a fund to help with future stadium upkeep and renovations, or to repurpose or demolish it should something happen to the team or league. That could help allay fears of a repeat of last year's heavy political lift, criticized by some elected officials, to update the publicly owned Enterprise Center (then Scottrade Center) where the Blues play.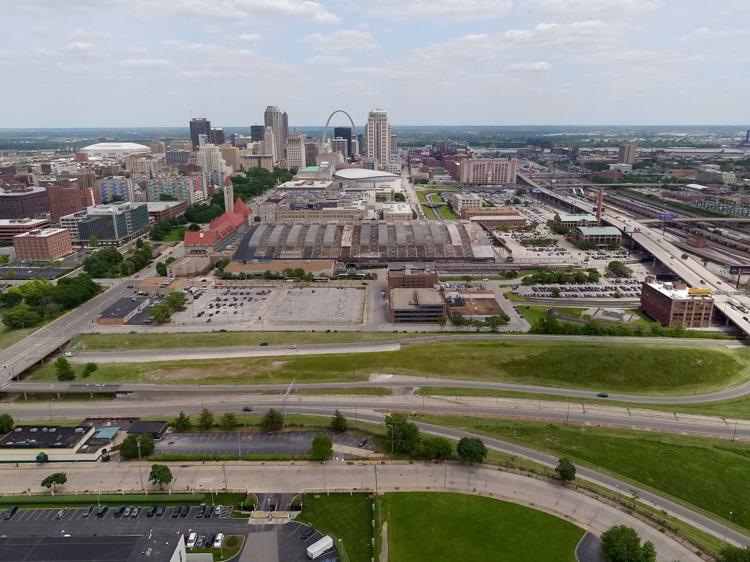 An official in Gov. Mike Parson's administration previously told the Post-Dispatch it is interested in working on a stadium proposal.
St. Louis Comptroller Darlene Green expressed tentative support.
"St. Louis has a strong history in U.S. soccer, and I welcome the renewed effort to seek an MLS expansion team," she said in a statement. "I look forward to reviewing the financing proposal and my office stands ready to help ensure it is fiscally responsible for city taxpayers."
Aldermanic President Lewis Reed, in attendance at the announcement Tuesday, was confident city legislators would back the plan.
"I think it has good legislative support," he told the Post-Dispatch. "The last deal put a lot more of the burden on taxpayers."
Alderman Christine Ingrassia, whose 6th Ward includes the proposed stadium site, was there Tuesday and called the proposed plan "the model of what a public-private partnership should look like."
But first, the group needs to secure a franchise.
"It's getting to the point where if we're going to do something with MLS, there's not many team slots left," Taylor said. "Right now we've just got to get the club and things will start falling together."
The league has previously charged a $150 million franchise fee, though Taylor said the league is being "purposely vague" on a final figure. But the group did hear back from the league just Monday.
"They told us they are very interested in our proposals," Taylor said.
MLS has said it wants to grow the league to 28 teams, meaning two slots are left following the pending additions of Cincinnati, Miami and Nashville, Tenn. St. Louis could be going up against Detroit, San Diego, Phoenix and Las Vegas for one of those two teams.
In a statement, Dan Courtemanche, MLS executive vice president of communications, said the league was "impressed by their commitment to the MLS effort. We look forward to spending time with them during the coming months to learn more about their plan."
The MLS Board of Governors is scheduled to meet in mid-December in New York, though the league said there is no set schedule for awarding the final two franchises.
Taylor said a timeline is still in flux but that he hopes the league could make a decision within months.
"Figuring out a calendar here is difficult, but I'm not getting any younger so I want this to happen soon," Taylor said.