Gone is the maroon carpet that covered walls near the chapel in Terminal 2.
It was a remnant of the days when Lambert-St. Louis International Airport served as a Trans World Airlines hub, giving St. Louis an abundance of direct destinations.
The new look — including new chairs, plenty of outlets, paint and equipment — is that of Southwest Airlines, which dominates airport traffic these days and is adding flights — so much so that two new gates are expected to open this week
"The concourse is full. There are no more gates," said Rhonda Hamm-Niebruegge, the airport's director.
The new gates are the latest symbol of the change in dominance at the airport over recent years, when Southwest has garnered roughly half the market share.
Southwest, which occupies all of Terminal 2, begins flights Tuesday to Wichita, Kan., and to Des Moines, Iowa — new nonstop destinations from Lambert — as well as year-round service to Seattle.
Gates E31 and E33 initially are expected to handle 12 flights a day between them, a number expected to grow to 16 in June when Southwest adds flights to Oakland, Calif., Cleveland and Portland, Ore.
The new flights will result in more than 100 daily departures to more than 40 nonstop destinations from St. Louis for the first time for Southwest, said Dan Landson, an airline spokesman, by email.
"We are focused on making sure that we're successful with the newest additions," he said. "Our teams are always watching what the current trends are and where the demand is to determine if there's a need for a new nonstop destination."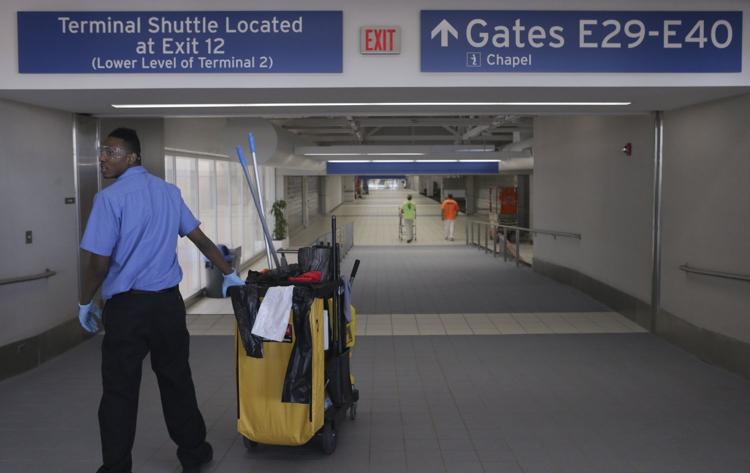 Southwest began service to Pittsburgh last month, replacing a nonstop flight from St. Louis that American Airlines ended in December.
Passengers waiting at the new gates will get a new kiosk of airport sundries such as snacks and magazines, and a bar with grab-and-go food. Plans are in the works for a sit-down restaurant in that part of the airport, too.(tncms-asset)e428d8dc-ba9e-57fb-9fc1-d5db43142056"}}
About $200,000 in renovations were made to that part of the airport, including switching out carpet with tile in the hallway and updating restrooms. That money will be recouped through rental fees paid by Southwest.
Years ago, international flights operated at that part of Terminal 2, which was previously known as the East Terminal. Gate E29, in the same area as the new gates, still handles inbound flights from other countries — passengers go directly downstairs to customs.
And the airport is still pushing for European flights, which disappeared with TWA. American Airlines ceased its hub operations here through a series of cuts after absorbing the bankrupt airline in 2001.
Hope again looms that such flights could return. Lambert is on a short list to get flights to London on British Airways and to Frankfurt, Germany, on Lufthansa, Hamm-Niebruegge said.
Lambert came close to securing a London flight a few years ago on British Airways, but was beat out by the Austin-Bergstrom International Airport in Texas. The airline had stressed that the market it chose would need to support selling its more lucrative business-class seats.
A factor in British Airways' decision was that Austin showed a stronger economy, Hamm-Niebruegge said.
So Lambert is working to highlight economic growth in St. Louis in areas such as technology and bioscience. Airport officials are set to meet this summer with British Airways and Lufthansa to make a pitch to bring them to Lambert.
The airport also is working to attract and retain airline service in other ways, including by reducing its landing fees, which are based on the weight of an inbound aircraft and paid by airlines.
Between the costs of a new, $1 billion runway built to accommodate busy days of the past, and the loss in past years of flights using larger jets, Lambert had seen the landing fees it charged roughly triple since 1999.
Lambert is forecasting cutting landing fees by about 1.8 percent from last year, resulting in a 5 percent drop since 2012.
Hamm-Niebruegge said larger planes landing at Lambert recently, including the Airbus 321 planes flown by Frontier Airlines and Southwest's Boeing 737s, and the addition of new destinations are bringing in more revenue.
"That's allowing our cost to go down and lower our landing fees," she said.
Editor's note: This story has been corrected to reflect the correct gate numbers and how the landing fees are enacted.