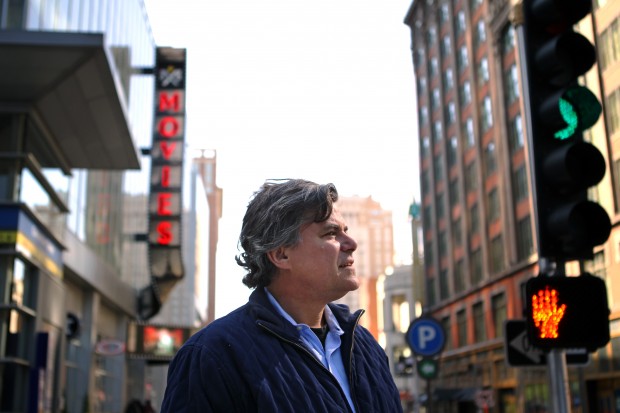 It's not unusual to see Amos Harris walking around downtown St. Louis.
And he'd like to see a lot more people doing the same.
Harris, who heads the local arm of Connecticut-based developer Spinnaker Real Estate Partners, has been a fixture on the downtown development scene for 20 years. He lives on the top floor of a loft building off Old Post Office Square. He owns the Frisco Building and the Mark Twain Hotel. And now he's putting the finishing touches on a re-making of the old St. Louis Centre mall into the Mercantile Exchange — the MX for short — an open, glassy entertainment district at the foot of Washington Avenue.
The MX, along with the Laurel apartment building across Washington Avenue, represents a big change from the gloom of St. Louis Centre. It boasts several new restaurants and a museum in the works showcasing the blues. It just opened downtown's first new movie theater in a decade, MX Movies, with a bright video marquee over Washington Avenue.
That's where we caught up with Harris the other day to talk about the changing face of downtown St. Louis, and how all the things going on there might fit together.
How's the MX doing so far?
We have almost all our Washington Avenue frontage leased, just two small spaces left. We've been doing great.
The intent of this project was to take what had been one of the worst areas of downtown and make it into what should be one of the best. The intent was to make this a sort of default gathering spot for folks. So many downtown visits are kind of rifle-shot visits, coming for a game or something. There's not this sense that 'I'll come downtown for the day.' There have to be enough things to do that you feel like you don't have to plan it. If you have to plan it, that takes thought and energy, and you've lost half the people right there.
How do you create enough critical mass to provide that sort of experience?
That is the challenge. We'll see if we were right, but what we have tried to do here is create these layers, cultural layers, a variety of different types of experiences. We have fine arts with the Santo Foundation Center for the Arts. We'll have the National Blues Museum, which is a shot at edu-tainment. We have some restaurants that I think work well together. The movie theater. The proximity to the Arch grounds and the convention center.
The idea is to create these layers of experience that draw a variety of different demographics so you have this broad appeal. We want people to say, 'I'm going to lunch at the MX,' and if the line's too long at Snarf's, they go to Pi, or to a food truck in the plaza behind us.
Ballpark Village also wants to become a "gathering space." And there's Union Station. How does the MX relate to these other big entertainment districts in other corners of downtown?
We need to make the connections between us seamless. It's only a 10 minute walk down 7th Street from here to Ballpark Village. Seventh Street is retail-able across most of its length. Maybe we do a cool, open-air shuttle. Make it a cool experience and you can get people to make that trip. If we can start showing traffic back and forth, I think we can be synergistic just because of that connection.
Ballpark Village and us, if we do it right, can be perceived as pretty much the same (destination). You can come downtown and park once. Do the stuff they have. Do the stuff we have. We have different things.
You're also doing an apartment building (across the street at The Laurel). How do you see the downtown housing market shaping up?
It's getting stronger and stronger. We've got the highest-priced product in the market and we've had great response. We're 80 percent leased in a year. I think we'll be at 90 or 95 percent by the end of April.
The biggest issue downtown faces is security. Both the perception of security and the reality of security. We've got to get both right. We fool ourselves saying downtown's getting safer and safer. Maybe. But, like, last weekend was a bad weekend. Bad things have been happening. We've got to address that head on. That's our main challenge.
It feels like downtown is always on the verge of really making it, but never quite does. What does it take to get over the hump?
I've lived here 20 years, downtown for almost all that time. Downtown has come a long way, I don't want to minimize that.
But, yeah. The issue is density. It's got to feel like a city. It's like what that Supreme Court Justice (Potter Stewart) said about pornography, you can't define what that feels like, but you know it when you see it. We've got the numbers — 15 (million) or 20 million visitors a year, a sizable daytime population — and if we can create some 'there' there I think you'd start to see some concentration and density of street-level activity. It'll be a couple more years in the making. There's no big bang, no silver bullet. It just kind of builds on itself.
Like, we're planning to do 100 outdoor events a year at the MX. We'll set up pingpong tournaments outside Pi. Maybe U.S. Bank versus Stifel. Thompson Coburn versus Lewis Rice. Just stupid silly stuff, but it gets people out there and they enjoy it. Then that makes it easier to rent the next apartment because 'Why wouldn't I live here? It's cool.'
EDITOR'S NOTE: This story was updated at Friday morning to correct Harris' last name in the third paragraph of an earlier version.