ST. LOUIS — The natural gas company Spire, faced with widespread criticism this week, held a rare news conference Thursday to again warn of looming risks to the region's gas supply if its main pipeline is forced to cease operation just as winter arrives.
The closure of the Spire STL Pipeline, one of the company's main sources of gas, could create severe shortages, and customers deserve to know, said Spire Missouri President Scott Carter.
"Our commitment has been to remain informative," Carter said. "We've continued to highlight the importance of the pipeline."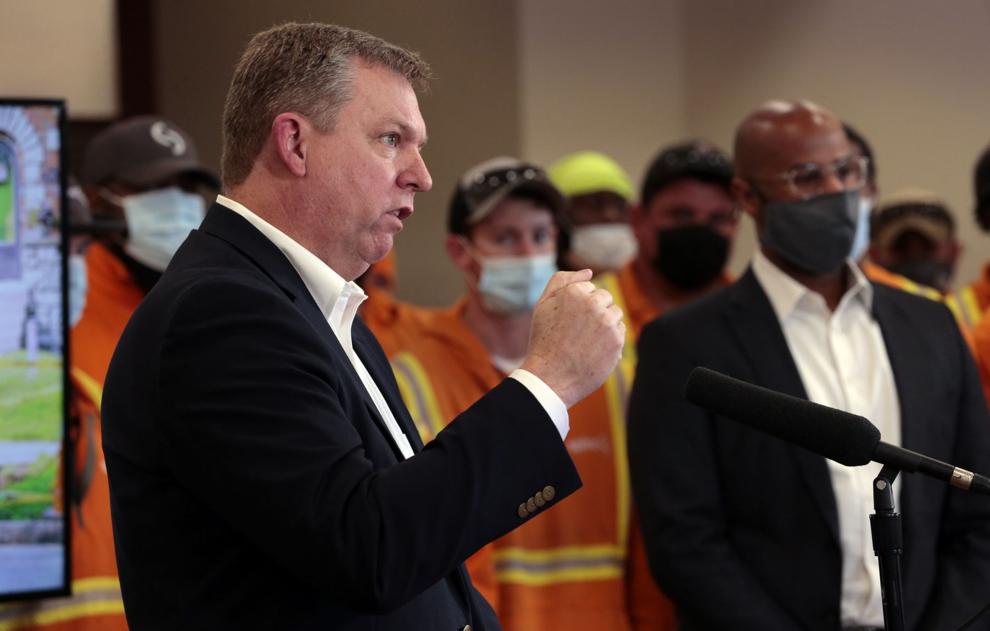 But critics, including some who held a dueling news conference Thursday, said that Spire is resorting to scare tactics. The STL Pipeline will almost certainly be allowed to operate through the winter, they said.
"Spire is leaning into fearmongering because it knows that facts are not on its side," said Gillian Giannetti, an attorney focused on regulatory energy issues for the Natural Resources Defense Council. "No one is going to leave St Louis in the cold, and no one is asking for (regulators) to just shut down the pipeline without finding out a way to untangle this mess."
The area's gas dilemma has simmered ever since the U.S. Court of Appeals in June axed the approval of the STL Pipeline by the Federal Energy Regulatory Commission, or FERC. But the issue has taken on newfound prominence and contentiousness after Spire sent a letter late last week to its 650,000 regional customers, telling them to brace for the possibility of service interruptions or outages this winter.
FERC, which is weighing the future of the project, has granted the project temporary permission to operate at least until Dec. 13. No decision has yet been issued about what will happen next.
But critics note that a midwinter shutdown is not sought by any key parties in the case — including the Environmental Defense Fund, which launched the original legal complaint against Spire on behalf of local customers and landowners whose property was affected by the project's construction. They say Spire's words have fueled a recent wave of fear, confusion and even threats after leaving out key context and details to paint a misleading picture to the public.
Some area elected officials said Thursday, for instance, that they've received an outpouring of concerns since the company's Nov. 4 letter.
"This is a manufactured crisis," said St. Louis County Councilwoman Lisa Clancy. "Spire needs to take responsibility for their role in this and clarify what they've shared with their customers."
'Multiple attacks'
Spire's messaging has drawn additional fire for omitting key details.
For example, its letter included two paragraphs of background information saying the pipeline underwent a "rigorous" approval process but did not mention the unanimous ruling against the company by a panel of judges who found that FERC ignored evidence of self-dealing by Spire, "failed to adequately balance public benefits and adverse impacts" of the project, and never sufficiently established the need for the line.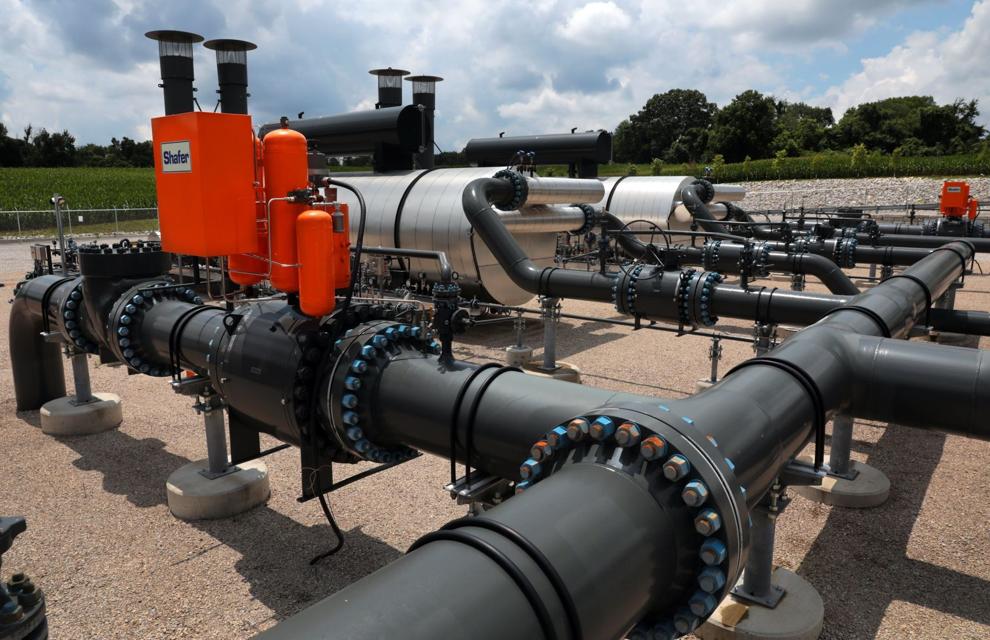 The letter, which referred to the EDF as "a New York-based environmentalist group" that challenged the pipeline's approval, led area customers to send angry missives to the organization, the EDF said.
"We have received multiple attacks as a result of Spire's email," said Natalie Karas, lead counsel for EDF's energy and utility work. "Those attacks have been hostile and threatening, and I think we have to set the record straight and make clear that there is a process that is currently unfolding to address this issue, and allow (the pipeline) to operate through the winter."
Spire maintained that it never sought to rile up its customers, nor pressure FERC to let the pipeline keep running.
"The idea never was to raise concern more than inform," Carter said.
Spire supporters, at the company's press conference on Thursday, noted that the STL Pipeline kept gas coming to area homes last winter, when extreme cold interrupted supply across much of the central U.S., and sent prices soaring.
"It's critical," said Ray McCarty, the president and CEO of Associated Industries of Missouri, a statewide business association. "We got a little test drive down a really bad road, last February."
For months, Spire has said that it is unable to revert to a reliance on other pipelines that have served the region throughout the years, before the Spire STL project was completed. The company says that its former capacity from those pipelines has now been absorbed by other companies, and that a handful of past suppliers are reluctant to sell gas "given all the supply disruptions and extremely high prices that were experienced this past winter," it wrote to FERC.
'Empty milkshake'
But Spire is also choosing not to buy available capacity from at least one other pipeline: Oklahoma City-based Enable Midstream Partners has offered Spire enough capacity from its Mississippi River Transmission line to replace more than half the shortage Spire says an STL shutdown would create.
Spire leaders said they can't rely on Enable's offer for a variety of reasons, including technical concerns about "inadequate pressure" within the pipelines in question. And while the MRT pipeline has available space, they said, Enable cannot guarantee an available supply of gas.
Carter, the Spire executive, called it a "straw into an empty milkshake."
Still, critics — including dissenting FERC commissioners — said the company has incentive to turn down gas from other suppliers, continue running its own pipeline, and reap double-digit profits from its own customers.
"That's how Spire makes the most money," said Giannetti, the NRDC attorney. "What it's really concerned about is it's not going to be able to have you pay for their mistake."
Spire's news conference — which included representatives from the company and local labor groups speaking with more than 100 field employees behind them — marked an unusual move for the utility. Company leaders weren't certain when the last one was held but suspected it was the first in at least a few years — perhaps since its name change from Laclede Gas to Spire, announced in 2016.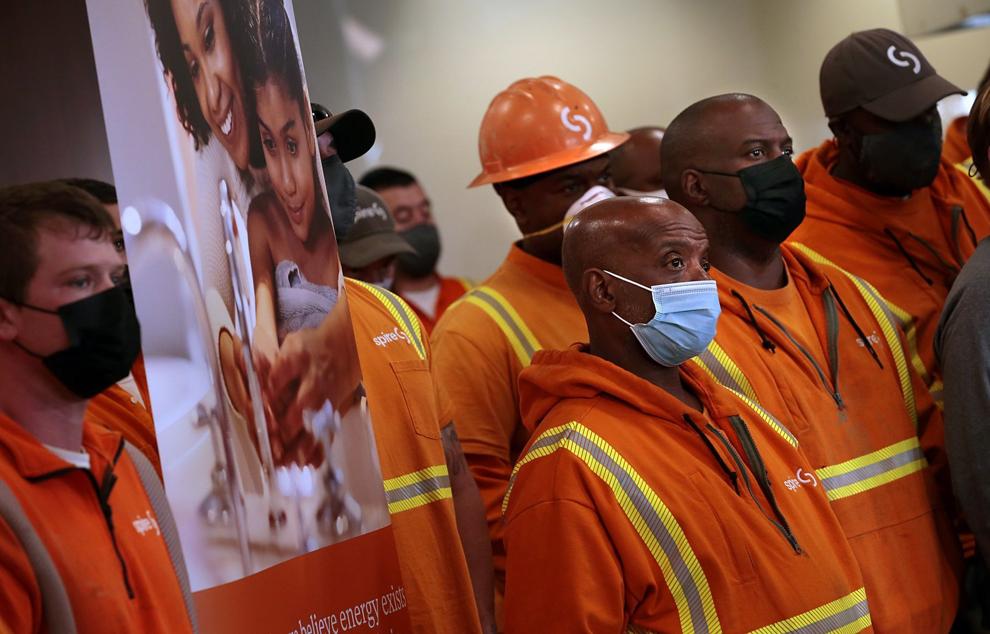 The public conversation about midwinter interruptions to the region's gas supply may soon end.
The pipeline issue is on the agenda for FERC's Nov. 18 meeting next week, and those following the matter expect that the agency will use the opportunity to extend the project's permit through the winter.